30 Rock officially becomes the Comcast Building with debut of new signage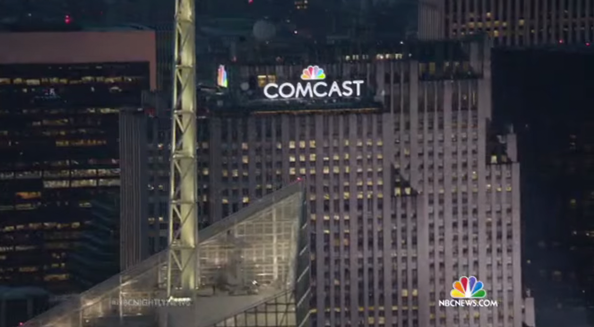 30 Rockefeller Center is now officially the Comcast Building.
NBC's corporate parent, Philadelphia-based Comcast, began seeking permission to remove the famous "GE" lettering from the top of the building just over a year ago.
Because Rockefeller Center is a historic landmark, Comcast needed permission from the city and a local preservation group to make the signage change — despite the fact that GE is now headquartered in Connecticut.
The new signage on top of the skyscraper was unveiled yesterday — though the complex of buildings that make up Rockefeller Center (and similarly named Rockefeller Plaza) will not fall under the Comcast banner.
The previous 24-foot high neon "GE" letters, which had been on top of the building for nearly 25 years, replaced a helium-filled "RCA" logo that was first installed in 1937.
The logo that now adorns the top of the building was introduced in 2012, a design that was widely criticized and whose typeface drew invariable comparisons to the typographic choice used for the NBCUniversal logo. At the time, designers joked that it appeared NBC had decided to save money by using free (and lower quality) fonts in all its designs.
It's worth nothing that, in the original renderings submitted, the NBC peacock was shown in just a solid white outline — but the final logo appears in color (will one Don Stair think this change is part of Comcast showing its support for the LGBT community?).