BBC anchor caught using imaginary iPad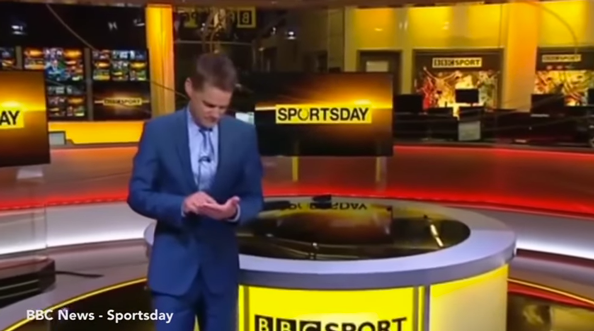 We've all seen anchors shuffling their scripts in a seemingly urgent (and perhaps choreographed with sense of self importance) fashion at the end of a newscast, but one British anchor has a new modern, if not odd, take on the paper shuffle — tapping on an invisible iPad.
BBC anchor Chris Mitchell wrapped up a live sports update as normal before the camera pulled out to a wide shot of the studio.
Mitchell then could be seen "tapping" on the palm of his hand as if he was holding an imaginary iPad or tablet.
Incidentally, Mitchell isn't the first BBC anchor to have issues with a non existent iPad. Back in 2013 Simon McCoy, in a rush to get on the air, ended up grabbing a ream of paper rather than his iPad.