Fox O&Os rolling out new websites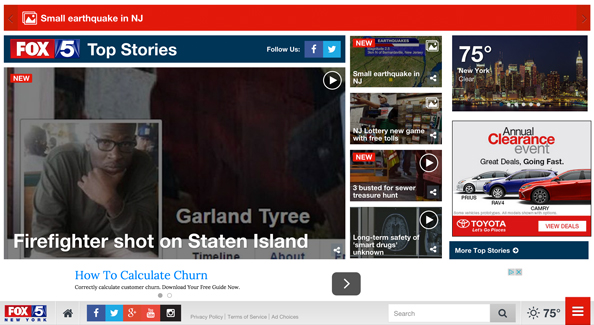 Fox O&O stations have begun switching over to new websites and new domain name branding.
The new site design focuses on a flat style design with colorful blocks of content. A bold blue header in the upper left contains the station branding along with social media profile links.
So far, all the stations on the new design have also dropped the "MyFoxCityName.com" domain branding scheme in favor of simply combining the word "Fox" with the channel number and city name or abbreviation.
For example, MyFoxNY.com is now branded as Fox5NY.com.
The new layout features a prominent lead story box in the upper left, with top video thumbnails running down the right side of this. The far right column features an ad and weather.
A new addition is a fixed bar that runs along the bottom of the page, which features the station logo, social media links, search tool, weather and access to a menu that links to specific sections and featured stories.
The new sites are also fully responsive to accommodate various screen sizes.
Below this, boxes break content down by section and include rather large icons to define whether content is an image, video or article. Farther down the page, meanwhile, is a grid-like layout of other stories, a layout that is a bit similar to the ill-fated NBCNews.com redesign of 2014.