PMC announces new panelists, collaboration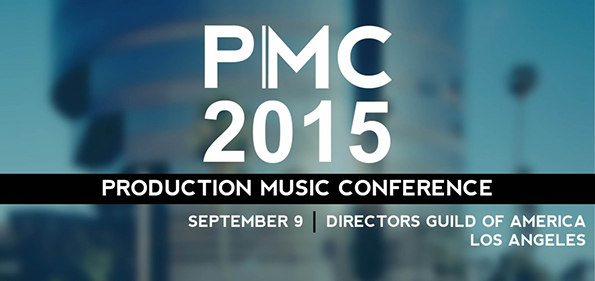 The Production Music Association, the industry trade group for the production music community, announced many updates for its upcoming Production Music Conference, September 9 in L.A.
New Panelists
The Newest Panelists who will be featured during this year's Production Music Conference include:
Christian Salyer, CCO, Current Music
Ron Goldberg, VP, Manhattan Production Music
Steve Ouimette, Composer/Artist/Producer
Abby North, Owner, North Music Group
Brad Segal, Fine Tune Music
Jeff Rona, Composer/Owner/Liquid Cinema
Brett Levisohn, VP, Trailer Park Content
Nick Pheonix, Composer
Dan Korobkin, President Sales & Marketing, Source Audio
Jon LaCroix, Owner, V Town Cartel
Doug Reed, BRG Music Works
John Houlihan, Music Supervisor, President, GMS
Cary Ginell, Musicologist, Sound Thinking Music Research
Craig Stuart Garfinkle, Composer
David Helfant, Attorney, Arpeggio Ent.
Cliff Simms, Producer/Creative Director, Music By Design
William Kingswood, Composer
Vincenzo Lorusso, Exec. Creative Director and Exec VP, Elias Arts
Shawn Lemone, VP, Film & TV/Visual Media, ASCAP
Mark T. Williams, Founder, Ah2 Music
Robert Hurst, CEO, Audio Network
Joe Saba, Co-Founder, Video Helper
Sanaz Lavaedian, Music Supervisor at Mocean
Jordan Silverberg, Music Supervisor at Transit
Brian Murphy, Music Supervisor at Ant Farm
Composer Demo Derby
The PMC session, "Composer Demo Derby," will now be open to both PMA members and the general public.
During the session, industry executives, producers and composers from top production music companies will discuss and critique submitted music entries, as well as share valuable missing and production tips.
Participants must register to attend the conference prior to submitting their music for this event. To Submit Entries for the "Composer Demo Derby," Please Contact: musicsubmissions@firstcom.com
Partnership with Society of Composers & Lyricists
The PMA also announced that the Society of Composers & Lyricists will serve as Co-Presenter of a PMC panel entitled "Writing the Next Library Hit: Composing Techniques for Production Music."
That panel, which will be moderated by composer Benoit Grey, will explore the question, "How is writing for production music different than songwriting or film scoring?" The SCL is committed to advancing the interests of the film and television music community.
Registration for the Production Music conference is still open on the conferences website.