ABC sends drone up over Syrian refugee trail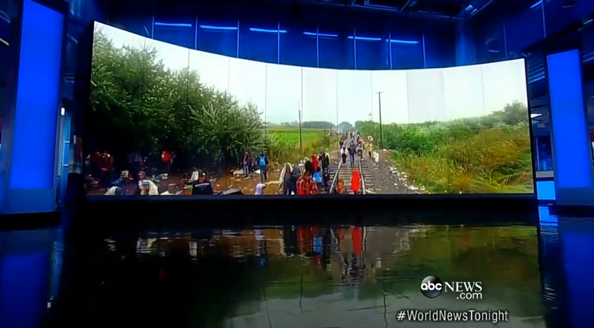 As part of its comprehensive coverage of the Syrian refugee crisis, ABC News seems to be pulling out all the stops — including using a TV news drone to capture the scene from above.
On Thursday's "World News Tonight," the network showed video taken from a drone sent up above the railroad tracks that have become a sort of trail for refugees fleeing Syria.
Interestingly, rather than show the video full screen, producers opted to feed it to the "World News Tonight" set's video wall and use a studio camera to capture the image on the wall.
The choice was a bit odd because, while it certainly showed off the scale of the video wall, it also made it a bit difficult to make out what, exactly the picture on the screen was showing — especially on smaller devices.
Much of what viewers saw on screen ended up being the walls and floor of the studio, including a rather distracting reflection of the video on the shiny floor that further confused the matter.