Apple News app solid, but likely destined for 'junk app folder'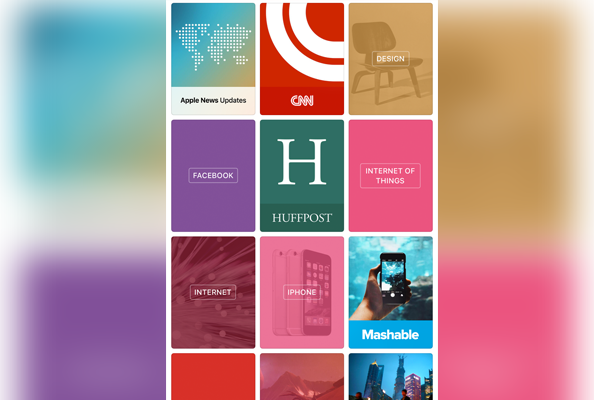 Along with the release of Apple's new mobile operating system iOS 9 came the debut of the Apple News app — a service that's clean and easy to use albeit unoriginal likely to find its new home in the "junk app folder" on many user's devices.
The app, which is required to remain installed on any device using iOS 9, attempts to leverage the success of services such as Flipboard and Zite to offer users a personalized, multi-source perspective on the news.
Because it's required to remain installed, such as other Apple apps including Stocks and Compass, users who don't find it useful many end up relegating it to a folder or screen designated for such apps that have little use.
When first entering the app, users are greeted with a selection of tiles that feature both news sources as well as topics to pick from. Official Apple News partners have the opportunity to include a custom design on the tile, such as CNN's large, cropped version of its logo with a small version beneath it.
Topics, meanwhile, are represented by colored tiles, sometimes with a subtle image in the background, and the name of the topic in a box in the center.
As users select topics and sources, additional options appear based on the ones already picked.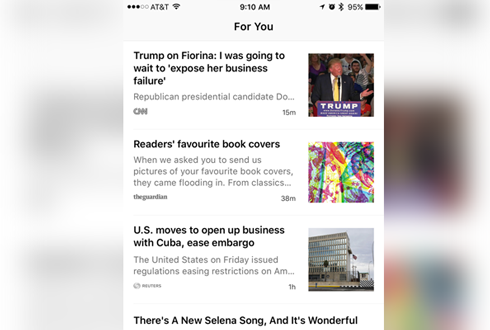 Once the user is done making these selections, a simple list of news articles appears in a "For You" section. Most stories include a thumbnail as well and, if the source is an Apple partner, a small, dark gray version of their logo.
Tapping any story triggers a very Apple-style animation that leads to the story page.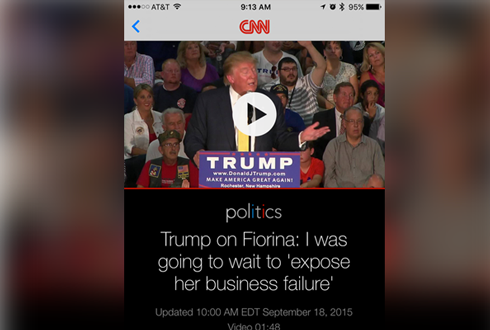 Apple News partners are allowed to brand the story pages with a logo at the top as well as custom fonts, layout and backgrounds, as shown in this CNN example. It's worth noting that CNN opts to use a black background on its video-centric stories, while white is used elsewhere. CNN sub-brands such as CNN Politics also appear in the app.
When accessing stories via the "For You" screen, however, the top bar of the app remains the default gray.
A more branded experience
Another way to access the stories and topics, meanwhile, is through the "Favorites" section. This brings up the tile layout again and allows users to explore by either source or subject matter.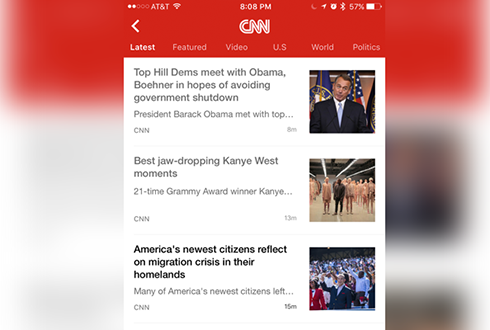 Tapping an Apple News partner's tile brings up a more fully branded experience, as shown in this CNN example. Not only does the CNN logo appear at the top, but a sub-navigation menu that mimics the experience on other platforms is available. Partners also can select the color of the header bar.
When accessing stories from a partner's screen, the colored header bar remains in favor of the default gray that would appear had the user accessed the story from the "For You" list.
Back on the story pages, it's also easy to access additional content from a partner with links and thumbnails.
Advertising in the app
In addition to the opportunity for branding, one of the other potentially appealing aspects of Apple News is that publishers are still allowed to show ads within their own content. Any revenue from ads they sell goes directly in their pocket — or they can opt to let Apple sell ad space and split the revenue.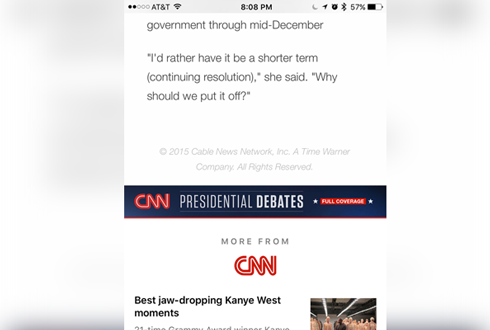 During an initial review of Apple News, it was difficult to find any instances of ads, though we did spot one ad toward the end of a CNN story — though it was just a "house ad" promoting the network's own debate coverage.
It's also worth noting the ad was a pretty standard banner-style ad you might see on the mobile version of the CNN.com site — rather than anything more immersive.
Of course, it's still very early any many partners may be purposefully holding off on showing ads until the platform becomes more popular and more data about its usage becomes available.
Additional features of the app allow users to "favorite" stories for later reading or reference, a discovery section that makes algorithmic recommendations and a search feature and share stories directly via social media platforms.
Sharing a story
When sharing a story, Apple uses the domain apple.news (.news is one of the "new" domain name extensions now available) to intelligently detect if the user is on a compatible iOS device and, if so, opens the story in the native Apple News app. If not, the user is redirected to the page in their standard Web browser — a smart move to ensure that shared links remain universally compatible.
Nice, but unoriginal
All that said, while the Apple News app is certainly a solid offering that's well designed and easy to navigate, it also doesn't seem all that revolutionary. With the exception of some animations, there isn't much "Apple-ness" to the offering and the feature set, aside from some slick branding opportunities for partners, is very limited.
The app's strongest features — combining multiple sources and customization — have already existed for years in other news apps, so nothing all that exciting there.
Obviously the app is only in its first iteration, but it's a bit surprising that a stronger offering wasn't served up for the debut.
In the end, Apple News will have the advantage of being natively installed, but will need to up its game to stand out from other news apps and not be relegated to the "junk app folder."
The latest in design, production and engineering
Subscribe to NewscastStudio for the latest delivered straight to your inbox.