Chicago station marks Yom Kippur with Nazi badge OTS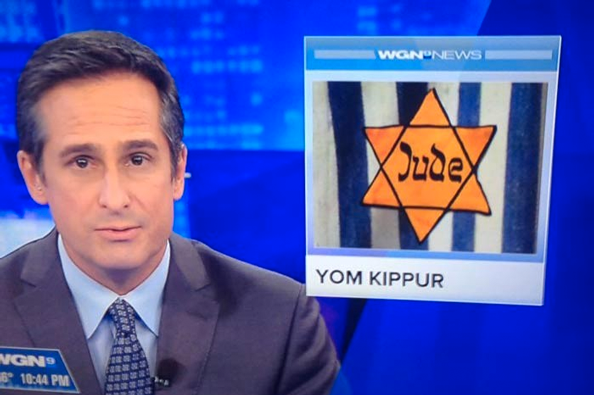 A Chicago station was forced to issue an apology after it aired a graphic featuring an image of a symbol widely associated with the Holocaust.
WGN-TV, the Tribune owned CW affiliate in Chicago, was covering the Jewish high holiday of Yom Kippur and used the OTS image shown above which, at first glance, looks like a Star of David.
However, historians know the image is actually of the badget Nazis forced Jews to wear as identifying marks in the time leading up to and during World War II, a time that also saw millions forced into concentration camps.
The station later apologized on air for the image.
No word on exactly how the image made it on air — but, as TV news has fallen victim to in the past, a rushed Google Image search could be to blame.
Update: WGN-TV released this statement:
"Last night we ran a story to recognize Yom Kippur, the Jewish Day of Atonement.  Regrettably, we failed to recognize that the artwork we chose to accompany the story contained an offensive symbol.  This was an unfortunate mistake.  Ignorance is not an excuse.  We are extremely embarrassed and we deeply apologize to our viewers and to the Jewish community for this mistake.

We are investigating how this situation occurred, reviewing our in-house policies and making changes in order to avoid such mistakes happening in the future.  Thank you for your understanding. We promise to do better."