'Today' rebranding concert series for new partner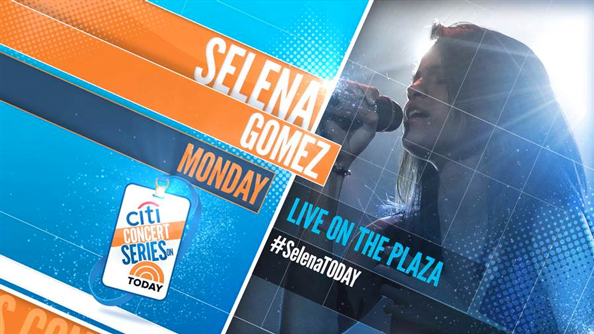 NBC News' "Today Show" concert series, known as the "Toyota Concert Series" for the past 12 years is getting a new sponsor, a new name and a new stage.
Financial services giant Citi has inked a multiyear agreement to be the presenting sponsor of the series.
In addition to having the series renamed the "Citi Concert Series," Citi will also get a reserved seating area in Rockefeller Plaza for its customers during the outdoor performances outside of Studio 1A. A redesigned stage set up will also be utilized and Citi also plans to create a VIP area in a nearby branch.
Additional online only content, social media promotion and a live "fan cam" are also included as part of the deal.
The Citi Concert Series is kicking off with Selena Gomez Monday, Oct. 12.
The new logo for the series features the Citi logo perched atop the words "Concert Series" and the "Today" logo. The typography used in it is the condensed typeface the show added to its open back in May.
It's also interesting to note the similarities between the red arch over the Citi name (which is a symbolic nod to the umbrella image used by Travelers before it merged with Citi) and the "Today" show sunrise icon.
This sponsorship is seen as a key move by Citi to expand its entertainment experience offerings, which already include exclusive performances from performers include Katy Perry and Madonna.
From a strategic standpoint, Citi is betting that card members who use their Citi cards to pay for entertainment are likely to also use it in other areas of spending, thus spurring increased usage and, hopefully, profits as the result of finance charges and other fees and income realized from that use.
It's not a new concept — most major credit card companies offer cardholders access to early or exclusive concert ticket sales as well as other entertainment experiences including dining and non-music performances.
The "Today," deal, however, marks a key strategic move by Citi to increase its visibility among music fans.