Did Buffalo station copy Cleveland image campaign?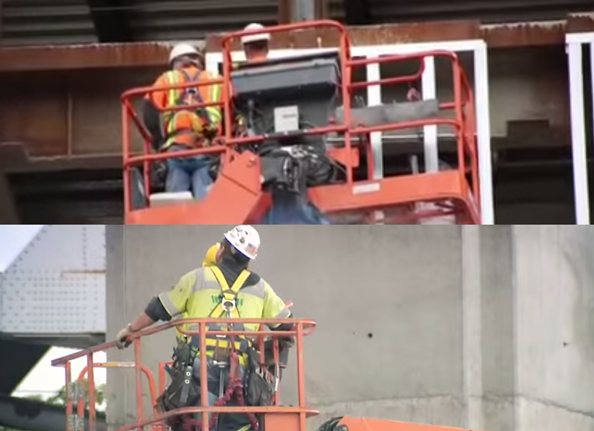 It appears the winds of "possibility" may have drifted along Lake Erie and inspired a rather weak knockoff of an image campaign.
WKBW-TV in Buffalo recently launched an image campaign called "Seize the Possible," which focuses on the city's economic, cultural and intellectual rebirth. The station's news director even issued an internal memo saying how "proud" he is to announce the launch of the campaign:
OK, so looks like a pretty typical image campaign. But FTVLive noticed something else about the spot and campaign — they're an awful lot like what WKYC-TV in Cleveland is using.
WKYC-TV uses the tagline "See the Possible" (which obviously sounds an awful lot like "Seize the Possible"):
The script and general concept is also striking similar. And several shots, including boaters on water and a construction lift match almost exactly.
The graphics in both packages also appear to mirror each other, with both using rings of light, though WKYC-TV's version emphasizes the letter "C" (presumably for the city name and "C" in its call sign) more.
Even the script is oddly similar:
"Are there challenges? Of course. But there are lots of solutions taking place as well…" asks WKYC-TV's version. "Sure there are challenges ahead. But there's (sic) a lot of solutions taking shape…" reads WKBW-TV's.
Of course, it's not uncommon for image campaigns to be replicated, even word for word, shot for shot, in multiple markets, but this is interesting parallel given that the two stations aren't owned by the same group (WKBW-TV is owned by Scripps, WKYC-TV by Tegna) and WKBW-TV's news director appears to indicate the idea for their campaign came from "strategic plan meetings/development" meetings, according to a memo obtained by FTVLive.
All that said, if you're going to copy (or even "be inspired by") another station's work, at least improve upon it. WKBW-TV's is pretty much inferior in every way — the pacing seems rushed and a poorly chosen voiceover artist fails to convey the same gentle but determined tone that WKYC-TV's does. The graphics are subpar and, as noted in the excerpts from the script above, even contains at least one grammatical error.
H/T FTVLive