Avid Everywhere gives Pittsburgh station a high tech boost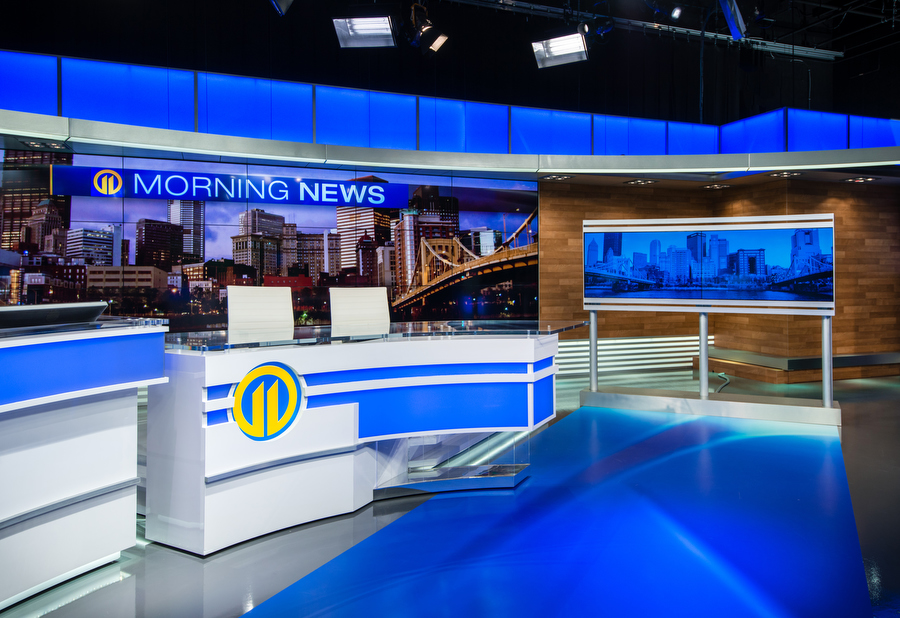 WPXI-TV, the NBC affiliate in Pittsburgh, Pa., recently implemented Avid Everywhere to improve the visual impact of its broadcasts and stand out in one of the most competitive media markets in the United States.
By implementing Avid graphics workflows from the Avid Studio Suite, the station's news production team is able to produce hours of high-quality visual content with greater speed and efficiency and attract the widest possible audience.
In October 2015, WPXI-TV debuted a new set with state-of-the-art video arrays, including five 55-inch monitors and a video wall made up of 18 monitors.
To streamline control of the new monitors, WPXI-TV integrated a mix of Avid and third-party solutions, including an Avid TD Control video wall control system, Avid iNews newsroom management, Grass Valley Ignite automation, ChyronHego graphics creation and Avid AirSpeed video servers. WPXI-TV was the first station in the country to successfully integrate these systems.
"In the Pittsburgh media market, we're in a dogfight every day of the week and we need to capitalize on every extra edge we can get," said Brian Krills, director of news technology at WPXI-TV, in a statement issued by Avid. "TD Control gives us the ability to work very efficiently, create content that makes a big impact, and adds another layer of visual excellence to our programming."
The installation took place immediately before November sweeps, so it was critical to implement the system in an extremely short timeframe. To meet this deadline, Avid invested several weeks to help oversee and manage the implementation.
"There aren't enough superlatives to describe how dedicated, effective, and driven the installation team was to make this solution work," said Krills. "The extraordinary level of customer service provided us with an overwhelmingly positive experience and enabled us to have our system fully operational in time for November sweeps."
Production teams can create content for the various video arrays and customize visuals for individual shows with greater speed and efficiency. TD Control also helps WPXI-TV produce visually dynamic on-set commercials for advertising clients and quickly customize the visuals to meet their needs. This offers WPXI-TV a great advantage over other stations in their market.
"Television stations across the globe are facing an unprecedented level of competition, so it's important to produce engaging visual content that attracts the widest possible audience," said Jeff Rosica, senior vice president of worldwide field operations at Avid, in the same statement. "By leveraging the power of industry-leading Avid Everywhere graphics workflows, WPXI-TV is able to deliver exciting visual content, and work with greater speed and efficiency."