Telemundo stations get new mobile apps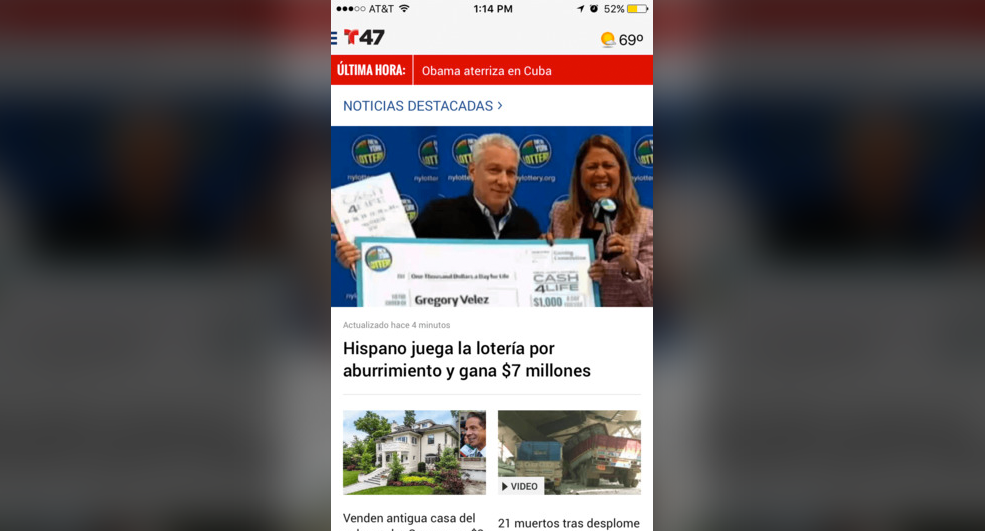 Telemundo has debuted upgraded, individual station apps for 15 of its local Telemundo-owned stations.
The upgraded apps feature first-of-its-kind innovative personalization and Spanish-language features for users. Specifically, the new fully redesigned look for iOS and Android-operated smart phones and tablets, offers Spanish-language users the ability to select personalized in-app features and receive automated weather push alerts in Spanish.
This is the first time that a local television station group in the United States is offering its digital users interactive mobile features in Spanish to help them stay ahead of the news and any severe weather that may threaten to impact their local communities.
"The Telemundo Station Group continues to break the mold by offering Spanish-language users innovative digital products that are built and designed with their preferences in mind," said Ozzie Martinez, senior vice president, news, digital and standards, Telemundo Station Group in a statement. "For the first time ever, Spanish-language app users will be able to experience a personalized digital local news experience – in the language they prefer – and we're excited to be the first in the local broadcast industry to offer these innovative digital products to our viewers. This investment represents our deep-rooted commitment to providing our local stations with the tools they need to better-serve their viewers, and across all platforms."
Additional new features of the Telemundo-owned stations apps include:
A fully redesigned look on iOS and Android, for both smart phones and tablets;
The ability for users to select their "Local News" or local "Weather Forecasts" as their app's start page;
A prominent "Breaking News" bar across all sections to help viewers stay ahead of their local news;
A reimagined interactive weather section that features an interactive weather radar that allows users to zoom in to their local communities to see hyper-local weather radars, and access hourly and seven-day weather forecasts, in Spanish;
The flexibility of selecting multiple locations to receive weather alerts, such as from the user's home, place of work or child's school;
The opportunity to receive automated weather push alerts in Spanish;
Customized advertising unit within the app's weather page to feature special sponsorships;
The ability to watch in-app videos, while reading through in-app news articles; and
Individual modules for in-app sections to help users find the information they want, much faster.