Oklahoma station creates corn maze with its logo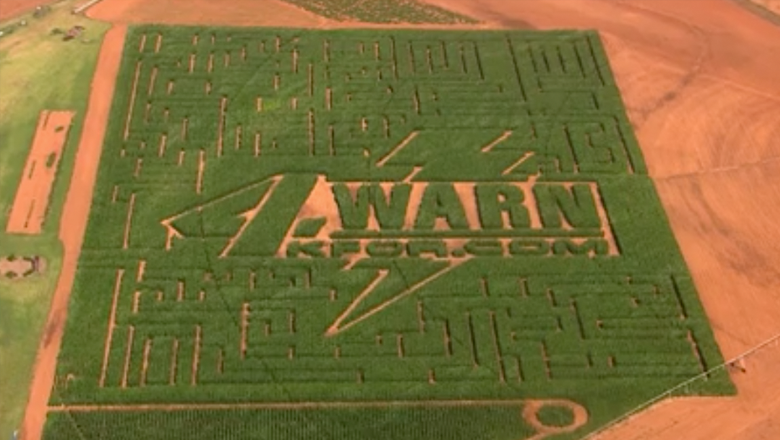 Here's a story that caught our ears: One TV station just popped open a whole new field in marketing.
KFOR-TV, the Tribune ABC affiliate in Oklahoma City teamed up with P Bear Farms to have its weather logo cut into a corn maze (apparently a corn anchor desk just wasn't going to cut it).
In the aerial views that cropped up online, the station's "4Warn" weather branding is carefully cut into the rows of corn — and surrounded by a lightning bolt as well as a more traditional maze pattern. The station's website address is also included.
The maze will be open to the public to explore — and the station says it has more plans for the field.
Since it's Friday, here are some of our ideas (or, kernels of wisdom, you might say) for the station:
MazeRanger4: A tractor with a live camera and reporter taking viewers through the maze, reporting on "traffic" conditions (e.g. how crowded the maze is).
MazeCam4: Alternate name for the station's helicopter for when it's showing off the maze.
Dash4Corn: A sweeps contest where a lucky viewer gets 4 hours to run through the maze and grab as much corn as possible.
PitchForkPoint4Cast: Show a weather map of the maze overlaid with precise weather readings from various parts of the maze.
Prepare4: A part of the weather forecast tell viewers the optimal clothing to wear when visiting the maze (sunglasses? hat? umbrella?).
ScareCrew4: Scarecrow versions of the anchors.
Cooking4Everyone: A Mr. Food style segment featuring corn based recipes ("Ooh! It's so good!").
[field name=iframe]