Q&A: Covering election day with data-driven graphics from RCS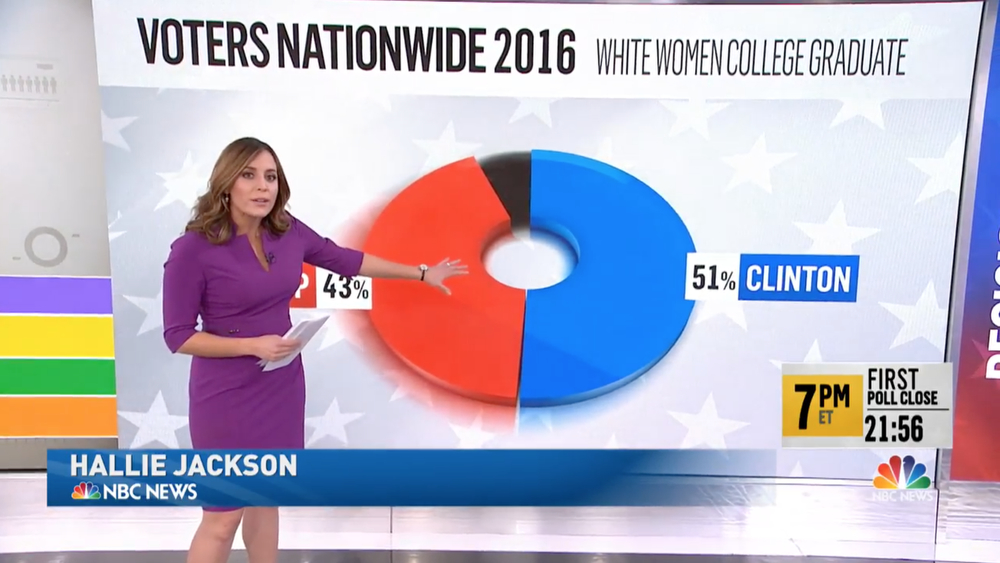 Subscribe to NewscastStudio for the latest news, project case studies and product announcements in broadcast technology, creative design and engineering delivered to your inbox.
Elections always represent a "Super Bowl" moment for networks, allowing them to showcase the latest in data visualization, technology and manpower.
At 30 Rock, NBC News and MSNBC's election coverage used a new look this year, featuring a completely revamped graphic and video wall package in Studio 4E and 3A.
Powering this look, which was designed by NBC Artworks and Black & Tackle, was Vizrt and Reality Check Systems.
We recently had a chance to speak with RCS Producer Seve Sanchez about the work that goes into covering an election and what was different about 2016.
Talk about the scope of RCS' election day involvement?
RCS was involved in the election day graphics package from inception to delivery. Using initial designs and animations provided by the client, we built a new graphics package designed to showcase the day's results from the presidency and propositions to the senate and house races. It included everything from full screens to a ticker and side panel.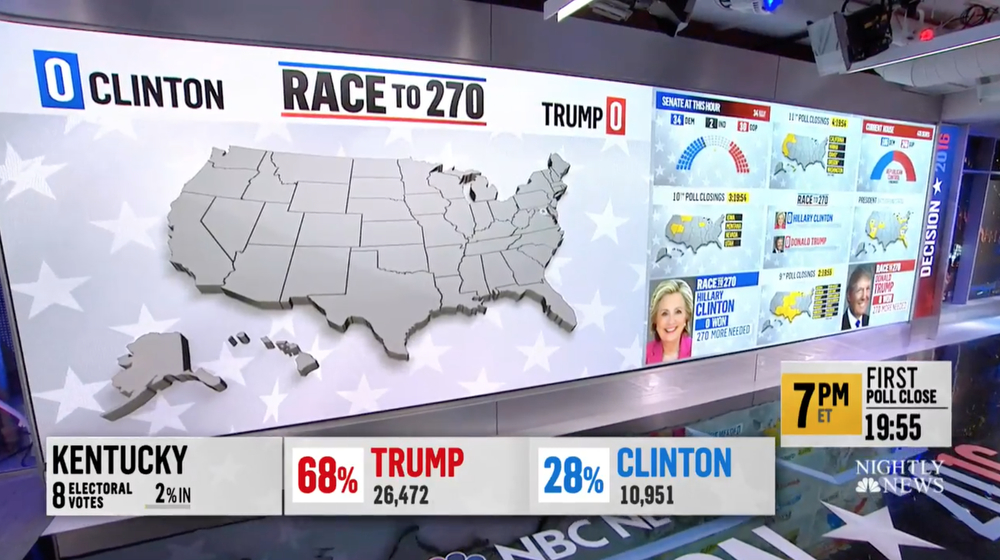 Throughout the process our team made sure to architecturally optimize scenes created in Viz. Implementing transition logic, we devised an optimized workflow that would make package modifications and additions straightforward for our client, and then tailored the package to run on video walls behind talent.
From the morning of election Day, when our graphics began airing countdowns to poll closings, all through the night and into the next day as the final votes were tallied, RCS was on-site, on-headset and ready to jump in with support as needed. Careful preparation and methodical testing in the months leading up to the event helped minimize any issues, and our election Day access badges to studios and control rooms remained largely precautionary.
How far in advance does prep for an event this large begin?
Election Day 2016 had been on our radar since wrapping up the primary elections package earlier this year, and even as far as back as 2014 when we first collaborated on graphics for the midterm elections.
Understanding the magnitude of an elections project, with an immovable launch date, we carved out time on our calendar in advance to ensure enough preparation time. After confirming the project in May, we started work in June, which carried through election week.
How do you determine the best way to break down a piece of data?
The network's internal editorial team, decision desk, and real-time graphics teams comprise some of the most experienced professionals in election data. They already had a very clear concept for data visualization when the designs reached us. With their guidance, we applied the data consistently throughout the package.
How does the ever-increasing footprint of video walls in studios affect your job?
The proliferation of video walls, monitors and secondary displays has introduced new opportunities for approaching the creation of graphics packages.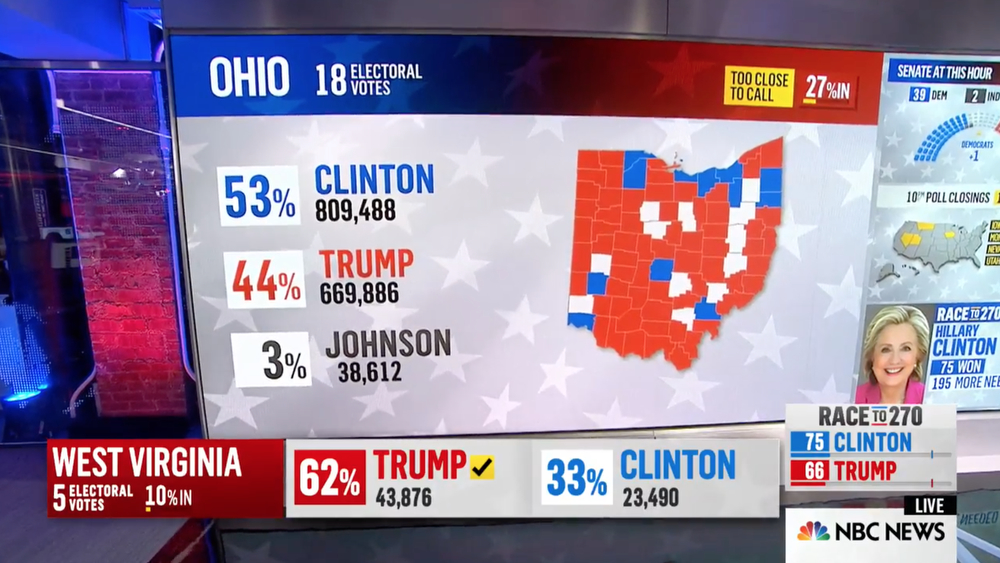 Because there are so many differences in technology, output and scope of graphics for studio monitors, they can be treated as silo project, separate from your traditional insert (on-screen) key-and-fill graphics, or with help from a savvy integrator, a single package that works across video walls and on-screen experiences. Of the two, the latter offers a more cohesive look and feel, and unified functionality behind-the-scenes.
How important are optimized workflows for a night like election night?
Election night draws in viewers from around the world and data is largely the story. There are so many moving parts and various visualizations, and it all unfolds live, so there are no do-overs; networks get one shot to get it right, so making an optimized workflow is incredibly important, especially to minimize any points of failure.
Architecting a package that does that, while also making everyone else's roles as simple and transparent as possible is the key to success.
Like any other project, at the outset of this one, RCS spent considerable time working with our client to fully comprehend their objectives and parameters. We believe wholeheartedly in devising the optimal system for a project before we even begin building the first graphic.
What was the most interesting part of this year's coverage for RCS?
Aside from the candidates themselves, the scope of our package and testing technical thresholds made this project unique.
In previous elections, our graphics played out through single-channel engines on-air. This election, they were used in dual-channel engines and the video walls. Furthermore, our client's digital team furnished nearly all the maps in our package, which we accessed using a web plugin, rather than building them all natively in Viz.
What's changed between the 2012 election and 2016?
Just as the media landscape changes rapidly, so too does television production and its partner technologies. Looking at the 2012 and 2016 election graphics side by side, there's a clear difference in the complexity and quality of the graphics. And though technology has advanced rapidly, which may explain the visual advances, an appetite for new presentation could have possibly driven the technology, so it's a bit of a chicken or the egg conundrum.
Were there any specific software advancements you were able to utilize this year?
Using a Chrome plugin to load SVG files, we were able to circumvent performance limitations we'd previously encountered while building complex maps (US Congressional districts, counties) natively in Viz.
We also utilized Viz Graphics Channels to populate the monitor wall with various graphics, rather than using multiple engines to accomplish the same task.
Subscribe to NewscastStudio for the latest news, project case studies and product announcements in broadcast technology, creative design and engineering delivered to your inbox.