Q&A: Reed Timmer talks 360 video and partnership with AccuWeather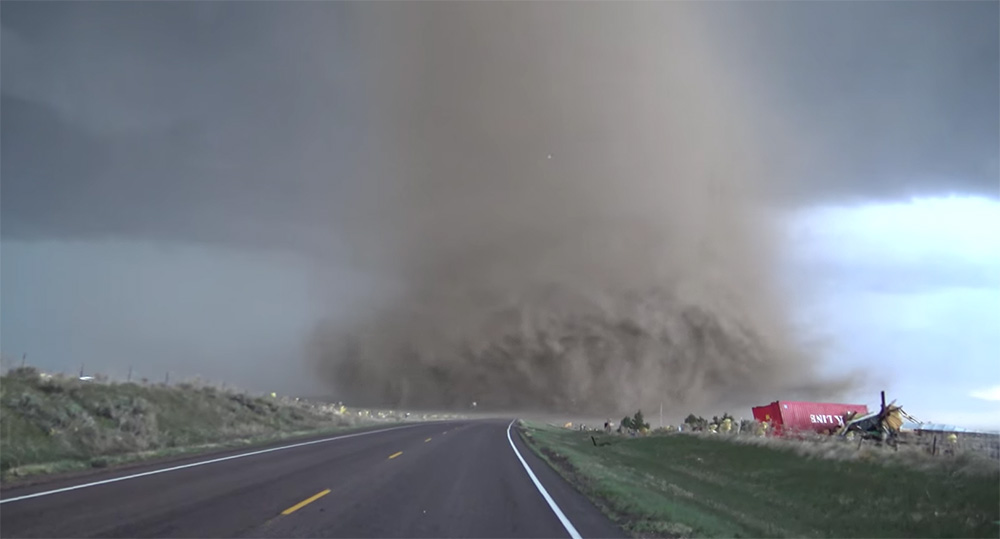 Subscribe to NewscastStudio for the latest news, project case studies and product announcements in broadcast technology, creative design and engineering delivered to your inbox.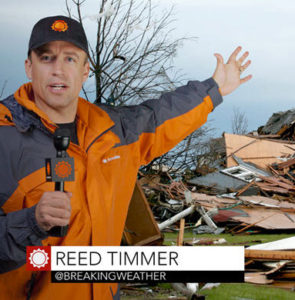 AccuWeather recently announced the hiring of Reed Timmer, an extreme weather meteorologist known for his storm chasing and former Discovery Channel television series, where he is working to help pioneer 360 video for weather coverage.
Timmer's work can be seen across AccuWeather's web and mobile sites, as well as on the AccuWeather Network, on its apps and the new Apple TV app.
We recently had a chance to speak with Timmer about the possibilities of 360 video in weather coverage, as well as its implications for broadcasters and his new partnership with AccuWeather.
How has the rise of 360 video changed storm chasing, and what are some practical implications of 360 video?
360 video has made it possible for AccuWeather viewers to feel like they are actually on a storm chase with me, as in underneath a monster tornadic supercell or inside the eye of a powerful hurricane, but from the safety of their own home.
The educational applications of 360 degree storm chasing video are also huge, as you can really identify the main components of storm structure and all of the dynamics in action. I even use the 360 cameras during the storm chase to find where the tornado producing part of the storm is located, especially when it's directly above me, since I can look around in all directions including straight up while traveling inside the vehicle.
For next season, our plan is to design an ultimate 360 degree science probe to deploy inside tornadoes and other extreme weather, capable of measuring variables like wind speed and pressure in concert with the immersive video.
When does it go "mainstream" for a traditional broadcaster?
At AccuWeather, we've been using 360 degree video to capture immersive coverage of extreme weather since this last spring storm season, including tornadoes from 100 yards away, monster blizzards and nor'easters, and recently the eye wall and destructive storm surge of Hurricane Matthew. We upload this 360 footage AccuWeather social media and beyond while the storm is happening to show people the impacts and deteriorating conditions in near real-time, and to increase awareness overall for just how dangerous and destructive severe weather can be.
360 degree video takes our storm chasing and severe weather coverage to the next level because you can capture all angles in 360 degrees at the same time, and allow for the viewer to feel like they are inside the storm right along with you. In the future as virtual reality hardware becomes more easily accessible for the viewer the sky will never be the limit.
What does this new partnership bring you in your career?
I've been storm chasing for nearly 20 years, since I first got my driver's license in 1996, and this partnership with AccuWeather makes it possible for me to continue pursuing my life-long passion of chasing and studying tornadoes, hurricanes, and winter storms. AccuWeather has not only given me a wide-reaching platform to share my storm chasing experiences and educate people on extreme weather, but also will help provide the resources to continue my field research of tornadoes. I'm going to chase like a champion for AccuWeather.
Are their any events/etc. you're hoping to explore further now with the backing of AccuWeather that you couldn't have previously?
Definitely. I've always wanted to cover Super Typhoons in Southeast Asia, summit Mt. Washington using ice axe and experience a powerful nor'easter at the top, and return to the Pampas of Argentina to catch a tornado in the Southern Hemisphere spring to name a few. I'd also like to chase tornadoes in South Africa and Bangladesh, and tropical cyclones along the northern coast of Australia. Some other phenomena of extreme nature I'd like to document for AccuWeather are the "northern lights", a monster snowstorm in the Sierra Nevadas, and also survival content to show people how to endure Mother Nature at her most extreme.
What's in your "go bag" to cover breaking weather? What are your essentials for live coverage?
I try to stay "lean and mean" when I am chasing storms, with especially the survival gear depending on the type of storm I am chasing. The saying, "there is no bad weather only bad gear" is certainly true during winter storm coverage, since you could easily lose your life if you don't have enough layers to stay warm in the brutal wind chills.
I always bring water and non-perishables during any storm, in case things really go south, and strapping several full gas cans to your vehicle is pivotal to chasing a hurricane. In terms of camera equipment I bring my 4k Sony Camcorder, GoPro cameras, multiple 360fly cameras with suction cup mounts, small mobile tripods, data cards and laptop. Since I am often on foot during my storm coverage, I have to stay mobile and stream-line my packing.
How do you balance being informative with entertainment in weather?
I am so passionate about the weather, I just press record and let it rip. Hopefully my storm chasing coverage is entertaining, informative, and educational.
Subscribe to NewscastStudio for the latest news, project case studies and product announcements in broadcast technology, creative design and engineering delivered to your inbox.