'Beat Shazam' scenic design takes viewers inside the 'brain' of an app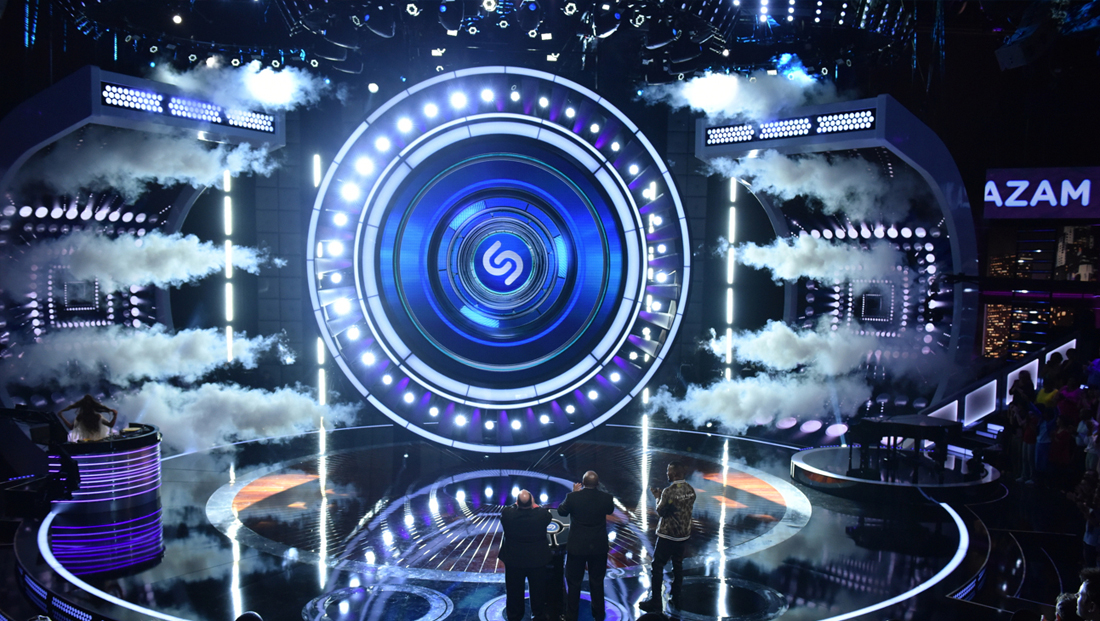 The set for Fox's "Beat Shazam" game show is sort of like stepping inside the "brain" of the popular song identification app — an environment that's stocked with music references and symbology.
The sprawling set, created by Anton Goss of Consortium Studios, features high-tech look with an emphasis on circular elements that play homage to speakers, records and turntables.
"Beat Shazam," hosted by Jamie Foxx, represents both a cross-marketing opportunity and way to bring the popular song identification app Shazam to life.
Surrounding the large circular stage with integrated lighting accents is the audience area, meanwhile, features LED ribbons and columns capped with circular header elements, could be viewed as a sort of the "stream of consciousness" of the app itself.
That said, the "brain" of the app is represented by the large, circular LED screen mounted directly behind the stage that is used to display gameplay elements.
Encircling the screen is a structural surround with flared accent panels alternating with robotic light fixtures, part of the lighting design by Oscar Dominguez.
Though the surround nearly touches the stage surface, it's designed in such a wall that it appears to "float" above the shiny surface further reinforcing the idea of a sort of all-knowing nerve center and, perhaps, even an all seeing eye.

In addition to the lighting effects, the surround is also equipped with steam jets that are triggered during key points of the game.
Flanking the circular screen are concave LED panels that are used to display song categories. In a subtle way, the placement and shape of these panels could be viewed as the "ears" of the mysterious Shazam.

The show's contestants stand behind lecterns fronted with a vertical LED panel that displays team members' names and score, while an oversized, thick circular surface is angled toward the contestants and provided them with a way to "lock in" their answers.
These lecterns, which can be adjusted depending on the number teams still in the running, are backed up against the audience and a half wall made of LED panels that uses subtle animated textures to match the mood and theme of the music.
Audience members appears in semi-darkness and surround the circular stage in a U-shape.
While the closeness of the audience gives the feel of an intimate club, the scale and height of the seating area gives the feel of a large, stadium-style concert.
Other on-stage elements include an on-stage piano on a circular riser for live performances, as well as a circular DJ pod wrapped with thin LED accents that give it the appearance of stacked records or groves in vinyl.
Other elements of the set include backlit stair treads, edge lit railing panels and LED "ladders" — all of which add subtle motion of "thinking" and a high tech feel to the studio.