CNN town hall alternates bright colors, subtle backgrounds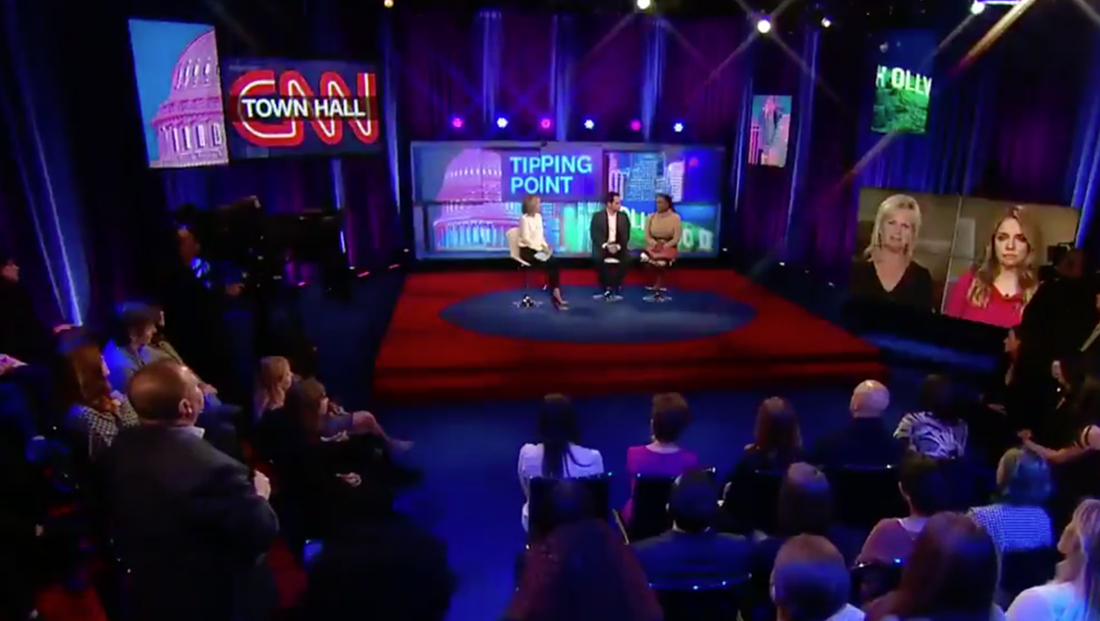 CNN's town hall "Tipping Point: Sexual Harassment in America" used a unique and unexpected color palette to create a vibrant look that also focused on the people featured in the discussion.
The town hall, which originated from a draped studio in New York, featured a variety of in-studio guests seated on high stools in front of a large video wall.
The video panels were used to show a cubed background depicting landmarks from Washington, D.C., Hollywood and what could be read as a a generic cityscape, depicting some of the cities that have been rocked by highly visible sexual harassment scandals in the past months.
Vertical iterations of this imagery was also suspended from the ceiling around the studio, as well as a large "Town Hall" branded banner.
Throughout the special, a "flip" animation effect was used on the background.
The background's elements were colorized with bright, saturated colors, including bright greens, blues and violets, the latter two which also were used in the light splashes on the studio drapes.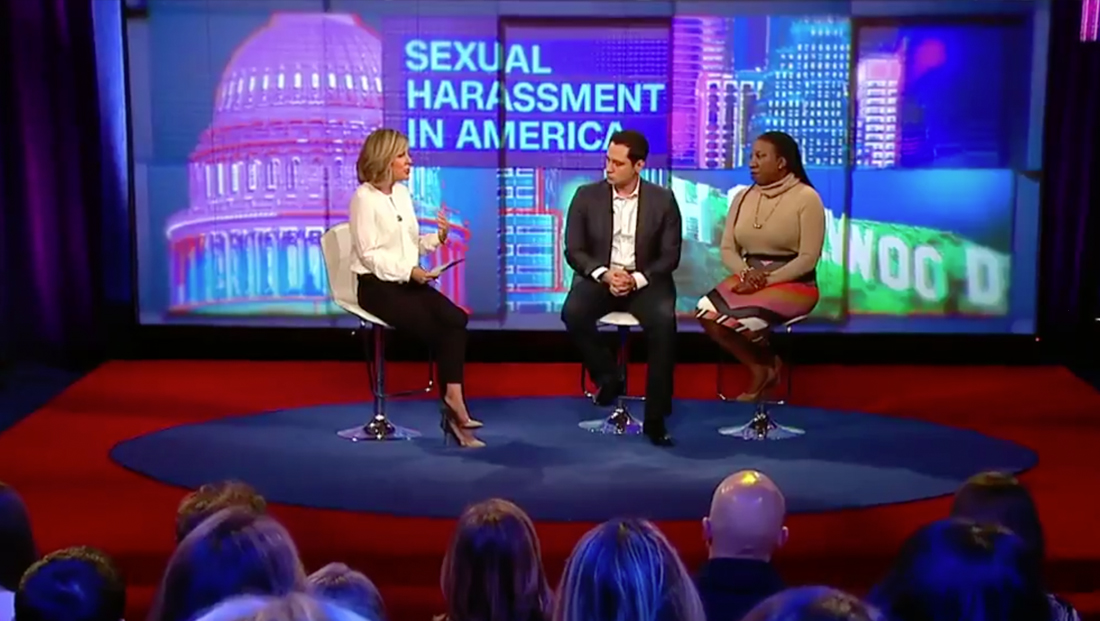 Guests were seated on high bar-style stools in the middle of a carpeted riser, with the audience facing them.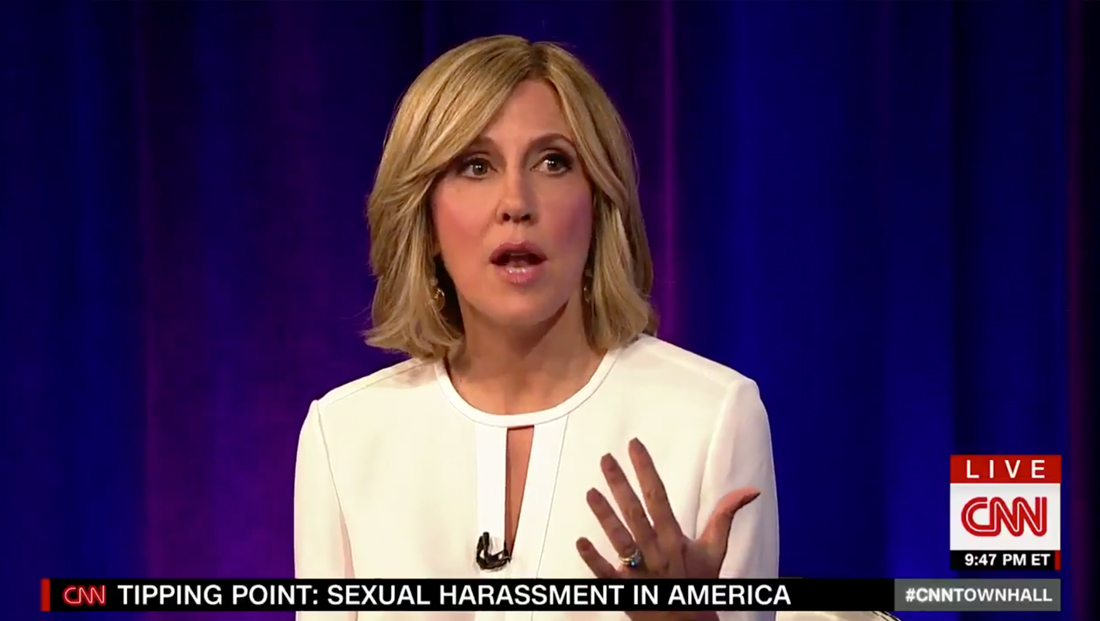 The moderator one shot and most guest and audience shots were set against the color splashed drapes, a move that allowed the focus to be on the speaker and his or her words.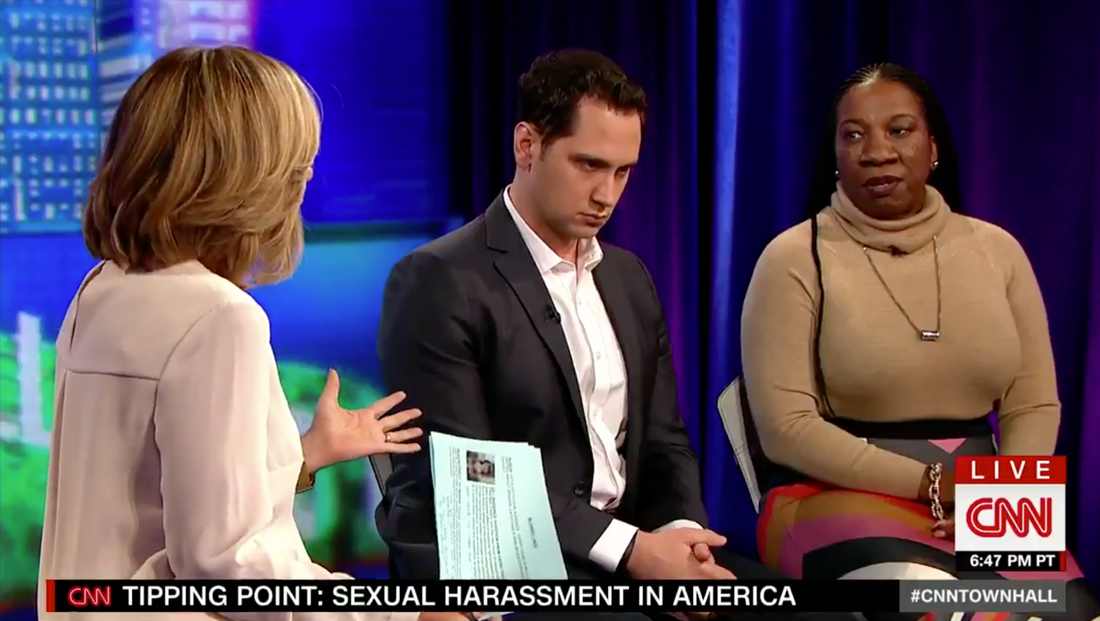 For remote guests, including former Fox News host Gretchen Carlson, whose sexual harassment case played a key role in the removal of former CEO Roger Ailes, a freestanding 2×2 video array situated camera right was used, allowing moderator Alisyn Camerota to bring them into the conversation either from her seated position or by standing in the middle of the studio.
Camerota, who was also previously worked for Fox News, also accused Ailes of sexual harassment.
Tamara Burke, who created the #MeToo movement more than 10 years ago: "This is a moment for men, women, people who are survivors, who have been holding these stories in the pit of their stomach … to be heard and believed" https://t.co/I8rUDPqfgR #CNNTownHall pic.twitter.com/kIAmZUCxXN

— CNN (@CNN) November 10, 2017