'CBS Evening News' updates look for Jeff Glor debut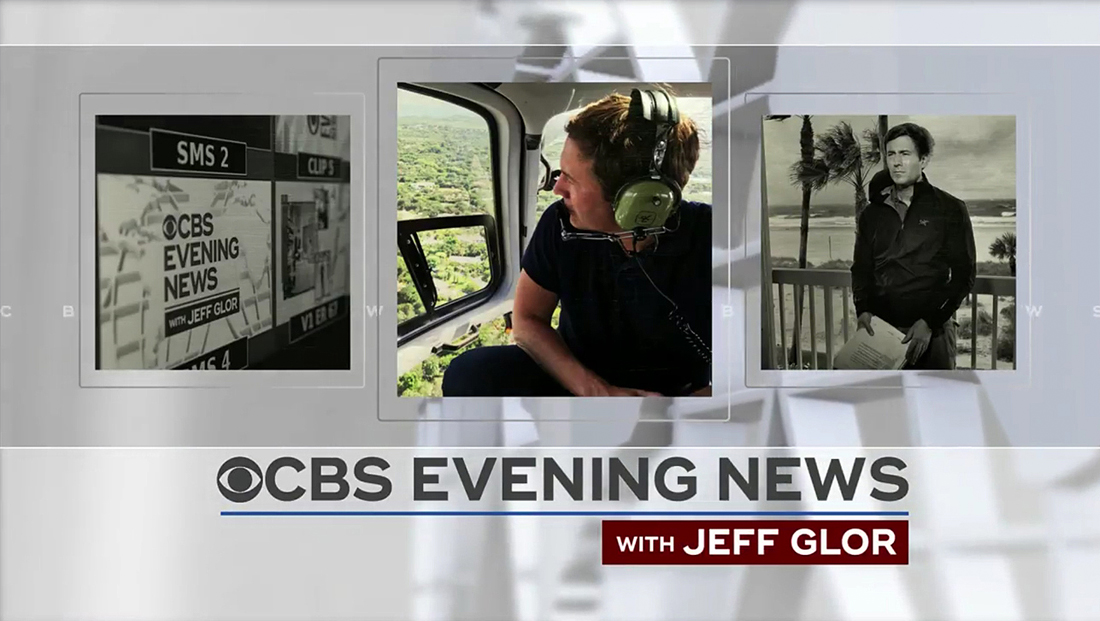 The new logo and graphics package largely sticks to the old logo's color palette, though a slightly brighter blue is incorporated.

The white "extruded map" motif that was introduced last year remains, though in many ways is less prevalent.

The show's producers also continue the use of square imagery and blurred layered look for the open, as well as expanding the use of thin gray and white outlines on various elements.

The thin outlines, which are similar to those found in the graphics package used at "CBS This Morning," also appear prominently in the show's insert graphics, including the rather large story banners.
It's worth noting, however, that "Evening News" sticks with rectangular graphics, instead of the angled look at "This Morning."
"CBS Evening News" also doesn't leave spacing between each element, making the look a bit more clean and compact.

Most of the banners and standard insert graphics used during stories and as identifiers emphasize a deep maroon shade — a choice that makes the look stand out among competitors "NBC Nightly News" and "ABC World News Tonight," though is also notably similar to the shades "CBS This Morning" uses for breaking news and political coverage.
All lower third style insert graphics sit above a narrow horizontal band with the show's logo and include animated effects. The look also sheds the world map texture that the show previously used.

Ridley Grotesk, the show's new logotype font, also makes appearances within the rest of the graphics package and story packages as well, though some stories Monday evening continued to use the textured, condensed typeface that the show has used frequently for some time.
The latest in design, production and engineering
Subscribe to NewscastStudio for the latest delivered straight to your inbox.