Jago creates flexible, clean look for Sky Sports studio update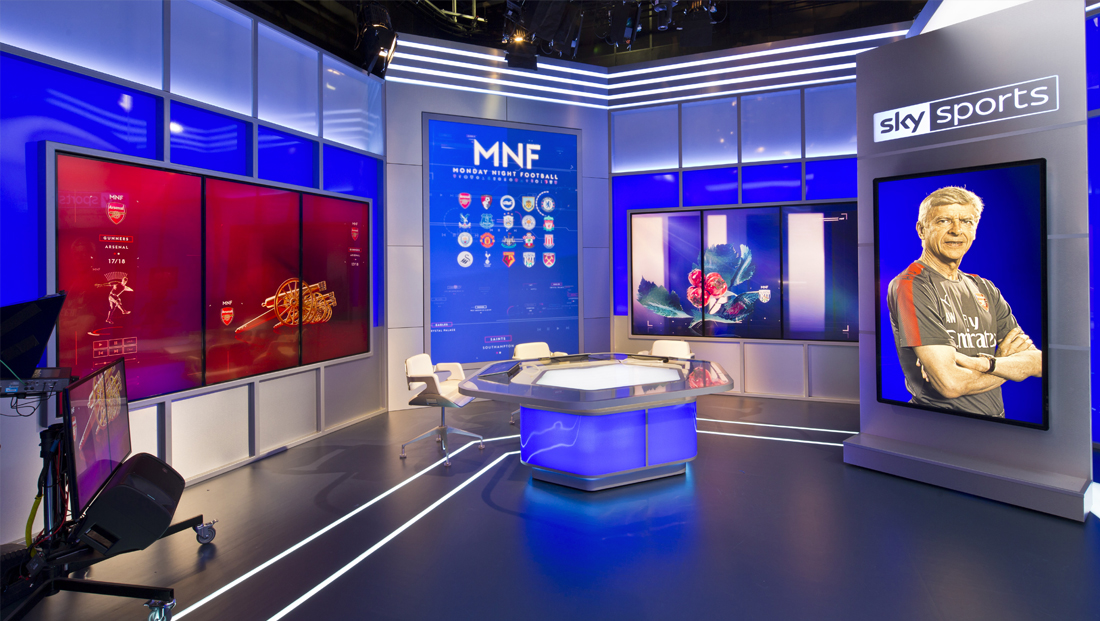 Along with a recent brand update and logo redesign, Sky Sports also invested in overhauling its primary studios outside London this fall.
The update includes three studios total, with Jago Design responsible for the direction of Studio 1 and 3, with Studio 2 designed in-house.
Jago's work on Studio 1 and 3 features clean, modern designs that emphasize rectangular and square shapes along with flexibility through moveable desks and technology.
Studio 1 is used to produce a variety of programming, including live European football coverage and a daily show as well as taped shows and the popular "Monday Night Football."
The foundation of Studio 1's design is thick metal frames, glossy backlit panels and silver and gray finishes — as well as plenty of video displays.
The largest LED video wall in the studio stretches across a row of backlit panels under an alternating header of metallic gray and white backlit bands.
An additional landscape video panel is built into the wall to the right of this wall and flanked by more of the striping and Sky branding.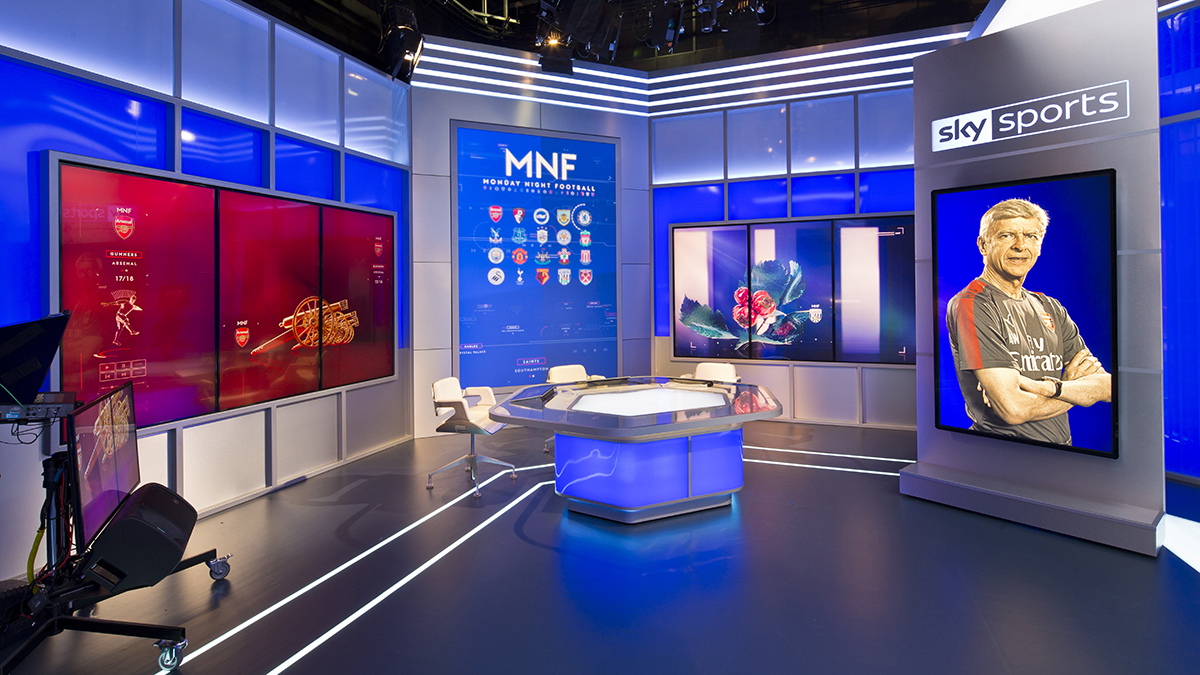 Elsewhere in the space, the set switches to portrait-oriented video panels in primary desk area, including an oversized one built into a towering corner wall capped with more of the banded element.
Flanking this are additional segmented walls flanked by a triptych of vertically mounted screens.
The studio's plentiful video panels make it ideal for producing multiple programs by giving producers dynamic backgrounds and storytelling options.
For example, the two three-panel video walls can be used to create branded backgrounds reflecting competing teams, while other video units can be used to create sprawling football field backdrops or showcase player portraits.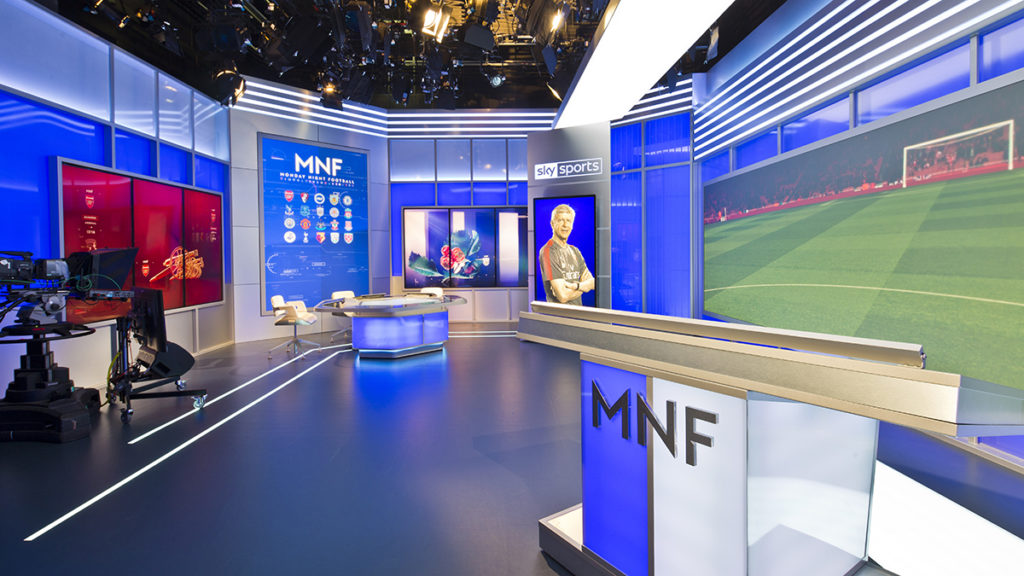 The flexibility is further enhanced by two movable set pieces dubbed "Toblerones" — metallic gray wall segments with vertical flat screens — that can be moved around the space.
In addition to being placed directly in front of the various walls on the wraparound set, the units can also be placed at angles to create more intimate areas or unique shooting angles for toss and bump shots.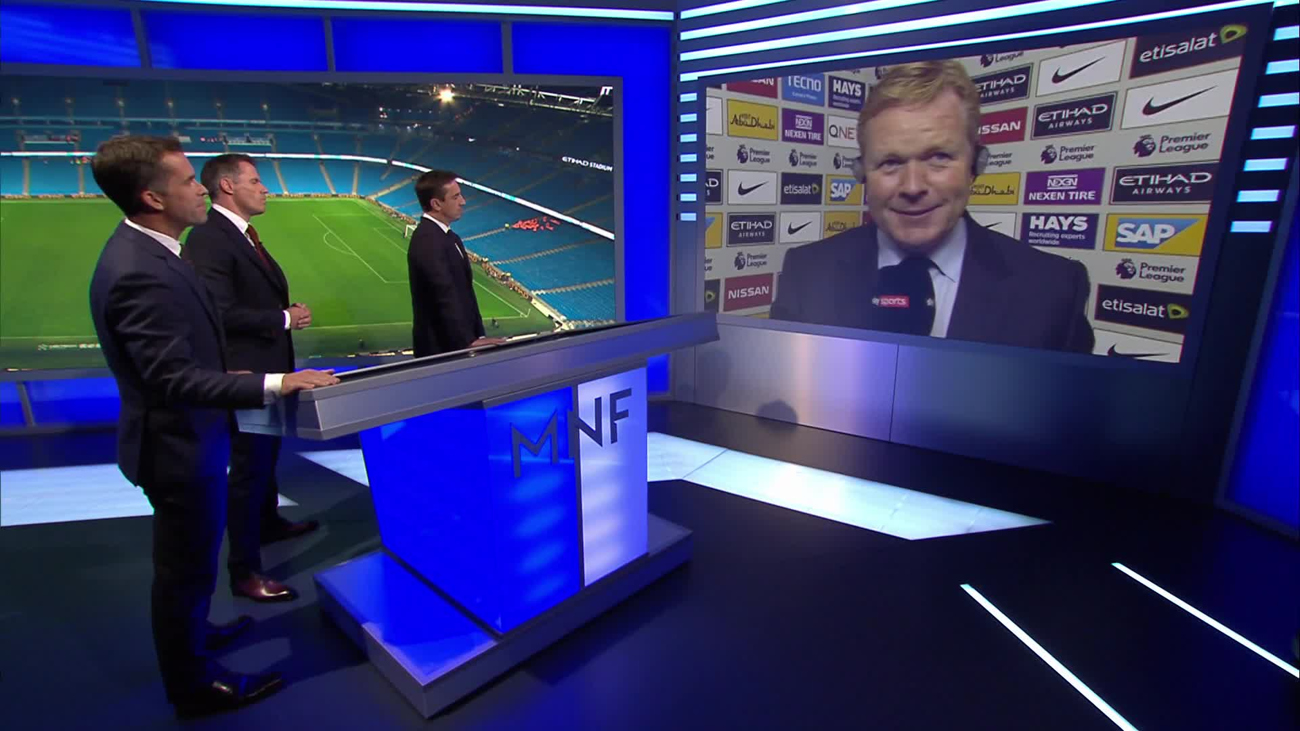 The on-set screens are all fed using Vizrt's Viz Multiplay system, which offers multiscreen studio control for sending dynamic content quickly to multiple screens, with up to eight simultaneous HD outputs from a single Viz Engine. AV integration was provided by Shooting Partners using Unilumin LED panels with scenic fabrication by Scena.
Additional flexibility is brought into the studio with a movable debate-style internally lit hexagon-shaped desk whose sharp angles echo those of the set's walls, as well as a pod with angled touchscreen for the presenter to use.
Sky Sports' "Monday Night Football" is unrelated to the long-running ABC and ESPN program of the same name in the United States — in fact, since North American football is known as soccer in Europe, the two shows actually cover different sports.
The latest in design, production and engineering
Subscribe to NewscastStudio for the latest delivered straight to your inbox.