Boris FX showcasing new versions, new app manager at NAB 2018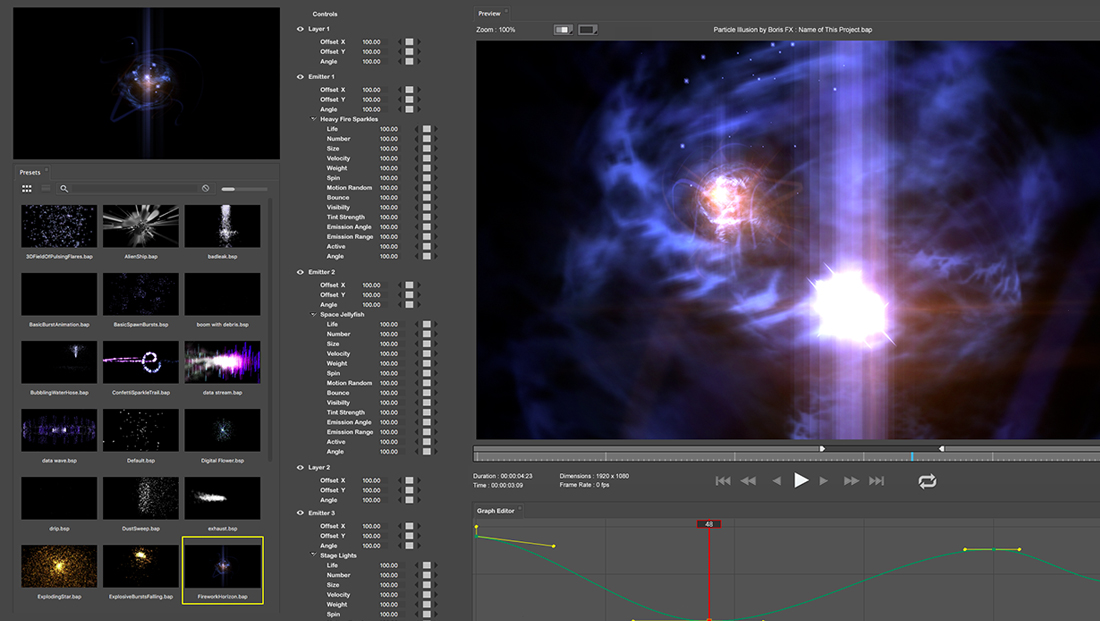 Subscribe to NewscastStudio for the latest news, project case studies and product announcements in broadcast technology, creative design and engineering delivered to your inbox.
Boris FX will be showcasing major new versions of the industry's premier plug-ins: Continuum, Sapphire and Mocha in connection with the brand new 2018 Boris FX App Manager at the NAB Show, April 9-12, 2018, Booth SL7620.
Technology demos of upcoming products are now united with a new Boris FX App Manager — a user-friendly, centralized utility to manage and license all Boris FX products and plug-ins.
Additionally, Particle Illusion, the popular motion graphics and particle animation system Boris FX acquired from GenArts, is being relaunched with an updated user interface, additional new emitter libraries, and blazing fast GPU speeds.
Original founder of Particle Illusion, Alan Lorence, has joined the Boris FX team as the product manager.
"We're excited to preview new versions of Sapphire, Continuum and Mocha, plus announce the reboot of Particle Illusion," said Boris Yamnitsky, Boris FX found and president in a statement.
"We have listened to our customer base and have taken on multiple initiatives that will greatly enhance the workflow for editors, motion graphics, and effects artists. Mocha will have a streamlined user interface to improve the tracking and masking found in all our products, and the new Boris App Manager provides our customers with a welcome centralized utility for quick and easy installation and licensing management."
Yamnitsky continued, "Another highly-requested feature was to bring back Particle Illusion. We have responded by reengineering and designing this application from the ground up. The NAB show is a great opportunity for customers to meet the team and learn more about our core commitment to developing the most robust professional tools for the broadcast and post-production industry."
Boris FX Suite 2018 and App Manager
The Boris FX Suite is a bundle product making the industry's three most popular plugin packages (Sapphire, Continuum and Mocha Pro) available together on one license with cost effective pricing, purchase, and subscription options.
The Boris FX App Manager is a new utility that unifies licensing and application management for all Boris products.
Particle Illusion
Particle Illusion creates brilliant motion graphics elements, such as sparkles, smoke, and fireworks with a lightning fast GPU-accelerated engine in a simple, easy-to-learn interface.
NAB attendees can preview a technology demo of the new Particle Illusion plug-in which will be released later in 2018 as part of Continuum 12 and the Continuum Particle Unit.
Mocha 2018
The Academy Award-winning tools found in Mocha Pro, Mocha VR, recently awarded a prestigious Advanced Imaging Society Tech Award, Sapphire and Continuum will feature a new essential interface mode to help editors and VFX artists solve tracking and masking challenges in less time.
Mocha Pro and Mocha VR will be updated in 2018 with an improved interface, new tools for rotoscoping and mask creation, and speed improvements in object removal and clean plating.
Sapphire and Continuum
The broadcast industry's most widely used plug-in packages for editorial and finishing will be previewing new technology and enhancements:
GPU improvements on Avid and Resolve for faster effects rendering and playback.
Output to broadcast monitor. Preview images and video from Boris FX UI applications to broadcast monitors via BlackMagic and AJA video hardware.
Title Studio with new tools and performance improvements: faster rendering time, new text tool, and user interface update.
New upgrade & support plan, subscription options
Boris FX customers can now stay on the most current versions of the Sapphire, Continuum and Mocha for a low-cost fixed annual price ($195-$495, varies by product).
The plan provides customers with automatic upgrades, better licensing and management, full phone and email support, unlimited burn and render licenses and more.
New annual subscriptions by product are now available with multi-host ($495-$895, varies by product) or individual host options ($195-$495, varies by product).
Host support includes pro video applications from: Adobe, Avid, Apple, Blackmagic Design, Autodesk, Foundry, Magix, FXHome, Grass Valley, Corel and more.
[nab-2018]
Subscribe to NewscastStudio for the latest news, project case studies and product announcements in broadcast technology, creative design and engineering delivered to your inbox.