EVS to unveil next gen production servers, AI and video refereeing systems at NAB Show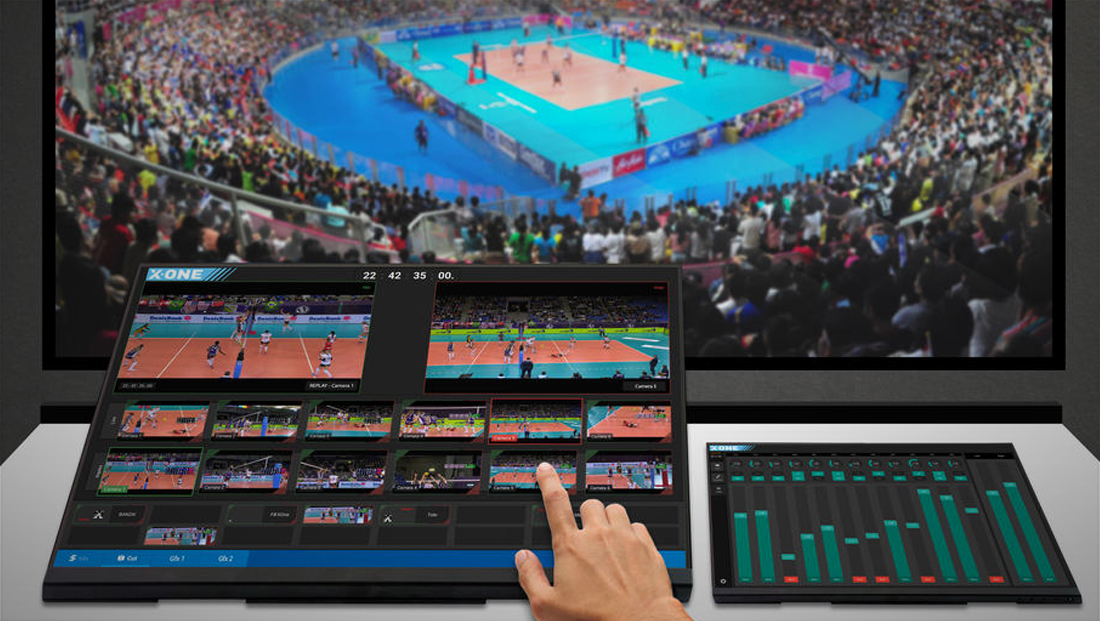 Subscribe to NewscastStudio's newsletter for the latest in broadcast design, technology and engineering delivered to your inbox.
The 2018 NAB Show will see some major additions to EVS's offering, including the introduction of the next-generation XT live production server and the integration of artificial intelligence into its video-refereeing system, Xeebra.
The leader in live video production technology will also present X-One, its award-winning unified production system and demonstrate its IP flow routing system Score Master.
In addition, the EVS booth will feature dedicated demonstrations for live eSports production and sports venue control rooms.
Next-generation XT Server
Visitors to the EVS booth during the show will discover the company's new live production server. The brand new XT series server will come with higher UHD–4K channel density — up to six channels — and offer optimized bandwidth for any live production workflow — whether in UHD, HD or 1080p.
And with its integrated HDR support, the latest XT server is built to meet growing demand from those operating in higher-resolution live production environments.
While remaining interoperable with existing EVS workflows, the server will offer SMPTE ST2110 support as well as the opportunity to deploy Super Motion cameras when operating in an IP infrastructure.
More importantly, the new XT server will unlock the power of IP deployment by reducing the need for SDI-to-IP gateway devices and enable a seamless transition to the next generation of production infrastructures.
Further technical details and more information – including the server's name and availability – will be unveiled soon.
AI-driven officiating
EVS will also present Xeebra 2.0, the latest version of its multicamera review system, which lets sports officials and on-air analysts review on-field action with speed, accuracy and proven reliability.
Users can view up to 16 camera angles that remain entirely in-sync, swiftly select preferred angles on the system's touchscreen and zoom into the images with a simple touch-and-pinch gesture.
Also, Xeebra's client-server architecture means that it can be deployed wherever it needs to be, whether on the sidelines, in a venue production control room or further away in a centralised media hub.
At the show, the 2.0 version will feature a new AI integration which automatically calibrates the field of play – something that's time-consuming if done manually.
As a result, setup time is significantly reduced and operators can easily place graphics onto the calibrated field with the highest level of precision to aid their decision-making process.
Unified production
For the first time at NAB, EVS will present its all-in-one live production system X-One.
Awarded with IABM's prestigious Peter Wayne Award for Design and Innovation, the EVS system has been designed for the live coverage of niche sports or events requiring a maximum of six cameras.
With its contextualized user interface, which acts as a built-in production assistant and only shows functionalities that are time relevant, a single operator is able to cut a program with the live camera feeds, control audio, and create replays and graphics that can be easily added to the live program.
In the end, content providers are given the opportunity to find the right balance between covering more events and keeping control of production costs.
IP routing for live production
EVS will also showcase Score Master at this year's NAB show. EVS's IP flow routing system has been designed for deployment within IP-based live media production workflows and provides central orchestration, flow-based monitoring, bandwidth and latency awareness as well as production control.
As a result, engineers have the ability to maintain a constant overview of the sources and end points across an IP-connected network.
Dedicated production zones
The eSports arena will feature solutions tailor-made for deployment in one of the fastest growing sectors of live programming.
At the show, EVS will present a partnership with one of the world's largest eSports organization and detail how EVS technology can be deployed to improve the live storytelling of eSports events to connect to an even wider audience.
At the same time, the presentations will show how live stories can be created and more easily distributed across multimedia platforms to the sport's fans online.
In addition, the in-stadium control room area will demonstrate EVS's unified stadium alongside key partners in live sports to show how EVS technology can be used to create and distribute the most engaging gameday entertainment.
It will feature several partnership demonstrations, including one with ChyronHego for the delivery of in-stadium audio, video, graphics and animations.
A presentation of Trans-Lux's in-venue LED displays will also be live, showing how EVS's live production switcher Dyvi is used by the New Jersey Devils NHL team to feed live video content to the largest in-arena scoreboard in the world.
[nab-2018]
The latest in design, production and engineering
Subscribe to NewscastStudio for the latest delivered straight to your inbox.