Explore the top NAB Show parties and events for 2018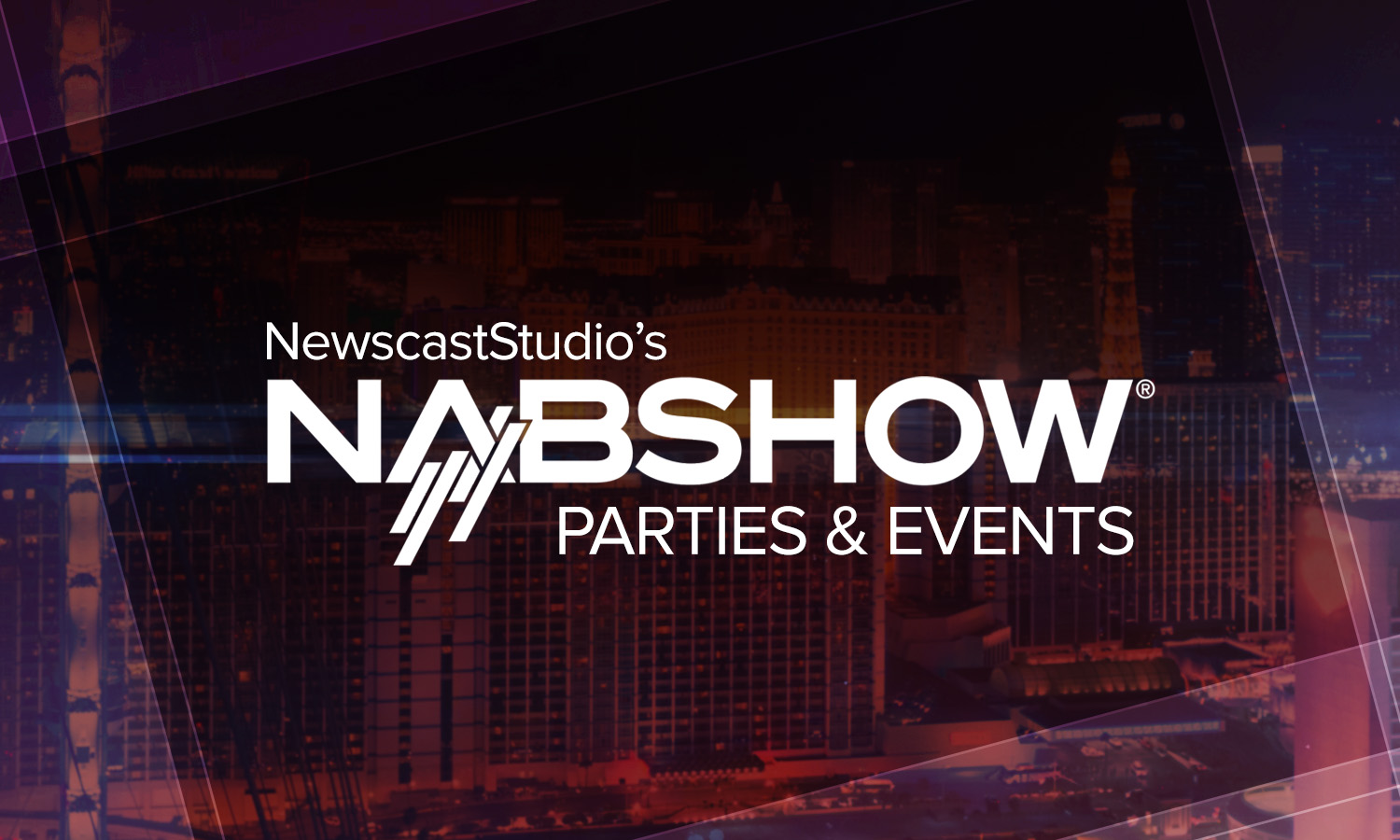 Subscribe to NewscastStudio's newsletter for the latest in broadcast design and engineering delivered to your inbox.
Attention broadcasters from across the globe, now is the time to brush up on your elevator pitch, finish your show floor map, and showcase your best self, because the annual, highly anticipated NAB Show is only a month away.
This year, the NAB Show begins April 7th and runs through April 12th, straight from the Las Vegas Convention Center.
In addition to hosting all the center of broadcasting for the week, the NAB Show is known for a plethora of special events and parties. Explore our list below of the various official and unofficial parties from the 2018 NAB Show, including ones held on the show floor and surrounding clubs and ballrooms.
Some of these 2018 NAB Show after-parties are private or by invitation only and some may have an admission charge. This list will be updated as we receive new information on parties and events, so check back before heading to Vegas for the latest information!
Avid Connect
This digitally charged event is packed with two and a half days of keynote speakers, peer-led interactive activities, and a chance to connect with some of the greatest minds in digital broadcasting.
MediaMotion Ball 2018
The MediaMotion Ball (MMB) is a not-for-profit annual gala that has been a part of the NAB Show since 1998, where attendants will get the chance to interact with some of the biggest names in production while enjoying a fantastic, multi-course dinner, complete with dessert.
Sports Video Group NAB PRE-Game Party
This is a free event, open to all end users of sports technology, which is sure to be the hottest Pre-Game Party ever; with cocktails and one of the best networking events at the NAB Show for anyone with a sports broadcasting discipline.
Content Creators Celebration
Content creation is an ever-changing, evolutionary art that is best curated when likeminded individuals, with different backgrounds and practices, get together to teach and learn from one another; the Content Creators Celebration is an exemplary event for such an experience.
17th Annual Las Vegas SuperMeet
The agenda for this SuperMeet is "SuperSecret" but if it's anything like the previous sixteen years, it is sure to be a wealth of exclusive information, industry secrets, and surprise guests.
4k 4Charity Fun Run
Break out of the official, technical field for a while and network, while benefiting people in need by participating in the 2.49-mile run/walk through Sunset Park where everyone in the industry is on even ground, working toward the same goal.
IABM 2018 BaM Awards
The BaM Awards focus on rewarding innovative technological advancements that have a substantial, beneficial impact on business and creativity throughout the broadcasting disciplines.
FCP X Guru Gathering
This is the show-stopping, heart-pounding event that every Final Cut Pro (FCP) X professional dreams of attending. With a host of authors, editors, trainers, and filmmakers, all specializing in FCP X in attendance, this is sure to be a night that up and coming talent will never forget.
New York Festivals International TV & Film Awards Gala
Gain insight, garner expertise, and learn from the best in the business, all while cheering on the World's Best TV & Films, collected from over forty countries, while they compete for their chance to shine among their peers.
#GALSNGEAR
This pop-up event drew hundreds of attendants last year and gave away over $10K worth of production gear and this year, #GALSNGEAR are hoping to draw thousands as they fight to ensure equality among women in the technical fields of media.
International Reception
This is possibly a once in a lifetime opportunity for U.S. exhibitors to showcase their talents and expertise to international buyers who are looking to network and hire from a sea of unique and passionate talent.
Streaming Summit Beer Garden Reception
Attention Streamers! This year, a new summit is being added to the docket, featuring Dan Rayburn and other professionally revered attendants at the Beer Garden Reception. This is a wonderful place for streamers to network and get to know the experts in this field of broadcasting.
For more information about these events and all the other exciting happenings that this year's NAB Show has to offer, visit the NAB Show website.
NAB Show Central presented by Leyard / Planar


NewscastStudio presents the latest news, product announcements and reports from the 2018 NAB Show in our special section, brought to you by Leyard and Planar, the leaders in display technology and fine-pitch LED.

Explore Our Coverage →