Dramatic angles drive design for beIN's World Cup studios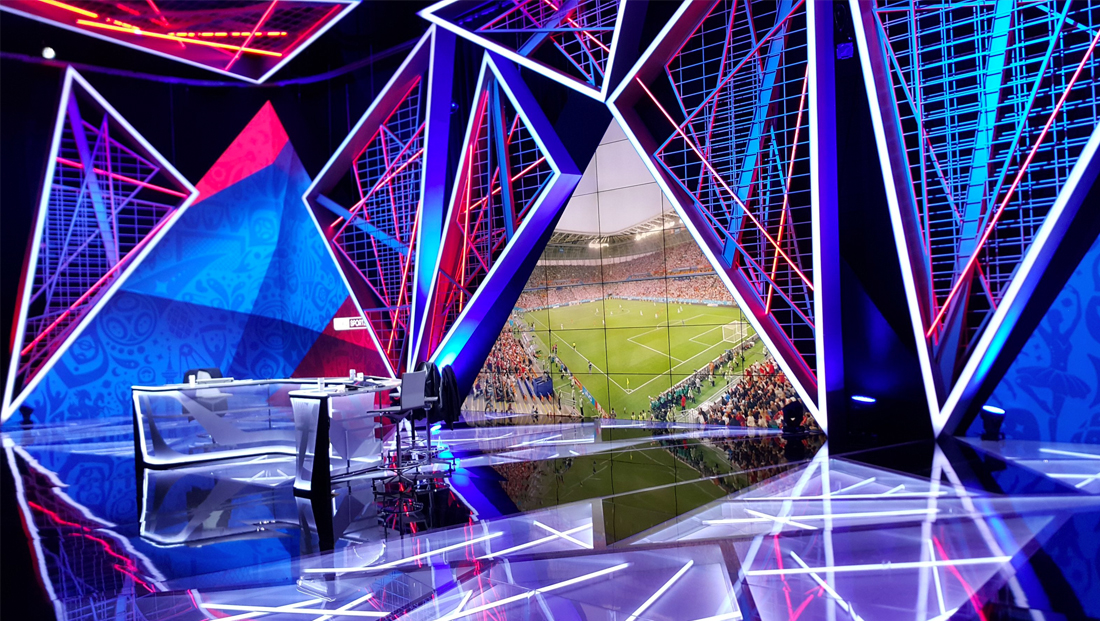 Global sports network beIN Sports is presenting its 2018 FIFA World Cup coverage from a collection of studios that use eye-catching angles and lines as a major design motif.
beIN Sports, a spinoff of Al Jazeera Media Network, is using multiple studios around the world for its World Cup coverage, including two key ones in Red Square in Russia and its regional headquarters in Doha, Qatar.
The Doha studio is perhaps the most dramatic example of the angular look, with large, oversized triangular elements shapes with integrated lighting.
Inside the largest of the larger and thicker of these shapes are additional lighted angled and grid elements.
Openings between the main triangular elements, meanwhile, are filled with video walls.
Two seamless LED walls on either side are typically fed blue textured backgrounds, which take on a triangular shape as well, are filled with a playful collage of imagery inspired by Russian culture and history.
In addition to these backgrounds, a towering, non-seamless video wall peeks through the center of the set — giving a unique shape for this flexible storytelling canvas.
In front of the dramatic set walls, a horseshoe-shaped anchor desk with sleek metallic frame and glass front eschews the angled look in favor of right angles with curved corners — a nod to the network's logo.