ESPN's new 'First Take' studio structures look around 'axis of conflict'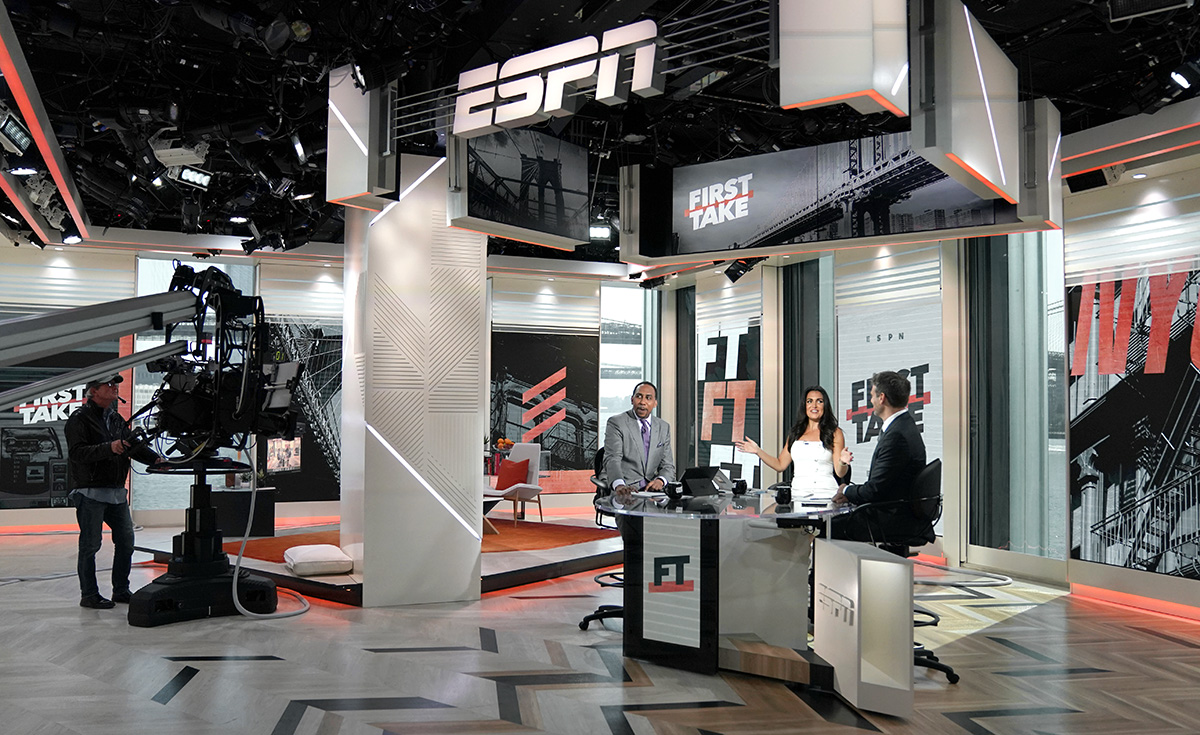 Subscribe to NewscastStudio for the latest news, project case studies and product announcements in broadcast technology, creative design and engineering delivered to your inbox.
ESPN's "First Take" has moved to the network's downtown Manhattan production facility in the South Street Seaport development at Pier 17.
The 2,300-square-foot studio, designed by Clickspring Design, occupies the corner of the building and takes advantage of the building's vertical windows, which are interspaced with LED video panels of approximately the same size.
Since the floor wasn't originally meant as an open studio space, a thick structural column dictated much of the placement of studio zones, which include both a hard news area and an interview set up.
The bold angles of the "corner office" space are offset by an angular home base adjacent to the column, which features a debate-style desk built by Mystic Scenic Studios from a series of blocky dark gray and white plinths.
All of these varied and sharp angles were inspired by the lively debate of "First Take," which is hosted by Stephen A. Smith, Max Kellerman and Molly Qerim.
"The desk is the ultimate point of conflict. It is located precisely along the axis where the opposing floor materials meet, and its volumes are extrusions of that floor pattern, so a deconstructed series of branded plinths form the desk rather than a traditional singular volume," said Christine de Witte, the project's design director at Clickspring.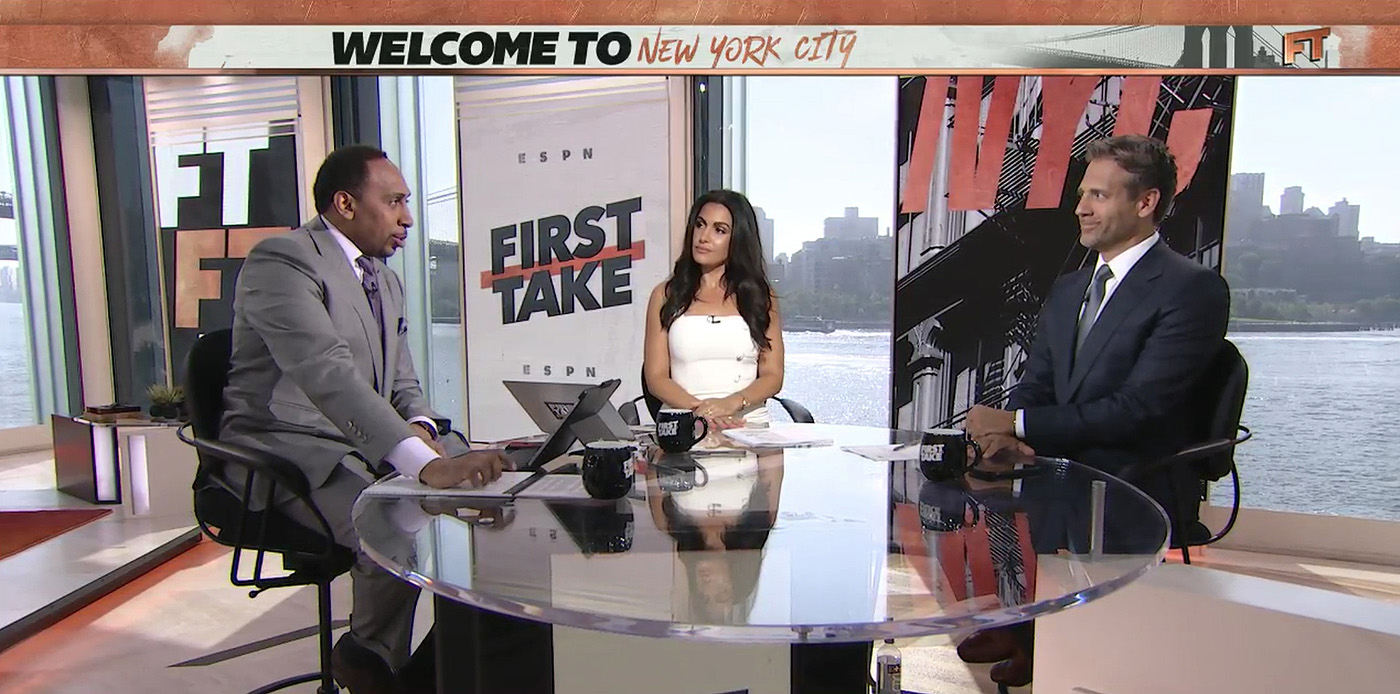 Above this multiperson desk is a segmented header element that's a squared-off horseshoe shape, which is also positioned on a diagonal, with LED video ribbons covering the inside of the header, while a dimensional ESPN logo is suspended at the open end.
"The show's content centers on sharply opposing views, so we aimed to create a central zone where contrasting materials collide and express the tension of a debate — this is most apparent in the chevron floor pattern," said de Witte.
The header element, meanwhile, has a dual purpose. Not only can it display branding elements above talent, but — thanks to automation from Creative Conners — segments can be lowered down to let remote guests appear to be "seated" at the table. This helps to cultivate energetic interactions between the hosts.
The studio's windows provide a sweeping view toward the Brooklyn Bridge and East River. However, for occasions where weather or sunlight is unfavorable, the combination of LED on perimeter columns, roller shades and tracking masking panels provide the opportunity to create highly varied looks, explained de Witte.
FLDA's lighting design was also a key part of the design strategy, with the goal of creating a bright and airy look that complements talent while also tackling the challenges of shooting through windows.
On the other side of the column, tucked into the corner of the space, is a multipurpose area that can be set up in a variety of configurations, including formal and informal interview segments or seating for larger panel-style segments.
At its core are extruded plinths similar to those at the anchor desk which, here, become end-tables. In "backdrop" configuration, these plinths support a corner credenza propped with influential sports- and NYC-themed books, but the credenza can be removed to create more space.
"The soft seating area is located away from the anchor desk's axis of conflict, so it naturally starts to feel a bit more relaxed, less filled with tension," notes de Witte.
In addition to serving as topical or branded backgrounds, the LED video panels can also be loaded with images (or virtual set extensions) of sleek white built-ins.
In addition, the design team has also anticipated less-than-ideal weather or lighting conditions and have a backup plan that, with the windows covered, the LED towers can be used to showcase an "ideal" cityscape view.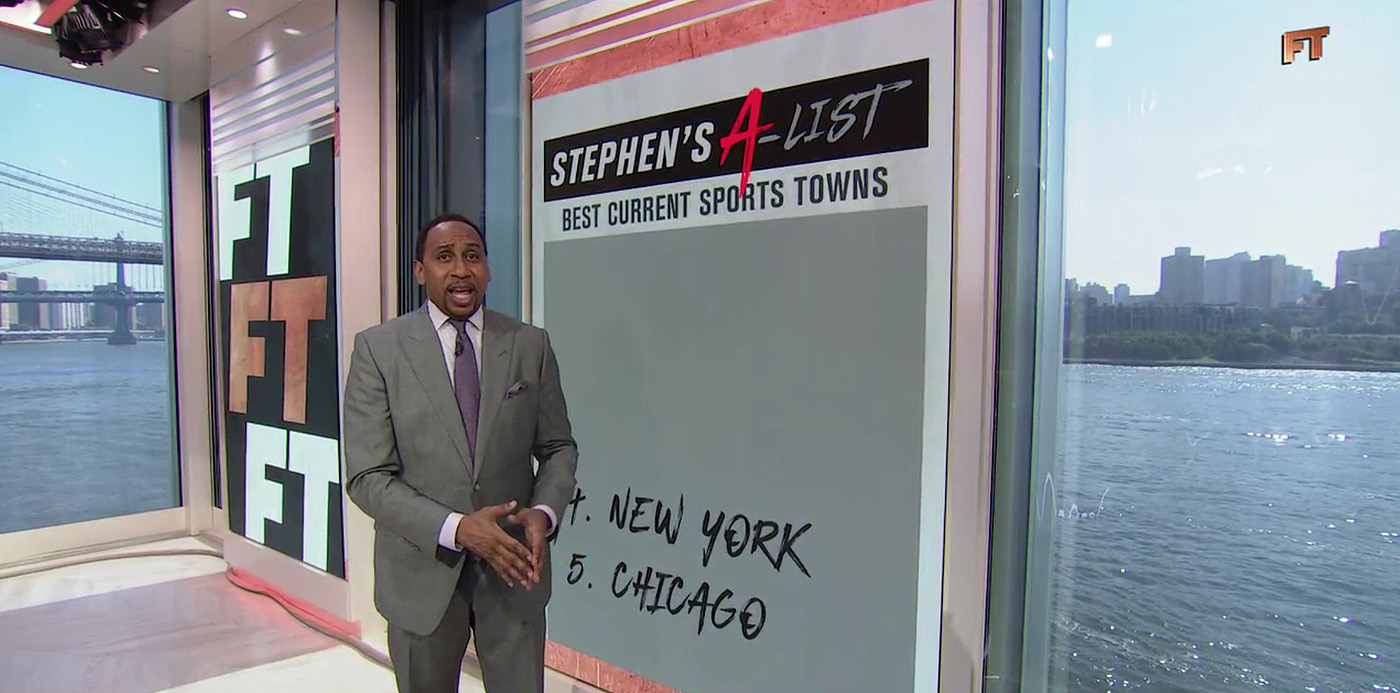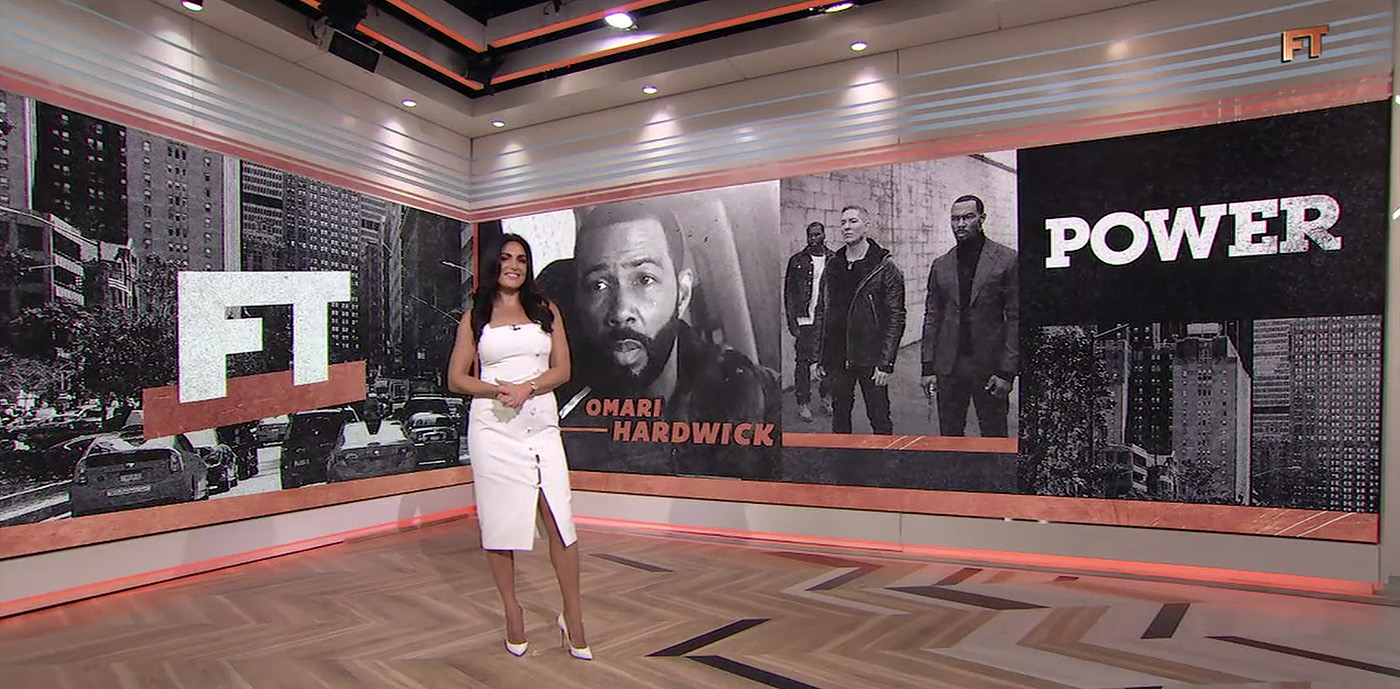 The space also has additional flexibility thanks to tracking video panels on the two interior walls that can be used as backdrops for standup locations while also disguising the studio's entrance.
"The ambition was to design a space that felt sleek, modern, and light; not at all like a traditional black-box studio. Although of course a lighting grid and other practical considerations are required, details such as perimeter soffits contribute to a more architectural than broadcast finish," added de Witte.
Subscribe to NewscastStudio for the latest news, project case studies and product announcements in broadcast technology, creative design and engineering delivered to your inbox.