Test talker 'breaks through' rectangular motif with soft accents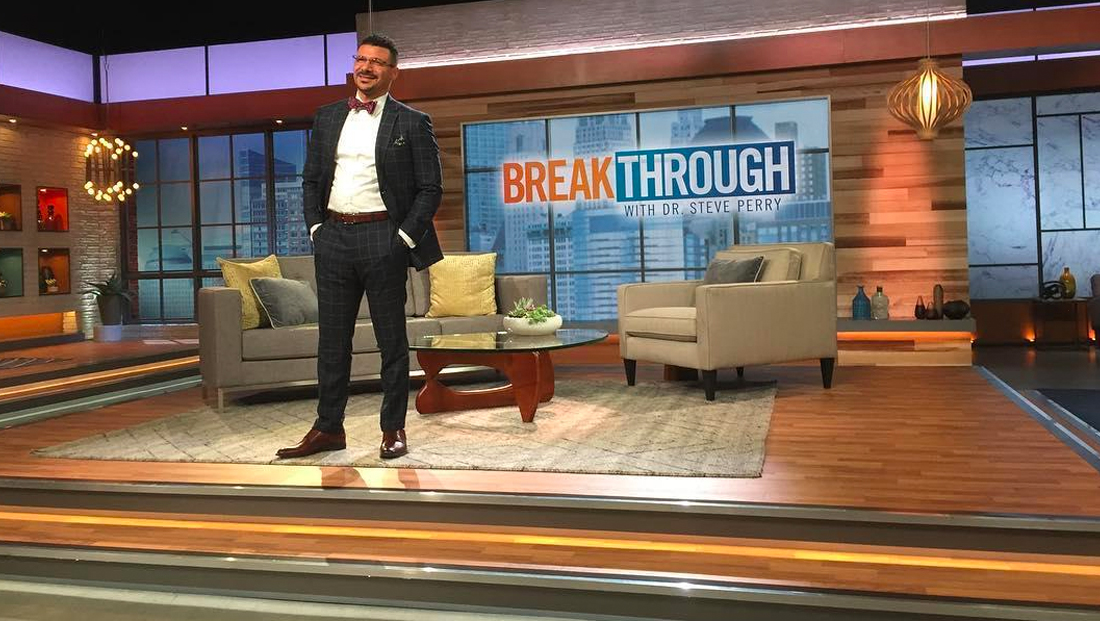 "Breakthrough with Dr. Steve Perry," currently in the middle of a two-week test run on select Fox O&O stations, uses a background of rectangles mixed with warm textures, finishes and organic shapes to bring a bright, warm look to TV.
The show, which began its 10 episode trial Jan. 7, 2019, is shot at Vista Studios in Playa Vista, California.
The talk show features Steve Perry, who holds a doctorate of education and master of social work degree, with guests in crisis or facing a key life decision.
To surround these discussions, JHD Group designed a loft-like set that uses faux windows and brick, backlit panels, open and alcove shelving and wall-mounted wood planks to establish a solid rectangular grid for the set's visual foundation.
All of these textures and finishes were crafted by the team at IDF Studio Scenery.
A blocky sofa and chair for guests and Perry on a structured riser complete the look, which is also echoed in the show's logo design, which places the "through" part of the title in a blue box next to orange typography for the first part of the word.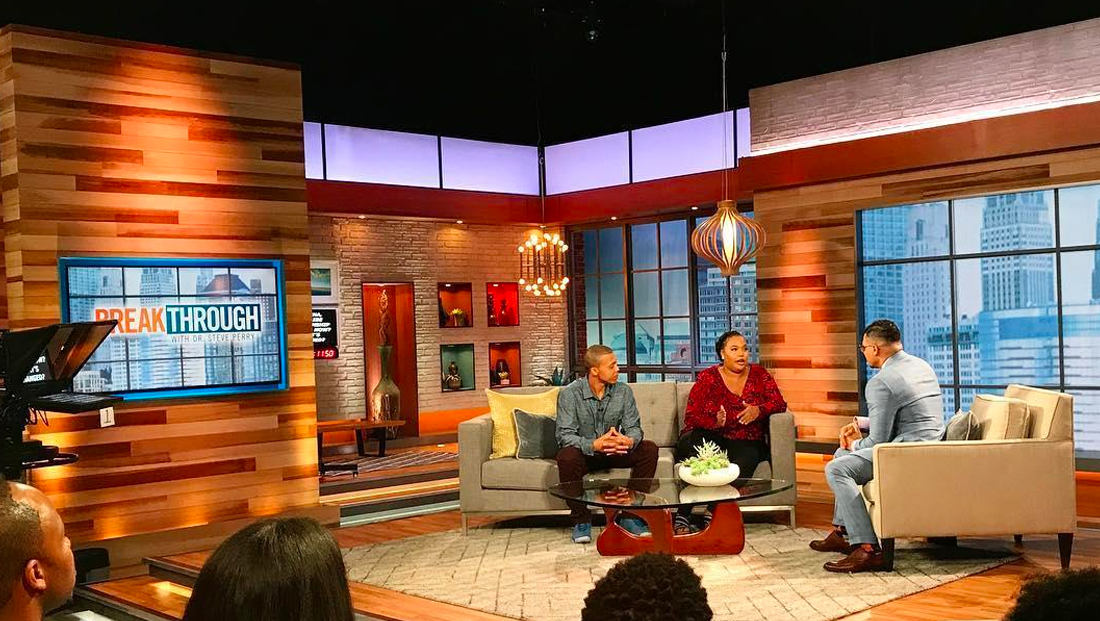 The look avoids becoming overly structural, however, thanks to the use of lighter colors and textures such as wood, brick and simulated backlit marble, as well as organic accent lights on either side of home base and decorative accessories placed strategically throughout the space.
In addition, the various rectangular elements on the set are staggered and varied in size, which, along with the wide variety of finishes, adds visual interest to the design.
Splashes of color are added thanks to colorful display niches and a row of bold red audience seating.
The set's technology includes a large seamless video wall camera center that can be used to simulate a cityscape view or topical graphics, while a smaller video panel camera left can be used for standup-style shots.
Darren Langer of DC Lighting provided lighting design, which includes integrated lighting accents and bold downlight accents on either side of the main background wall that bring out the richness in the wood and brick textures.
Perry is the founder of Capital Preparatory Schools, a nonprofit that runs charter schools in New York and Connecticut, that focus on preparing low-income students for college. Many of these students are the first in their family to attend college.
Perry has also appeared on CNN and MSNBC, writes for Essence magazine and serves as Oprah Winfrey, Sean Combs and Bishop T.D. Jakes' education adviser.
If the trial run proves successful, "Breakthrough," which is produced by CBS Television Distribution, could be placed in the syndication market come fall.