Explore the must attend events and parties of the 2019 NAB Show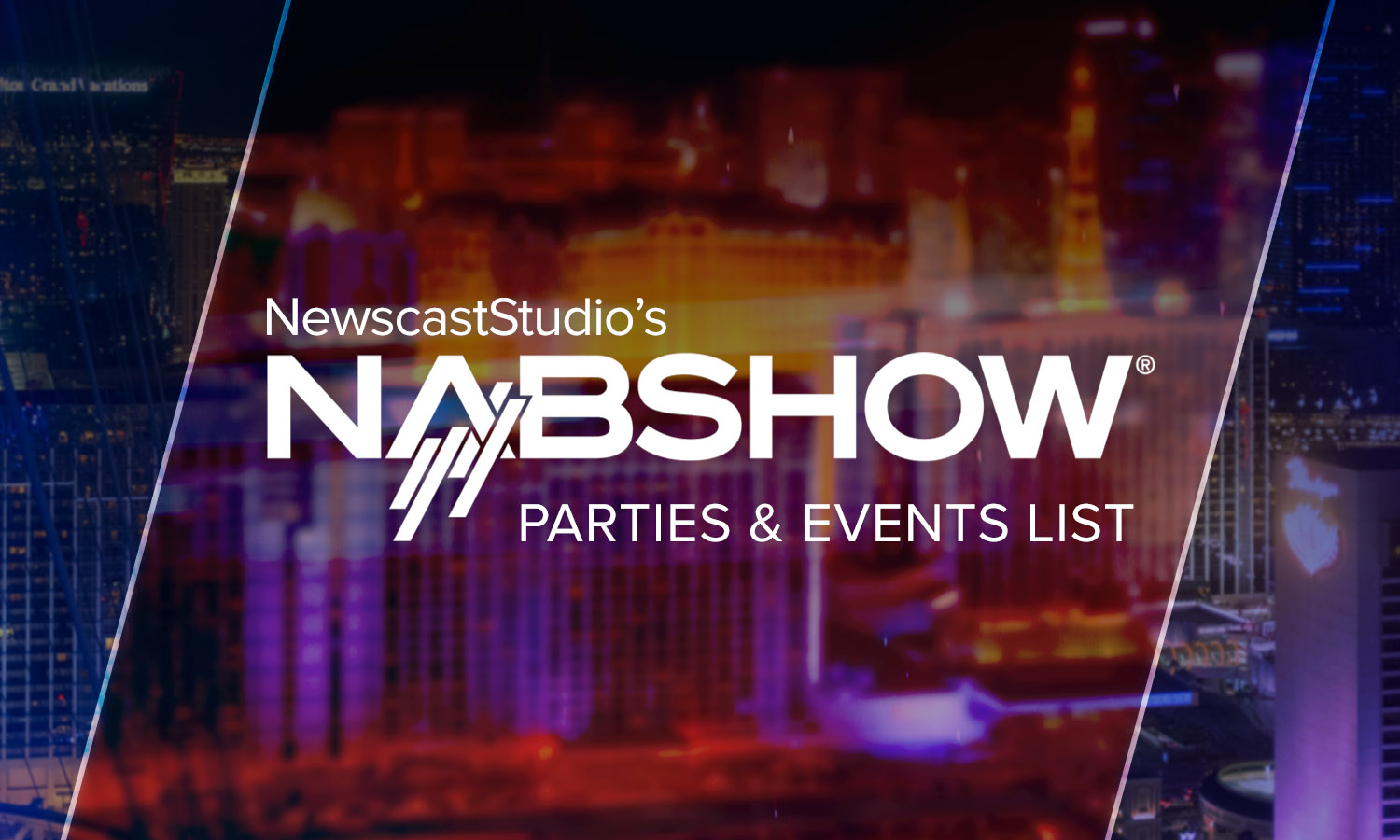 Subscribe to NewscastStudio's newsletter for the latest in broadcast design, technology and engineering delivered to your inbox.
Calling all broadcasters, podcasters, and story spinners throughout the United States, it is that time once again. The 2019 NAB Show is quickly approaching!
The NAB Show will debut on April 6th and will host thrilling events daily through April 11th. Brought to you, in true NAB Show style, this year's showcase will return to the Las Vegas Convention Center.
Throughout the week, there will be a host of exciting industry exhibits. Yet, what happens during the day is only an educational tailgate for the evening festivities.
The NAB Show's true claim to fame is the special events and parties that take place after the sun sets on the Las Vegas Strip. Explore the VIP listing of both official and unofficial events and parties taking place in the shine of this year's NAB Show spotlight. This docket of delight names events held on the show floor as well as at surrounding clubs and ballrooms.
Please take note: A few of the 2019 NAB Show after-parties listed are private or by invitation only. Additionally, there are events that may have an admission charge. Information is still being posted about these events. Therefore, this list will continue to be updated as we receive new information. So, make sure to check back frequently before solidifying your NAB party plans!
Avid Connect
Avid Connect is back for another year of innovation and collaboration. This year, the annual favorite will tackle some of the most pressing issues in broadcasting. This is the future, presented to visitors through the span of this awesome and engaging event.
Date: April 6th through April 7th
Location: ARIA Las Vegas
MediaMotion Ball 2018
The MediaMotion Ball (MMB) is a not-for-profit annual gala that has been a part of the NAB Show since 1998. For over twenty years, the MediaMotion Ball has astounded guests by having the biggest production influencers in attendance. Plus, there is a multi-course dinner spread and fun to be had by all!
Date: Tuesday, April 9th
Location: SLS Las Vegas Hotel
MoGraph Meetup
Join Greyscalegorilla, School of Motion, Video Copilot, and aescripts + aeplugins for drinks at the NAB MoGraph Meetup.
Date: Sunday, April 7th from 7-9 p.m.
Location: Beerhaus
YOPRO PROGRAM
This event is designed to help Young Professionals meet and mingle with some of the biggest names in technology. This is a truly unique opportunity for 21-35-year-olds. There is no better way to diversify and strengthen your network as a Young Professional than connecting with industry leaders.
Date: April 8th through April 11th
Location: North Hall
Content Creators Celebration
The official after-party of Post|Production World Conference, celebrate 16 years of this unique conference-within-a-conference. The party will allow the community to celebrate as attendees can mix and mingle with sponsors, the Post Production World instructors, industry vendors, NAB Show staff, and your peers for an evening of networking.
Date: Sunday, April 7th from 6:30-8:30 p.m.
Location: South Hall Meeting Rooms – S222/S223
Dalet Pulse at NAB 2019
Dalet Pulse is where media & technology executives meet to connect, collaborate, and celebrate as one community. Dalet keynote speakers will introduce new products, thought leaders and innovation speakers will discuss the latest trends in the industry.
Date: Sunday, April 7th at 5 p.m.
Location: SLS Hotel, The Foundry
2019 AWM Women's Room @ NAB
This year, the ladies are taking over! The 2019 AWM Women's Room @ NAB will discuss how women can capitalize on creativity and innovation. Plus, those in attendance will have the opportunity to join the AWM and help them with their mission.
Date: Sunday, April 8th
Location: Las Vegas Westgate Resort
Social Community Mixers
Social Community Mixers are the perfect atmosphere for professionals within the same industry to meet and mingle. There are a host of different industry social community mixers; most of which are available with a NAB Show badge. From Podcasters to Esports professionals, these mixers are sure to offer a wealth of information and networking potential.
Date: Monday, April 8th – Wednesday, April 10th
Location: Las Vegas Convention Center
4K 4Charity Fun Run
Everyone can benefit from a little morning run and this 4K 4Charity Fun Run is exactly what the doctor ordered. This annual 2.49-mile run/walk through the gorgeous Sunset Park starts at 7:30 a.m. It is the perfect opportunity to network in a different environment and work toward a common goal. Plus, 100% of the registration fee is tax-deductible and benefits Girls Who Code.
Date: Tuesday, April 9th
Location: Sunset Park
IABM 2018 BaM Awards
The BaM Awards are an annual highlight of the NAB Show. The focus of this event is to acknowledge businesses that have made innovative, technological modernizations. This includes new technology and a novel approach or enhancement of known tech. These advancements result in a large, positive impact that is felt throughout the multi-media and broadcasting industry.
Date: Monday, April 8th
Location: Ballroom D&E, Westgate Las Vegas Resort
The Amateur Radio Operator's Reception
Radio operators unite! The Amateur Radio Operator's Reception is a rare chance for likeminded individuals to get together and share their passion. This reception will be filled with people who share your enthusiasm for radio. Additionally, there will be the potential to win prizes and create invaluable connections throughout the industry.
Date: Wednesday, April 10th
Location: Westgate, Ballroom B
Buy tickets for the HAM Reception
New York Festivals International TV & Film Awards Gala
This annual showcase of the World's Best TV & Films, collected from over forty countries, is a once-in-a-lifetime experience. The finalists for the 2019 show have been announced and now, all that is left is to let the show begin. This is a rare chance for industry talent to have the opportunity to be noticed and appreciated.
#GALSNGEAR: What's New, What's Next in Post
The goal of #GALSNGEAR is to continue fighting for equality among women in the technical fields of media. This year, the group is hosting a few different pop-up events, throughout the duration of the NAB Show. The most anticipated event, however, is the live all-women panel discussion. This is taking place on Wednesday, April 10th from 10:30 a.m. – 11:30 a.m.
Date: Wednesday, April 10th
Location: Innovation Pipeline Theater
International Reception
Globalization has created the ability and a need for international business dealings. Negotiating these deals, however, can still be difficult. Fortunately, the International Reception offers a unique opportunity for investors and businesses to meet and network. For businesses looking to expand, this one Reception you are going to want to attend.
Date: Monday, April 8th
Location: North Hall
Register for the International Reception
Beer Garden Networking Reception
Come on in and have a beer with us while networking with fellow industry professionals. For the second year in a row, the Garden Networking Reception is sure to be a fun and laid-back atmosphere. Visitors do not need a special ticket; just their NAB Show badge!
Date: Monday, April 8th
Location: Silver Square Parking Lot
For more information about these events and all the other exciting happenings that this year's NAB Show has to offer, visit the NAB Show website.
NAB Show Central presented by Leyard / Planar


NewscastStudio presents the latest show news, product announcements and reports from the 2019 NAB Show in our special section, brought to you by Leyard and Planar, the leaders in display technology and fine-pitch LED.

Explore Our Coverage →
The latest in design, production and engineering
Subscribe to NewscastStudio for the latest delivered straight to your inbox.