Your guide to NAB Show 2019's industry-specific pavilions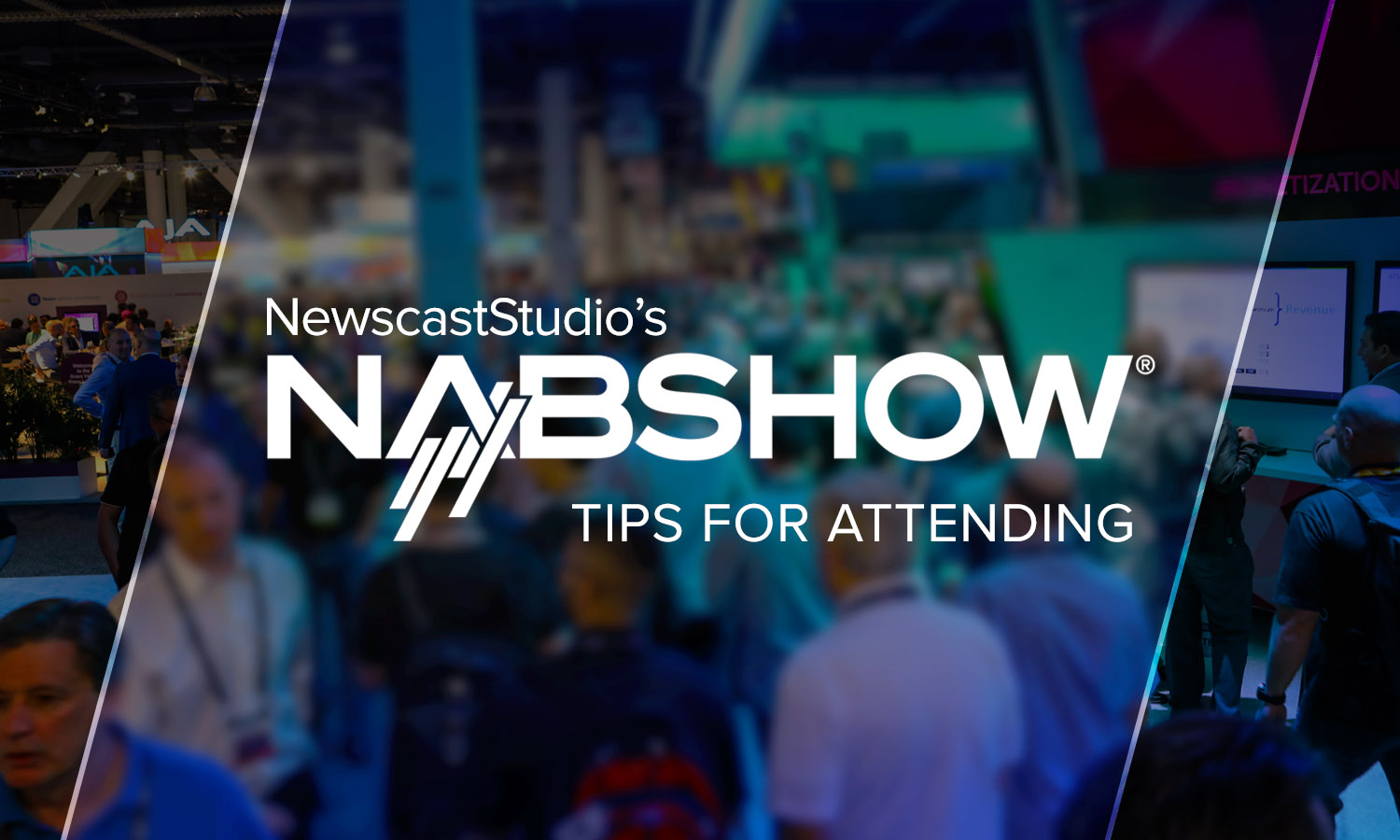 Subscribe to NewscastStudio's newsletter for the latest in broadcast design and engineering delivered to your inbox.
Broadcasters and multimedia geniuses make the world the entertaining place that it is. Without the continuously innovative technologies that go into creating entertainment, the world would be a dull place.
To keep up with the expanding technologies and capabilities in this field, annual interaction and discussion is key. The NAB Show presides as the industry standard for networking events. Every year, this show offers a plethora of new ideas, experiences, and innovations that keep the industry up to date.
This year, the NAB Show is returning to Las Vegas, from April 6th to April 11th. In addition to the staples of the industry, there are plenty of unique attractions that highlight the event's specialties. The 2019 show promises to have some of the best of these unique attractions to date. So, mark your calendars and get your name on the list; because you are not going to want to miss these industry-specific 2019 NAB Show Attractions:
Advanced Advertising Pavilion
The Advanced Advertising Pavilion is a place where advertisers can learn how to take their creations to the masses. Learn secrets from leading companies. Develop the latest skills, tactics, and technologies. Realize the potential that your company possesses to reach your audience. This is not simply preaching about SEO and obscure advertising objectives. The Advanced Advertising Pavilion is a treasure-trove of actionable insights and a better understanding of how successful advertising is accomplished.
Featured Topics:
Advertising (Brands, Agencies, Buyers)
Brand Building
Branded Content
Influencer Marketing
Digital Advertising Strategies
Evolving AdTech and MarTech
Self-Serve Advancements
Session Highlights:
Making Streaming Advertising Work on the Web: The Need for Standards.
In Millions of Hours of Video Content, Where is the Money?
The Future of Advertising: New Reality for TV Publishers
Control Your Destiny or Someone Else Will: Business Agility In The Shift To Digital Ad Revenue.
Inside the Podcast Ad Space
The Challenges and Innovations of SSAI in a Fragmented Landscape
More about the Advanced Advertising Pavilion
Innovation Pipeline
The Innovation Pipeline is part of a three-tier Pavilion that is dedicated to the newest technologies. This pavilion offers a never-before-seen experience at every booth. From conception to prototype, this area is ripe with novel ideas that are working toward shaping the future. The presenters in this pavilion are excited to find connections and partnerships, making it a potentially life-changing experience for all.
Location: North Hall
Session Highlights:
Futures Park: Showcasing advanced products.
StartUp Loft: A place where startups can get their footing.
Sprokit: Helping startups network with Fortune 500 companies.
Innovation Pipeline Theater: Panel discussions from accredited innovators.
More about the Innovation Pipeline
AI+Cloud Campus
This pavilion is dedicated to helping the broadcasting industry move forward together. By using the current advancements in AI and cloud technologies, the industry can work together to revolutionize the needs of the future. Sharing ideas, inspirations and excitement for AI and Cloud technology will help bolster discussion and creation beyond the pavilion. It is the broadcaster's job to know what the public wants before they know to ask. The discussions that take place here help facilitate that progression and understanding.
Featured Topics:
AI/Machine Learning/Deep Learning
Big Data
Internet of Things (IoT)
Voice-Activation
Augmented Cognition
Digital Twins
Advanced Simulations
Volumetric Capture
Neural Engine and Predictive Technologies
The Content Cloud
Edge Technologies
Blockchain
Cybersecurity
Benefits of Multi-Cloud Strategies
Disaster Recovery and Storage
Session Highlights:
Transforming Television with Artificial Intelligence
AI is NOT Technology. It's Strategy.
Al Transforming Media: A Case Study
Al-powered Character Animation
Collaboration Station: Market Leaders Unite for Breakthrough Newsroom in the Cloud
Al-powered Character Animation
Realizing the Promise of AI: Our Experience with 3 Different Vendors
More about the AI+Cloud Campus
International Pavilions
Globalization has made the world a much smaller place. Between the ability to connect with anyone in the world and the rise of startups, international collaboration is common. However, to be able to work together, we have to get to know each other. You can do that at the International Pavilions.
Participating Country Pavilions:
Bavarian Pavilion
Beijing Pavilion
Belgium Pavilion
Brazil Pavilion
French Pavilion
Great Britain Pavilion
KOTRA (South Korea)
More about the International Pavilions
Connected Media IP
Connected Media IP is the pavilion that introduces viewers to a digital landscape of education and innovation. This multiscreen viewing experience expands the viewer's field of vision both physically and through thought-provoking exhibits. Here are just a few of the session highlights that will be screened for the audience's edification:
Session Highlights:
Cisco Keynote: Adopting IP/IT in the Media Supply Chain.
Niche Finds its Niche: The D2C Direct-to-Consumer Revolution
Maintaining EAS in an OTT World
How Comcast, CBSi and YouTube Acquire Loyal Customers
Live TV in Global OTT Platforms
More about the Connected Media Pavilion
IP Showcase
IP is infiltrating all the broadcasting industry-specific destinations. From the CEO to the on-air talent and everyone in-between, benefiting from IP is becoming essential. That is why this pavilion was created, to help make the switch to IP easier. Professionals throughout the IP sphere will be available to direct visitors, answer questions, and offer solutions to specific business questions.
Destination 5G
5G cellphone technology has become a long-awaited accomplishment. Theorized for many years and talked about throughout its development, many wondered if the capabilities were purely theoretical. But now, 5G technology is a reality and it promises to change the digital world as we know it. This pavilion is filled with experts who are dedicated to making that transition simple and exciting.
Featured Topics:
Edge Computing and Cloud Computing
Mobile AR/VR and Immersive Content
Technology Predictions and Media Industry Applications
Infrastructure
Content Transfer
Satellite
Session Highlights:
5G and Media: A Powerful, Unique Combination to Create and Deliver Immersive Experiences
Understanding & Planning for 5G, ATSC 3.0 & the Hyper Convergence: End of an Era or Dawn of the Digital Media Super Competitor?
Beyond Frenemies: New Relationships in a 5G
Podcasting Pavilion
Listen up! The Podcasting Pavilion is a sensational journey into the world of podcasting. Whether you have a successful podcast, or you are a podcaster novice with questions, this is the place to be. There will be a special "Ask the Expert" area of this pavilion that is powered by Podcast Engineering School. However, there will also be plenty of people, just like you, who are there to learn and share their passion.
Learn about the Podcasting Pavilion
eSports Experience
eSports has become so much more than AV Sports. eSports has morphed into a passion, a culture, and a growing entity. There are people who build their entire careers around it and those who dedicate their passion to it. With that in mind, this pavilion is sure to be filled with excitement for eSports enthusiasts.
eSports
Fan Engagement
Collegiate eSports
Cryptocurrencies and Blockchain
Opportunities for Brands
AR/VR
Content Licensing & Media Rights
Future of Betting in eSports
eSports Venues
Streaming
Gaming
Reality Sharing Platforms
Collective VR Environments
Live Design
Immersive Gaming
Viewing & Streaming Platforms
Co-creation Strategies
AI-Driven Game Narratives
Session Highlights
Game On: How 5G and eSports will Radically Change the Playing Field for Service Providers
Before the Games Begin: A Behind-the-Screens Look at Building Amazing eSports Infrastructure
Level-Up: How Video Gaming is Driving the Future of TV
Introduction of the Day: eSports Today, an Evolution
Beyond IP: Securing and Streaming Your Content
Learn about eSports Experience
Facebook Live Video Solutions Pavilion
Facebook Live is a growing platform that is being routinely utilized throughout many industries. The broadcast industry is especially benefiting from Facebook Live. Therefore, this pavilion is helping broadcasters discover the full range of potential that this technology has to offer.
Location: South Hall, Upper Lobby
Learn about the Facebook Live Pavilion
In-Vehicle Experience
People are using their vehicles as more than simply a mode of transportation more and more. Thanks to technology, our cars are becoming more connection-compatible. The more compatible cars become, the easier the more convenient they become. Yet, to take advantage of that convenience, people need to know how to use it. That is why the In-Vehicle Experience pavilion is pivotal to providing an innovative look at the advances of cars.
Featured Topics:
Connected Car
Media Display & Consumer Technology
Voice-Activation
Audio Design
Peripherals & Navigation
ATSC 3.0
HD Radio
Session Highlights:
Mobility Stories for the Passenger Economy of Today and Tomorrow: A Panel Discussion with Waze and Broadcasters
Broadcast and IP in the Car – How Will These Converge?
Today's In-Car Digital Radio Experience
e Personalized Future of In-Vehicle Entertainment
Learn about the In-Vehicle Pavilion
For more information about the events and parties going on throughout the NAB Show, visit the NAB Show website.
NAB Show Central presented by Leyard / Planar


NewscastStudio presents the latest show news, product announcements and reports from the 2019 NAB Show in our special section, brought to you by Leyard and Planar, the leaders in display technology and fine-pitch LED.

Explore Our Coverage →