Ross Video adds ceiling mounted version of Furio camera robotics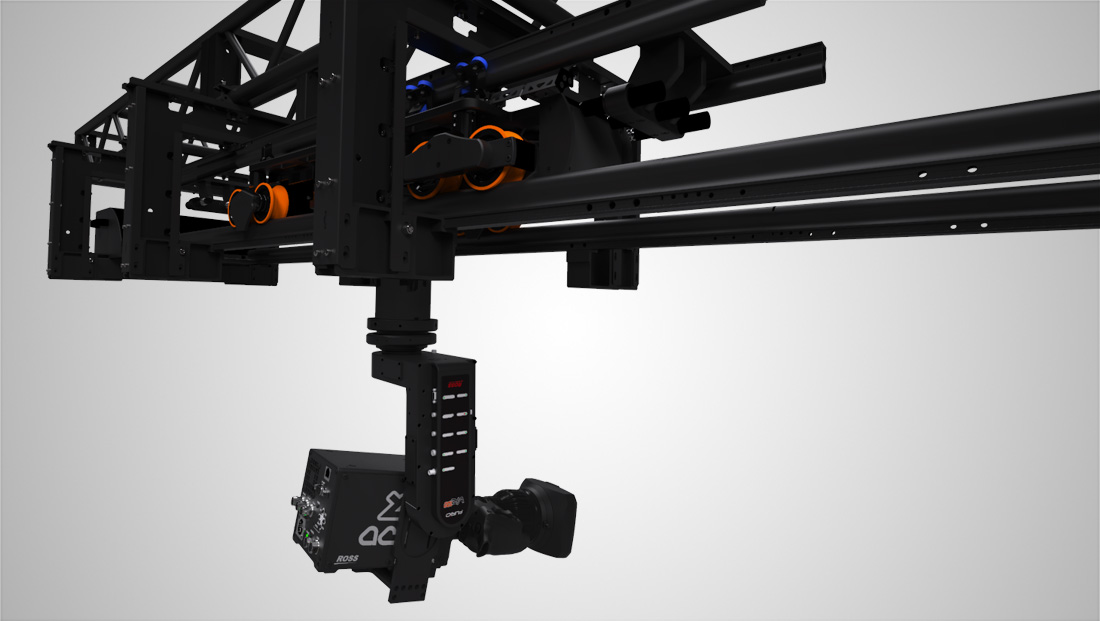 Subscribe to NewscastStudio's newsletter for the latest in broadcast design, technology and engineering delivered to your inbox.
Ross Video has announced the launch of the latest addition to its suite of camera motion systems — the Furio SkyDolly.
As the name suggests, SkyDolly is a ceiling-mounted version of the Furio family of camera robotics and features all the characteristics of Furio while also addressing the challenges specific to ceiling-mounted dolly systems.
Furio SkyDolly has been designed with safety as a priority — the fully captive dolly cannot be derailed and comes with safety tethers for the payload and head.
Its sturdy three-wheel design, enlarged wheelbase — 60% wider and 40% longer than other Furio solutions — and raised center of mass ensure shake-free operation, even at high speeds, providing solid stability for dramatic overhead moving shots.
Custom cable management reduces drag and moves quietly, with minimal impact on overall footprint.
SkyDolly also features a payload capacity that is high enough to support a full-size prompter, ensuring that SkyDolly can be used for much more than just beauty shots.
Initially available with fixed columns ranging 12 to 48 inches, Furio SkyDolly is fully compatible with all Furio heads and can easily be added to existing Ross Robotics solutions under SmartShell or OverDrive control.
Like all Furio systems, SkyDolly also provides accurate tracking data for virtual studio and augmented reality applications.
An inverted lift mechanism will be made available later in 2019.
Bruce Takasaki, marketing product manager for Ross Camera Motion Systems, believes Furio SkyDolly offers greater flexibility to those working in the studio.
"We know that content producers love the dynamic and creative camera moves that Furio offers, but sometimes set design can make the use of robotic systems a challenge. Furio SkyDolly can help keep the studio floor space clean and uncluttered and can allow set designers to be more inventive. Combine industry-leading safety and dolly speed with the prompter-friendly payload capacity, and we know SkyDolly is going open up a whole new world of creative options for our customers," he said in a statement.
NAB Show Central presented by Leyard / Planar


NewscastStudio presents the latest show news, product announcements and reports from the 2019 NAB Show in our special section, brought to you by Leyard and Planar, the leaders in display technology and fine-pitch LED.

Explore Our Coverage →
The latest in design, production and engineering
Subscribe to NewscastStudio for the latest delivered straight to your inbox.