You can now rent CBS Chicago's old streetside studio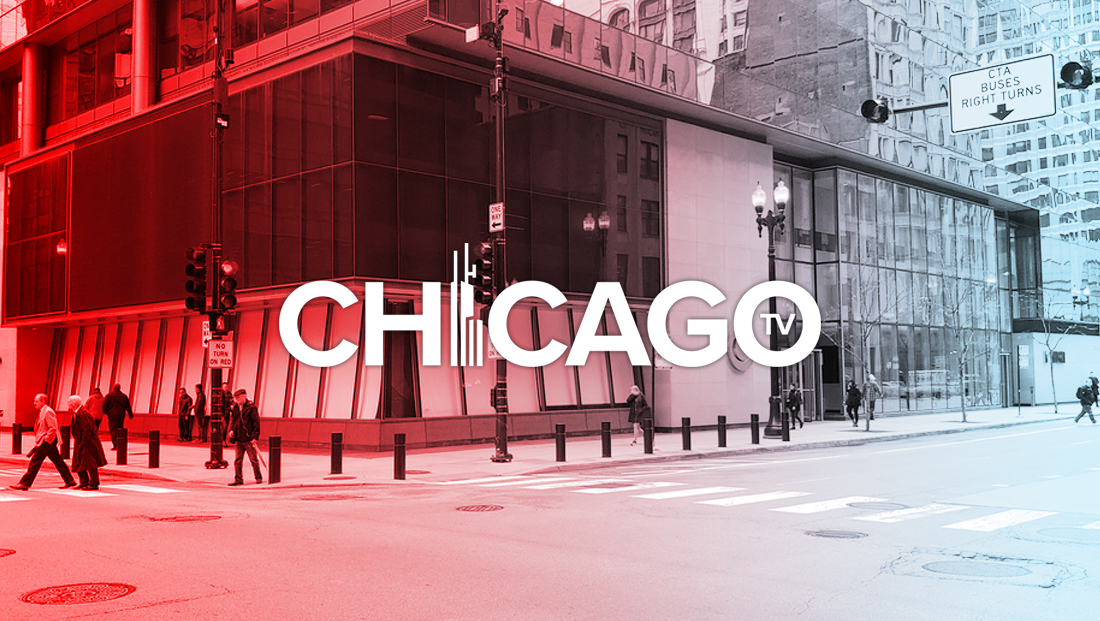 After sitting mostly unused for over a year and a half, WBBM, the CBS O&O in Chicago, is finally putting its former streetside studio up for rent, reports Robert Feder.
Back in 2008, CBS moved into space on the first and upper floors of 22 West Washington Street in the Loop area of Chicago.
Dubbed the "CBS Broadcast Center," the facility includes a dedicated ground floor lobby and two studios, including the streetside one at corner of Washington and Dearborn overlooking Daley Plaza.
The building is part of a development project called Block Thirty Seven, named for the block's original number on the city plan, that was plagued with financial troubles but has since seen a uptick. CBS 2 was one of the first major tenants to sign on.
Initial plans called for a wraparound video screens above the studio to showcase, but ultimately only a 30 foot wide segment was installed.
Crews eventually covered the exposed, painted metal with faux window panels to streamline the look.
As time went by, the video screen was often turned off or, when on, it appeared to have multiple "burned out" segments.
Then CBS 2 News moved its newscast production out of the space and into the enclosed studio down the hall in the fall of 2018.
At the time, WBBM told NewscastStudio there were no immediate plans for the space and indicated the station might continue to use it off and on.
One event that could have possibly been produced in the space, the final mayoral debate in March 2019, was instead held in a glassed in auditorium at the top of the building borrowed from co-tenant Morningstar.
CBS has no immediate plans to move its newsroom, current news studio or other departments from the complex.
The glass windows of the studio have remained mostly covered with white shades since the station stopped using it on a daily basis in 2018.
When the studio was first built, it had a set with multiple anchor desks, a weather center and standup locations, many of which could be configured to use the windows as a backdrop.
However, as time went on, the station abandoned the original home base of the studio and instead moved to a small anchor desk that used a trio of flat panels as a background. Camera left of this panels covering the windows would sometimes show up on camera.
Prior to CBS 2 closing its streetside studio, NBC O&O WMAQ shut down its "satellite" streetside studio located a few blocks from the NBC Tower, in 2013.
NBC 5's streetside studio was only used for morning and midday newscasts, and the station's main set was updated around the same time.
As of now, ABC O&O WLS continues to use a streetside studio — its "State Street Studios" located a few blocks from WBBM's building.
Despite views of the Chicago Theatre and one of the city's prime shopping districts, ABC 7 Eyewitness News typically only used its windows for brief shots of small crowds at the end of newscasts, though thanks to a door connecting the studio to the sidewalk, anchors do head outside for some segments.
Fox O&O WFLD uses a windowed area on an upper floor that overlooks Michigan Avenue and sometimes ventures outside its building as well.
Through real estate firm SVN Chicago, the space is being marketed as a retail or restaurant "appropriate for adjacency to CBS, Morningstar and Block 37."
WBBM did not respond to Feder's request for comment.
The listing for the rental lists an asking price of $70 per square foot, which comes out to about $245,000 a year or $20,416 a month, according to the listing page.
According to the listing, the space is being offered on a sublease arrangement with a term of 12-plus years available.