First look at the first democratic debate stage set in Miami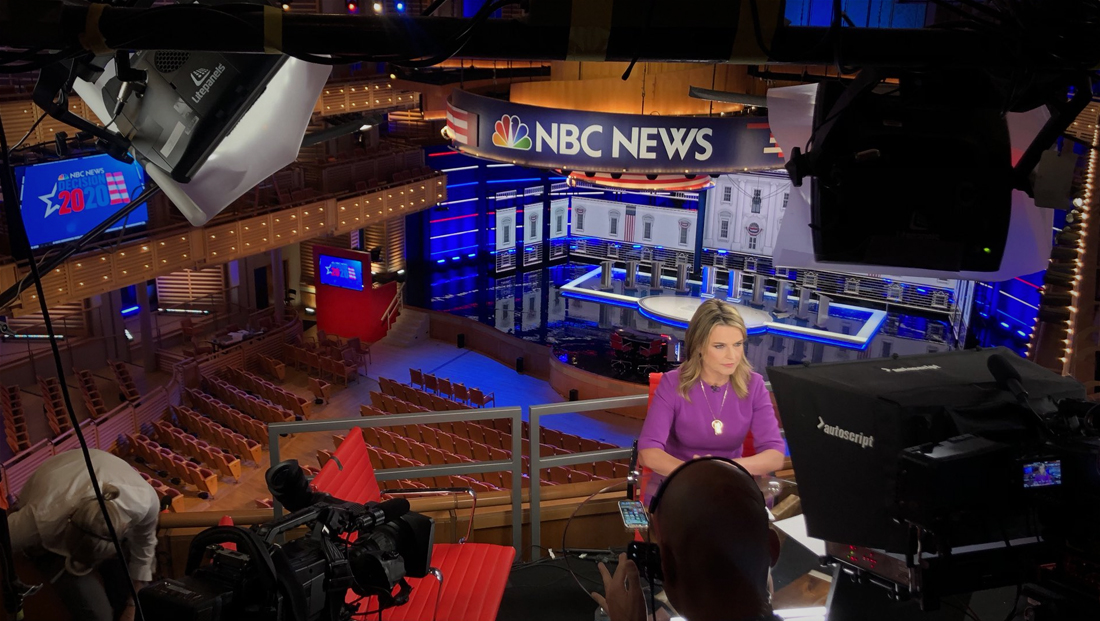 During NBC News' "Today" on Tuesday, June 25, 2019, co-anchor Savannah Guthrie gave viewers a peek at the stage set for the first democratic debate.
Built on the stage Adrienne Arsht Center for the Performing Arts' Knight Concert Hall, the stage appears to feature a wraparound uplit background with red, white and blue bars.
In the version Guthrie showed off Tuesday morning, at the center of the stage, a large LED panel depicts the north portico of the White House using an illustrative style similar to that used on MSNBC's "Morning Joe."
The central segment is complete with a triangular cornice element.
Flanking this are two low, wide panels with digital recreations of White House windows, while the far left and right of the stage feature three single, freestanding panels with similar imagery.
However, because the panels are equipped with LED technology, the final look could be different — or a combination of this look and others.
In fact, while the White House look was shown Wednesday, the live feed also showed imagery with NBC's "Decision 2020" branding.
Below all of these panels is etched glass with "windows" running along the bottom of each segment.
.@SavannahGuthrie co-anchors @TODAYshow live from Miami this morning ahead of the #DemDebate this week. pic.twitter.com/LsZEAs4OcH

— NBC News PR (@NBCNewsPR) June 25, 2019
While the look doesn't accurately represent the White House's actual architecture, NBC did have to contend with creating a large enough background to cover 10 candidates spread out on the stage.
NBC also took advantage of the large, wooden spiral sculptural installation in the concert hall's ceiling to add its own ring shaped element emblazoned with "NBC News" and elements from the network's Decision 2020 branding.
Those 10 candidates will speak from behind lecterns with strong vertical lines.
In order to prevent too many "big name" candidates from appearing on a single night, NBC divided all 20 candidates into two pools based on polling data.
NBC's standards and practices division then drew names randomly from each pool to fill out each night.
Candidates were then placed on stage based on polling data, with the most popular ones being placed closer to the center of the stage.
NBC also updated its fullscreen graphics with candidate photos to reflect both the lineup each evening and the candidates' on-stage placement.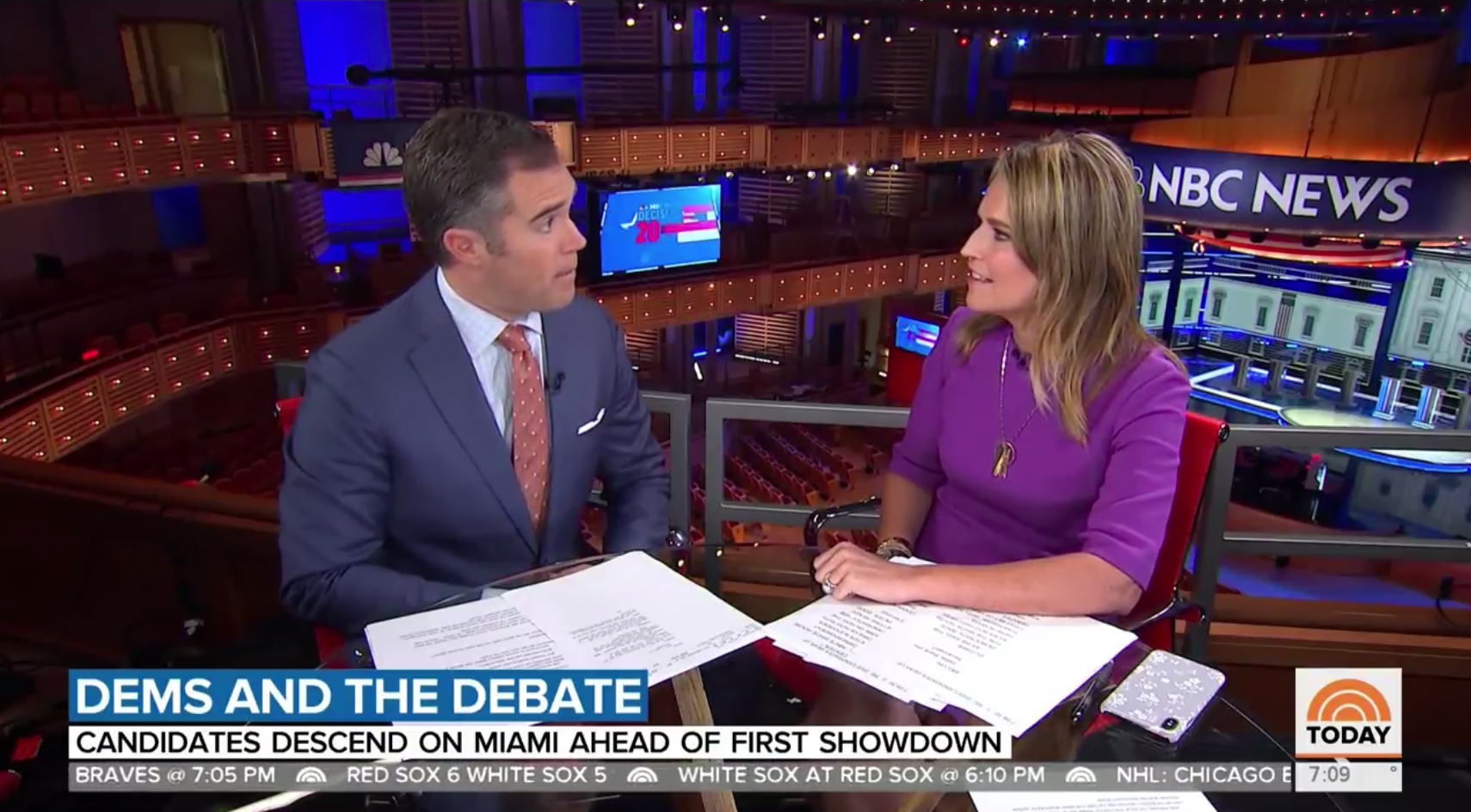 NBC News is using a skybox of sorts with an off axis view of the stage, ceiling element and a video panel installed on the opposite balcony that, during preview coverage, showcased a loop of the logo design for the debate.
Another strategically placed "NBC News" banner also appears behind on-set guests.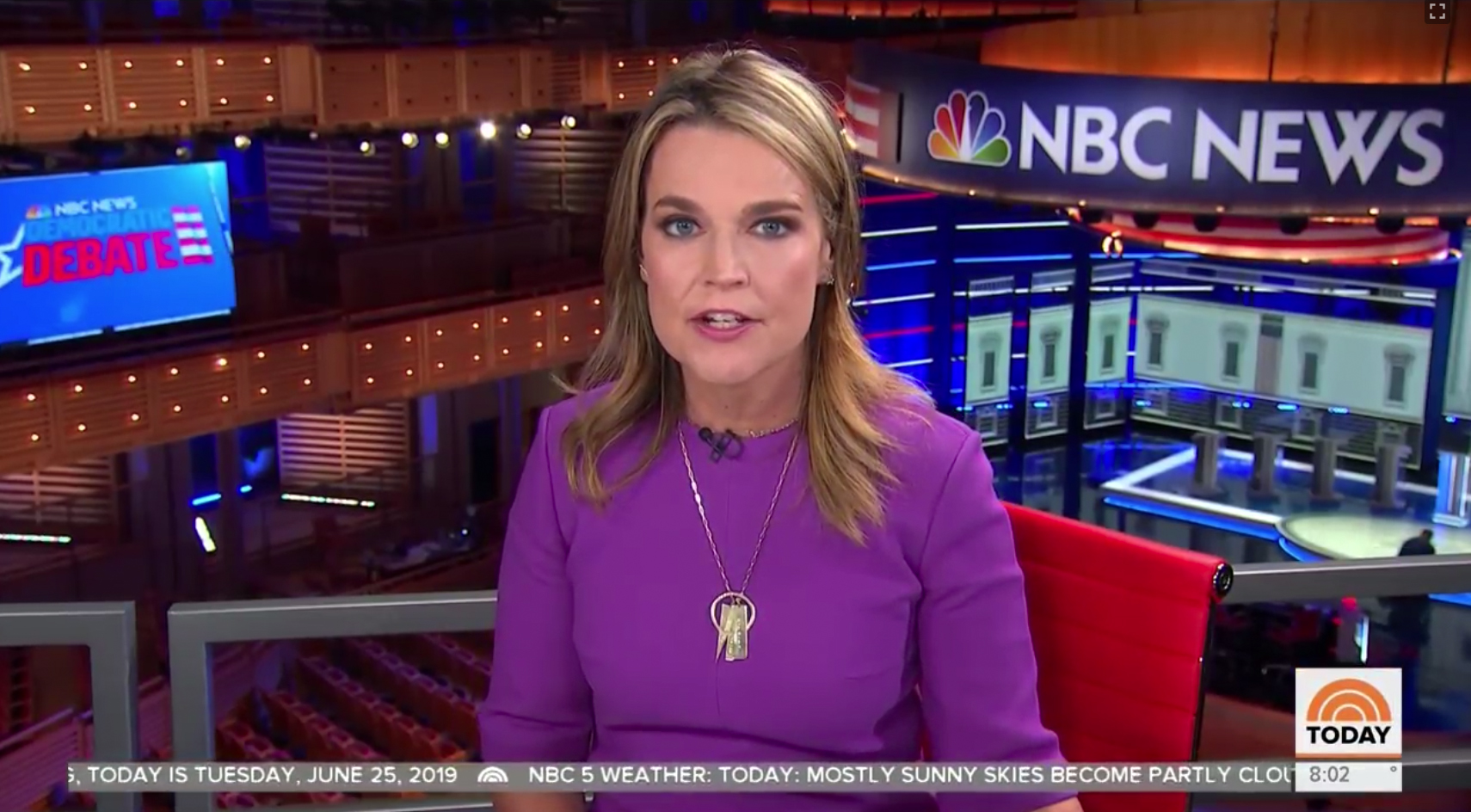 During "Today," Guthrie gave viewers a preview of the stage in a wide sweeping shot that seemed significantly out of focus — though it's not immediately clear if that was done on purpose.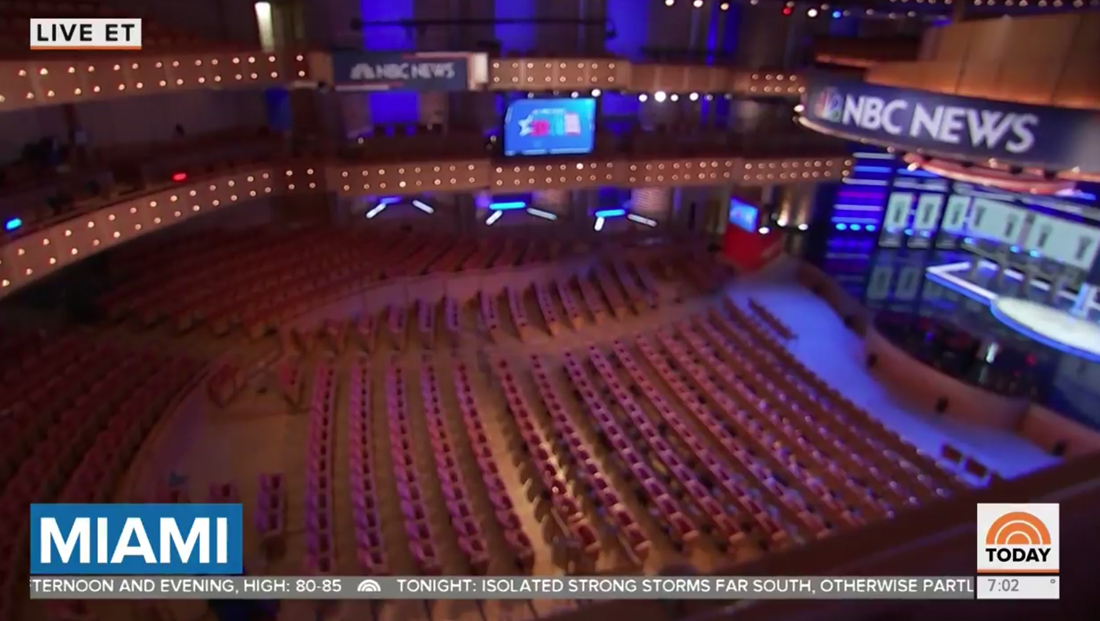 As the day went on, a live feed of the stage set was featured above a countdown during most MSNBC coverage.