It's Mueller Time — networks go big with testimony coverage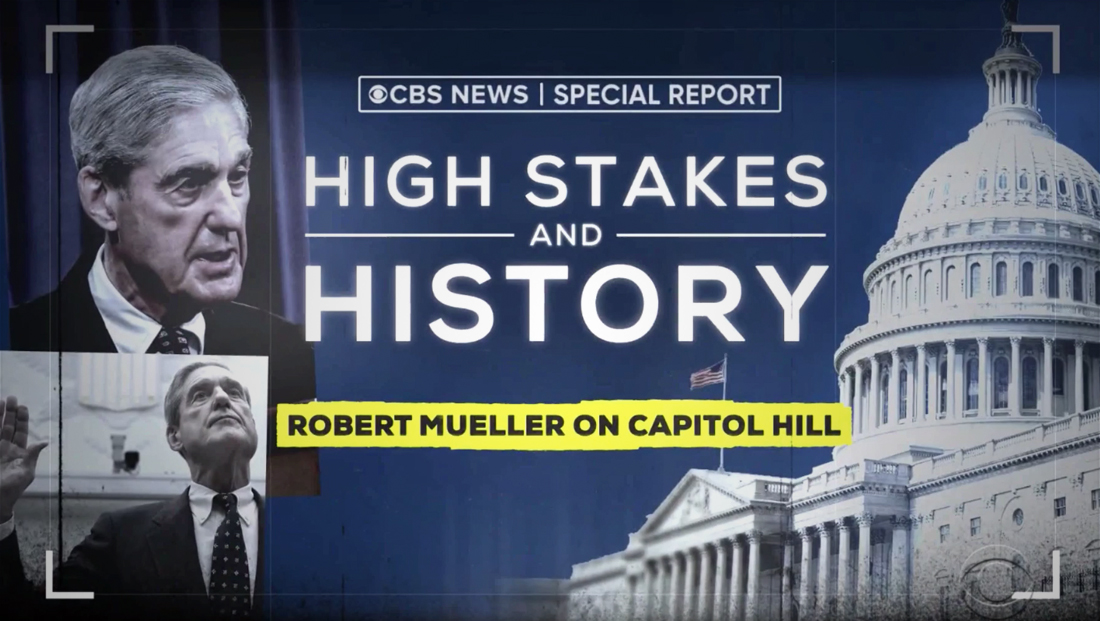 Robert Mueller, in one way or another, has been the focus of multiple network special reports over the past few months — but his testimony before Congress July 24, 2019 marked the most prominent appearance by the man himself.
How the Mueller testimony will affect broadcast TV schedules https://t.co/EnkYTXm5HT #TVNews #BroadcastNews

— TVNewsMix (@TVNewsMix) July 24, 2019
Here's a look at how each network covered the live testimony July 24, 2019.
CBS News, which is using the branding "High Stakes and History" modified its previous blue and gold Mueller look for the testimony.
While it didn't include Mueller's name in the main title, the "Robert Mueller On Capitol Hill" subtitle gets his name in.
"CBS This Morning" lead with story and opened the main portion of its broadcasts with "High Stakes and History" branded graphics on Studio 57's various video walls.
Another video wall was used for a handheld shot showcasing key facts about the testimony.
The broadcast also included live reports from Washington, D.C., with the flexible "Face the Nation" studio decked out with Mueller graphics, including on the vertical flat panel between the two duo there.
The network opened its special report with a matching extended open.
"CBS Evening News" anchor Norah O'Donnell was joined by Major Garrett in the network's Washington, D.C. studio.
The space featured blue and white "CBS News" along with Mueller branding on the video walls, while the desk, which is similar to the one back in New York, had metallic side panels added.
Blue accent lighting was also incorporated.