Brazilian morning show's set uses layering, technology to create fresh take on longtime look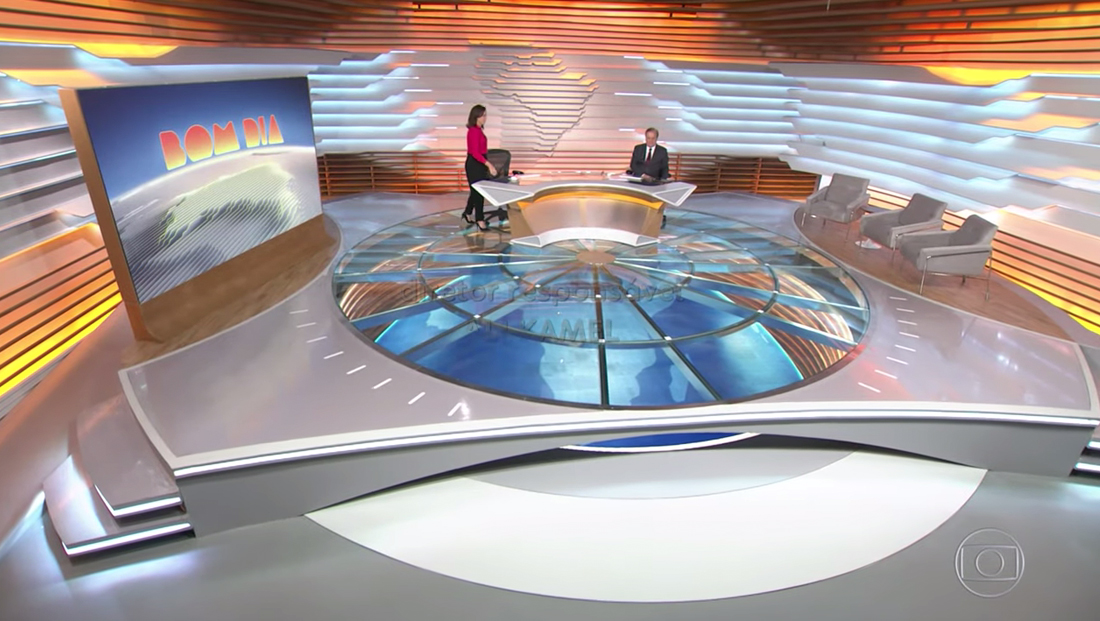 Brazil's "Bom Dia Brasil" ("Good Morning Brazil") morning program debuted a textural new set that blends solid scenery with video walls and augmented reality.
While the studio is equipped with its share of technology and augmented reality features, the core of the design centers on physical scenery in the form of layered, angled strips that create a variety of looks for the show's background.
This look was inspired by the Globo show's previous set — but the wider segments and lighting effects give it a fresh update.
Another element from the old look, using horizontal segments to create the outline of the South American continent and borders of Brazil, is reimagined with "stacked" segments and layers of horizontal slats camera center.
The new-look makes the outline of the continent more obvious, while also still keeping an emphasis on Brazil itself.
Overall, the effect is sort of a blend between an extruded look and topographic map (though it's worth noting the layering ignores the continent's distinctive mountain ranges).
The main "map" background can be framed between the two anchors or as a sort of OTS element behind a one-shot.
These strong horizontal lines are further emphasized with open, wood frame knee walls and flatter walls with reveal lines.
The curved anchor desk sits on the edge of a circular glass and metal floor with LED panels installed under it while a solid riser with four short "wings" serves as the studio's foundation.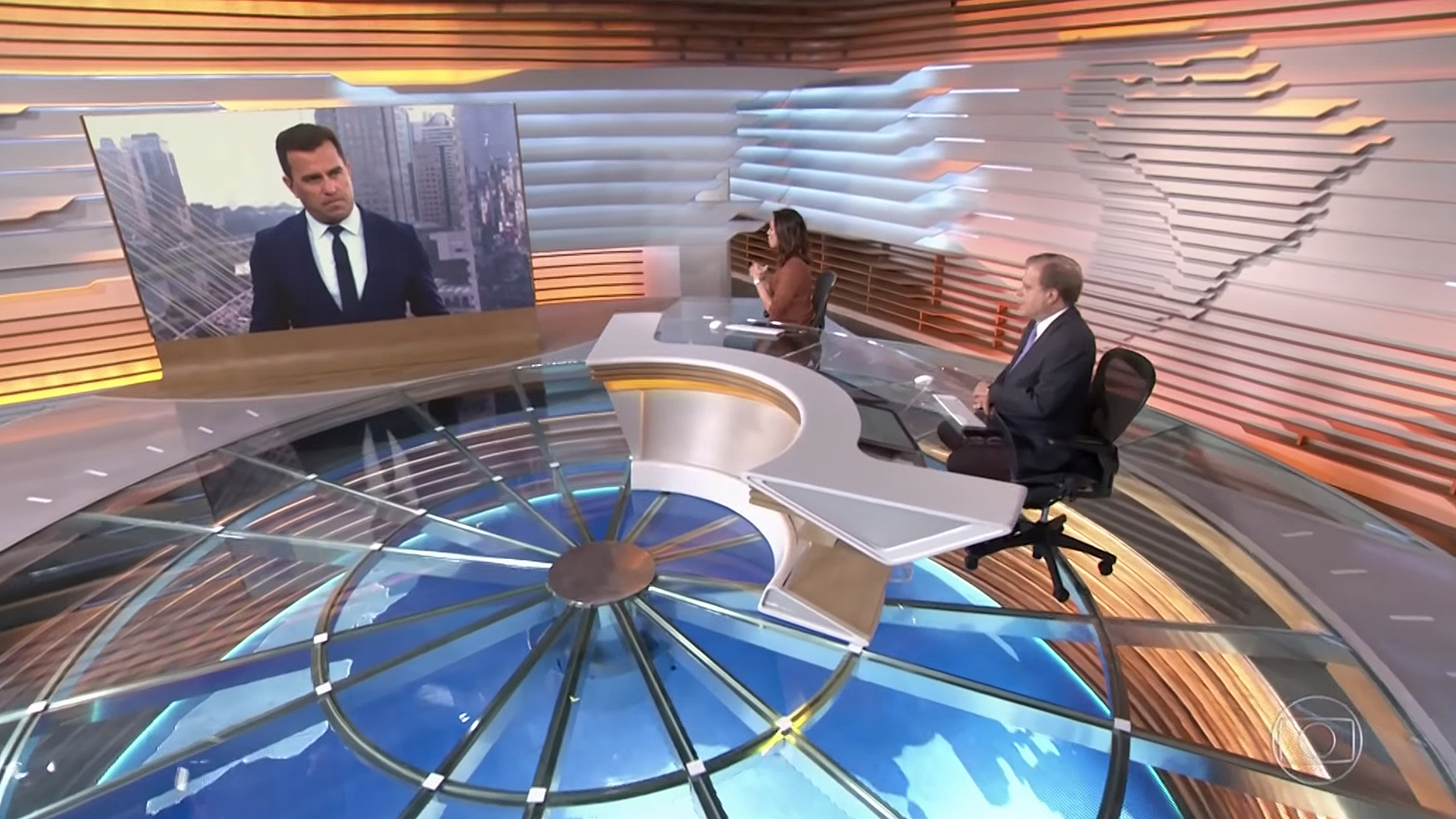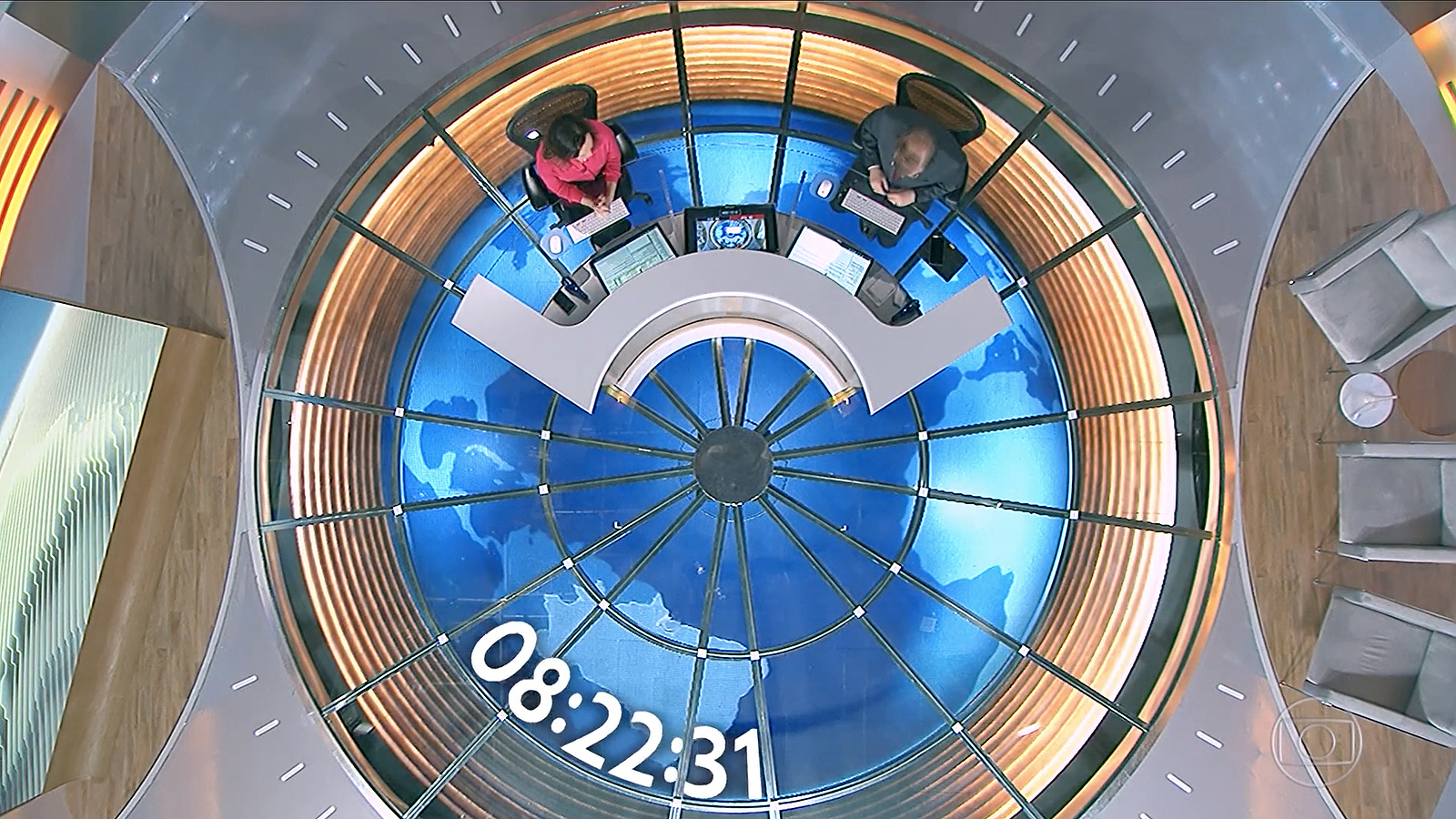 Under the glass, the LED floor panels typically show a globe inspired design that can also be shot from a direct, overhead camera with a timestamp style graphic added which, combined with the circular, segmented floor and illuminated hash marks around the circular floor section, create a nod to the face of a clock.
Augmented reality is also used to insert ring-shaped graphical segments in various parts of the floor, with talent referring to the graphical elements. This effect is powered by Zero Density's Reality Engine.
In addition to the eye-catching floor, the left side of the side features a large seamless video wall used for both standup graphics, live tosses and debriefs.
On the other side of the space, a small interview area is backed with the horizontal sculptural walls.
In addition to having solid, layered scenery, the design also incorporates integrated lighting that adds linear bursts of lights that run horizontally that typically showcase a mix of warm orange and golds along with cooler whites blues.
The overall effect, thanks in part of how the light interacts with the materials used to build the set, are walls that appear to glow and shift colors.
The latest in design, production and engineering
Subscribe to NewscastStudio for the latest delivered straight to your inbox.