'Bombshell' trailer features Charlize Theron as a very convincing Megyn Kelly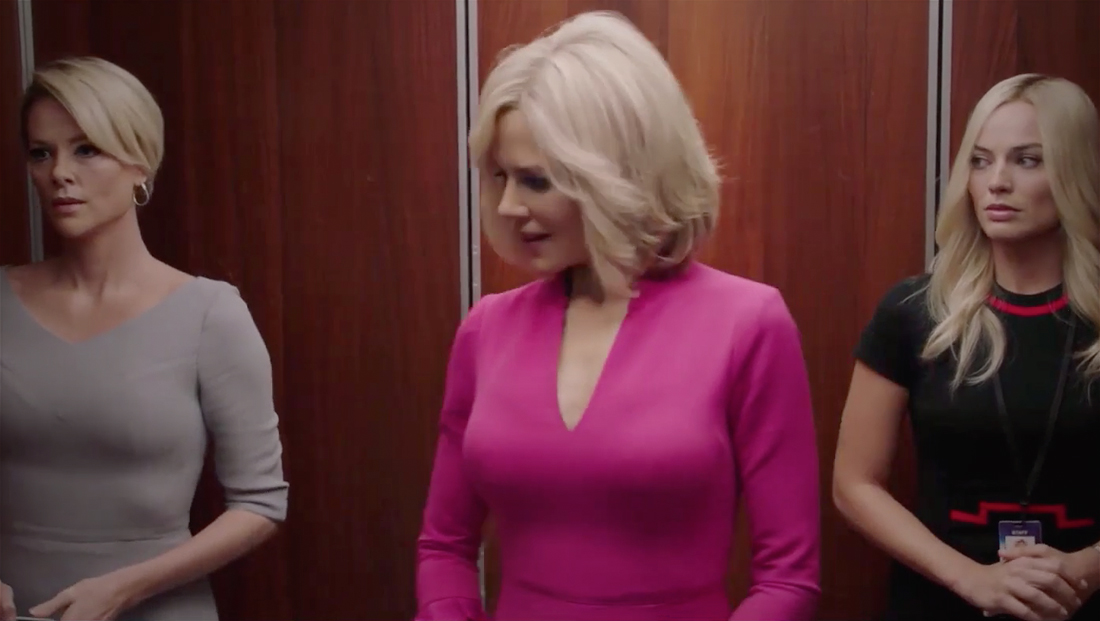 After this part of the trailer, camera pushes in from a wide shot that clearly shows a "2" label on the frame of the elevator door before settling on Kidman's face and showing the doors closing.
It's possible that the clip was used out of order from the actual film — a technique that isn't uncommon when studios create movie trailers.
That said, it's a bit odd that Carlson would be getting on at the second floor (the floor she intended to visit) and then continue riding the elevator, unless the shot is supposed to show her leaving the offices (with the characters Kelly and Pospisil standing in the exact same places)?
It's also possible the "2" elevator floor signage was accidentally left in place during filming.
Often TV and movies don't use working elevators for filming and create the illusion of movement between floors by changing out signage between takes.
Actors can also be filmed entering an "elevator" (really just a small room) on one set.
Filming stops and the actors and crew move to another set with a matching elevator "room" for them to exit from to create the illusion of traveling between floors.
Other tricks include clever blocking and editing and even using movable set pieces to disguise the view seen through the elevator doors.
For example, a production wanting to a "one take" elevator scene might have a movable wall or small set that hides the main set the characters are riding the elevator to that is then wheeled out of the way after the doors close. When the doors reopen, the characters appear to have moved to a different floor.
After a string of sexual harassment allegations against him, Ailes resigned from Fox July 21, 2016, taking with him a $40 severance package.
He continued to advice News Corp. chairman Rupert Murdoch, however, along with consulting on Donald Trump's campaign.
Ailes died May 18, 2017.
After he departed his full time job at Fox, the network ultimate settled with at least three women, including Carlson, over the alleged harassment.
"Bombshell" also stars Allison Janney, Mark Duplass, Connie Britton, Alice Eve and Rob Delaney.