ABC, Univision blend two brands together on debate stage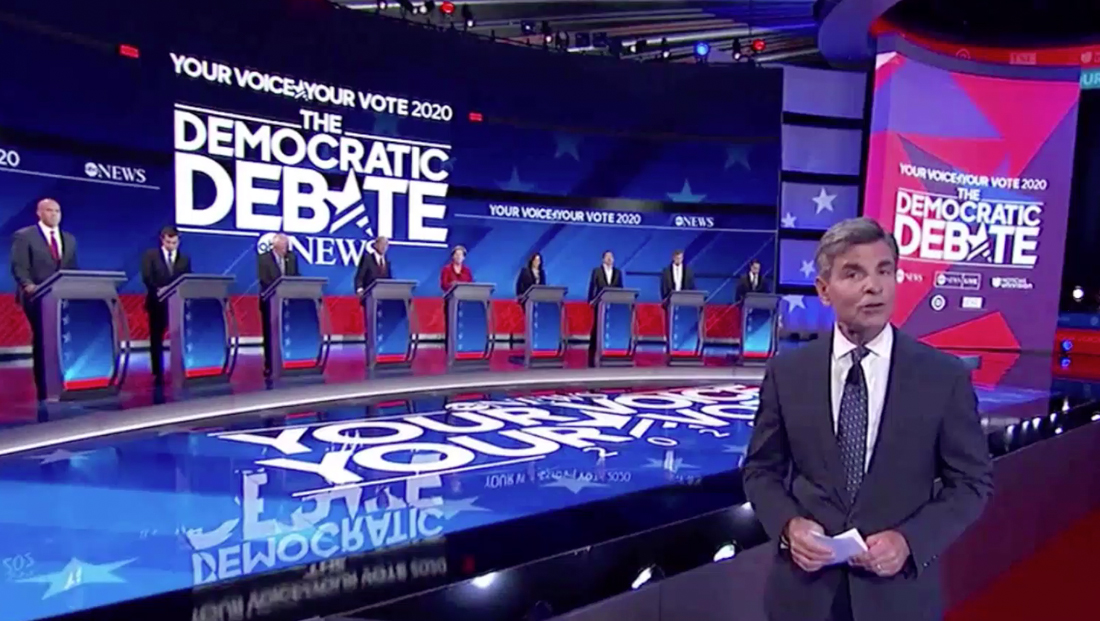 For their simulcasted coverage of the third Democratic debate, ABC News and Univision had to create looks that remained true to their individual identities while also coordinating with the on-stage elements seen in the live feeds they shared.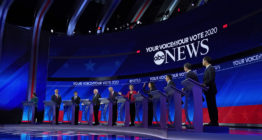 Set Design
ABC News Democratic Debate
View a gallery of this project…
Although ABC and Univision often partner on coverage and previously operated Fusion together, the two news divisions no longer have a formal relationship with one another.
This is a bit different than how the first two debates were produced since NBC owns Telemundo and CNN runs its own Spanish language channel.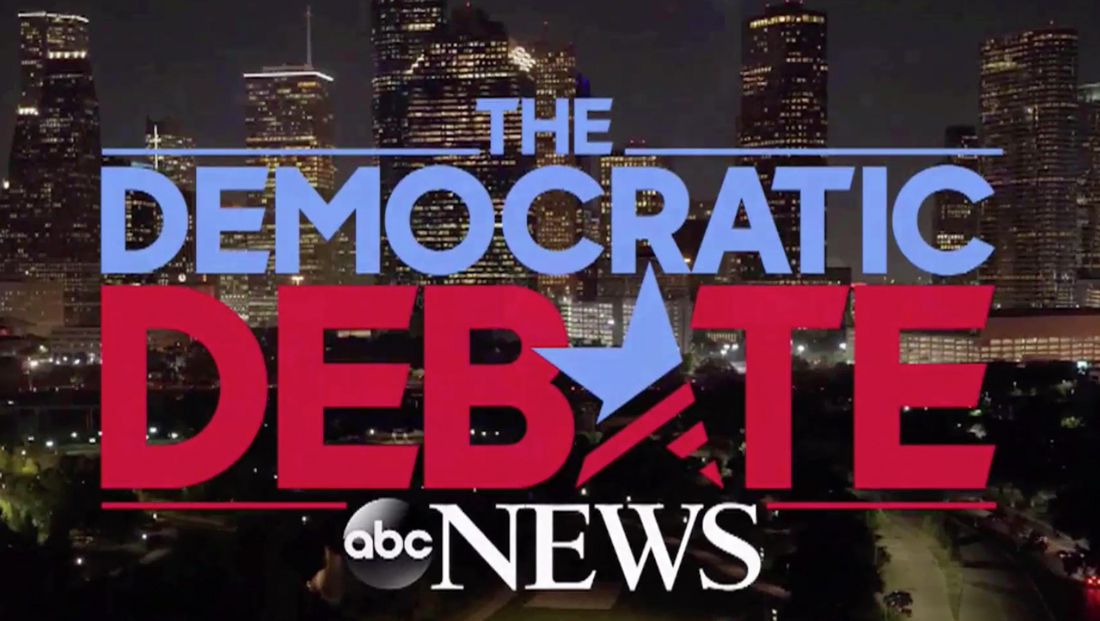 ABC News brands its election coverage under the name "Your Voice Your Vote," and used the straightforward name "The Democratic Debate" for its coverage of the Thursday, Sept. 13, 2019 debate.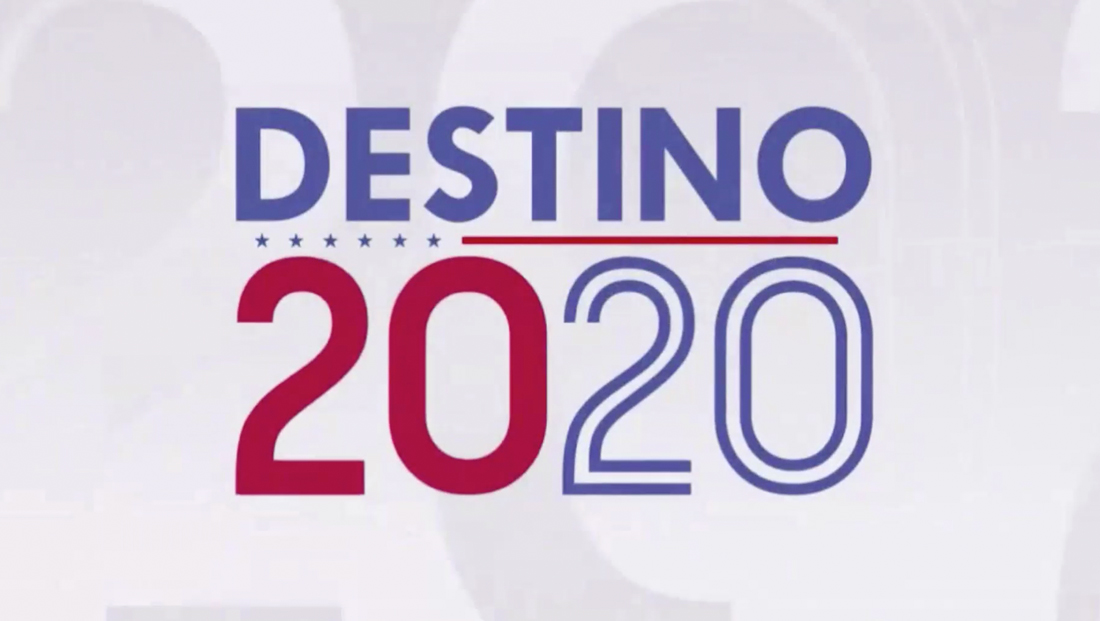 Univision, meanwhile, uses the "Destino 2020" branding for its general election coverage but also mixed in references to "Tu voz tu voto," which translates to the "Your Voice Your Vote" tagline used by ABC.
It also branded its coverage under the banner "El Debate Demócrata," which translates to "The Democratic Debate."
To kick off its coverage of the debate, ABC used Randy Thomas — an announcer who typically does awards shows like the Oscars — with a hard-hitting open featuring highly stylized images of each candidate along with an on-screen reveal of his or her name.
Each candidate was also accompanied by a brief clip of him or her talking about a key issue.
Candidate first names were in blue and faded in, while last names used red and "slid in" letter by letter. The lockup was completed with the stylized star icon found in the ABC election branding.
Meanwhile, Univision also featured blue-tinted imagery of each candidate along with his or her signature.
First and last names were centered on screen with a red line accented with small stars between each line — with the last name appearing larger.
An oversized "20" was also blended over each candidate's image.
Univision's open also featured an aerial shot of the Health and Physical Education Arena, the site of the debate, with its debate logo digitally added to the roof.
The actual feed of the debate were mostly the same — with Univision adding in a near real-time Spanish translation track and its own graphics.
The debate also streamed on both ABC and Univision's streaming platforms as well as social media.
Like the previous two debates, ABC News opted to use LED video walls to create dynamic backgrounds.
However, unlike NBC and CNN, ABC designers purposefully kept the backgrounds behind the candidates simple.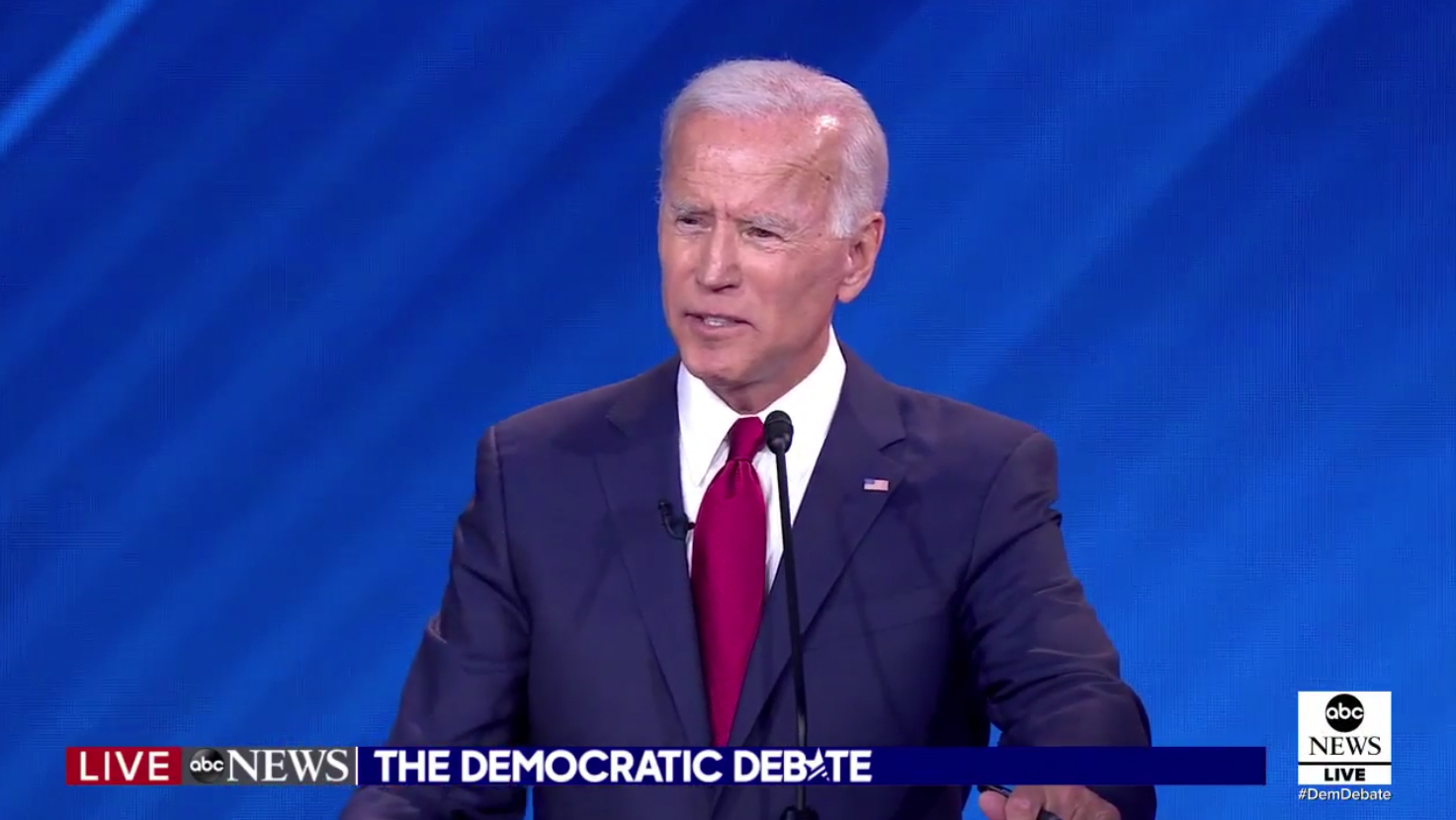 Instead of the typical "step and repeat" style background of sponsor and network logos, the background was a subtly animated angled blue design.
The lines were a nod to the diagonal angles in the ABC News star icon — but also had some visual similarities the oversized "2020" logo Univision uses as well as the star accents found in its look.
The texture used also had lighter and darker segments, so back to back single shots on candidates typically had slightly different, but a still cohesive look.
The towering video wall displayed a larger version of the debate logo in the center at the top of segments and also featured a red "knee wall" and black "header" with a ticker style band of the ABC News logo and "Your Voice Your Vote" tagline running along it.
Above the black bar, which only appeared in wide shots and not directly behind candidates, star elements were added.
The latest in design, production and engineering
Subscribe to NewscastStudio for the latest delivered straight to your inbox.