Cable networks vary in how they call 'B.S.' on Trump tweet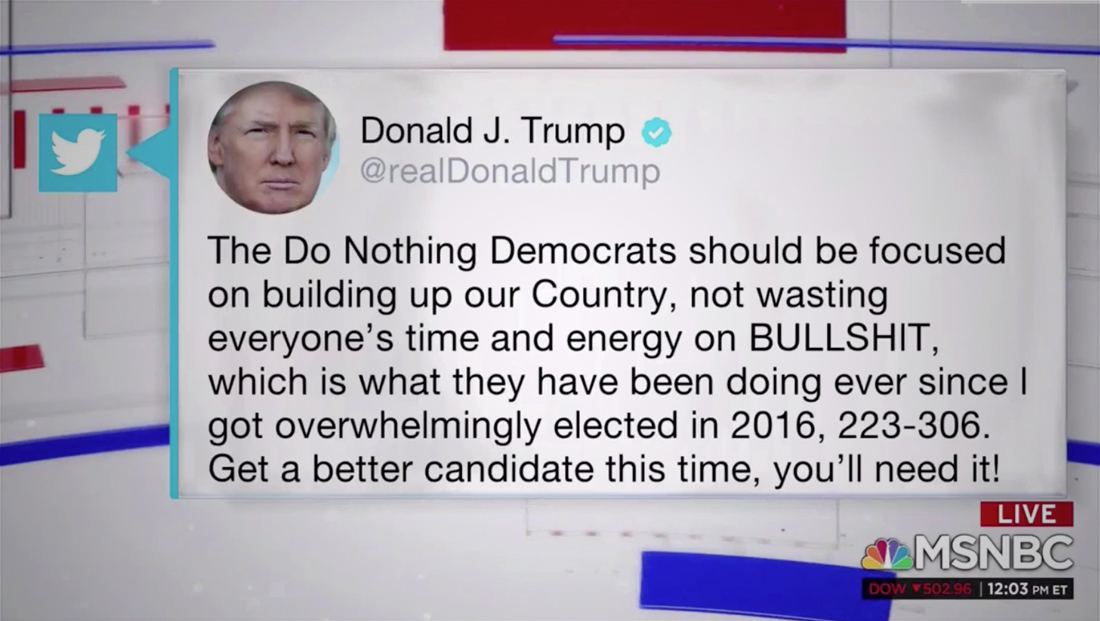 Cable networks found themselves facing another awkward moment of having to deal with colorful language from Donald Trump after he tweeted the word "bullshit" in all capital letters.
MSNBC reported the tweet around 12:03 p.m. eastern during "Andrea Mitchell Reports."
The network kept the full word "bullshit" in its on screen graphic but anchor Andrea Mitchell did not say the word on air.
"'…not wasting everyone's time and energy on … 'B.S.' — he spelled it out on Twitter,'" said Mitchell, pausing briefly before saying "B.S." in place of "bullshit."
CNN also showed the tweet, with "bullshit" spelled out on screen, as part of a graphic showing two other tweets Trump sent.
"Forgive my language, it's the noon hour here in the east, it's earlier in the west," prefaced "Inside Politics" anchor John King.
"'…not wasting everyone's time and energy on, I'm gonna say 'B.S.', the president spelled it out in all caps — the president of the United States using that word in all caps," said King around 12:08 p.m.
On Fox, "Outnumbered" was on the air discussing who else should have or could have been in the room during the no infamous Hunter Biden call when personality Harris Faulkner interrupted the discussion to announce "the president just tweeted by the way."
The network was showing an image of reporters inside the Oval Office on one of Studio F's video walls at the time, but someone can be heard making what is apparently a grumbling noise on open mic at that point.
"'…not wasting everyone's time and energy on — in all caps — 'bull blank' …" said Faulkner, which was followed by an awkward silence.
Then, someone can be heard saying "oh!"
"You handled that very well," said panelist Gillian Turner.
"I have kids so I'm used to having to do that," said Faulkner.
"You're used to the censoring," said Turner.
The network then continued its discussion about the phone call at the heart of the whistleblower complaint.
Of course, this isn't the first time Trump has come under fire for profanity — ranging from his "grab them by the pussy" comment and "shithole" countries comment.
Cable networks generally don't face the same restrictions as over the air network in terms of profanity though most, by a matter of practice, will avoid extreme profanity during daylight hours when children are likely to be watching.
Even in the case of broadcast networks, however, the use of profanity in news reports can be acceptable — evidenced by NBC News' choice to air the "shithole" expletive once in January 2018.