CBS N.Y. gets in on the fun with Lonnie Quinn action figure promo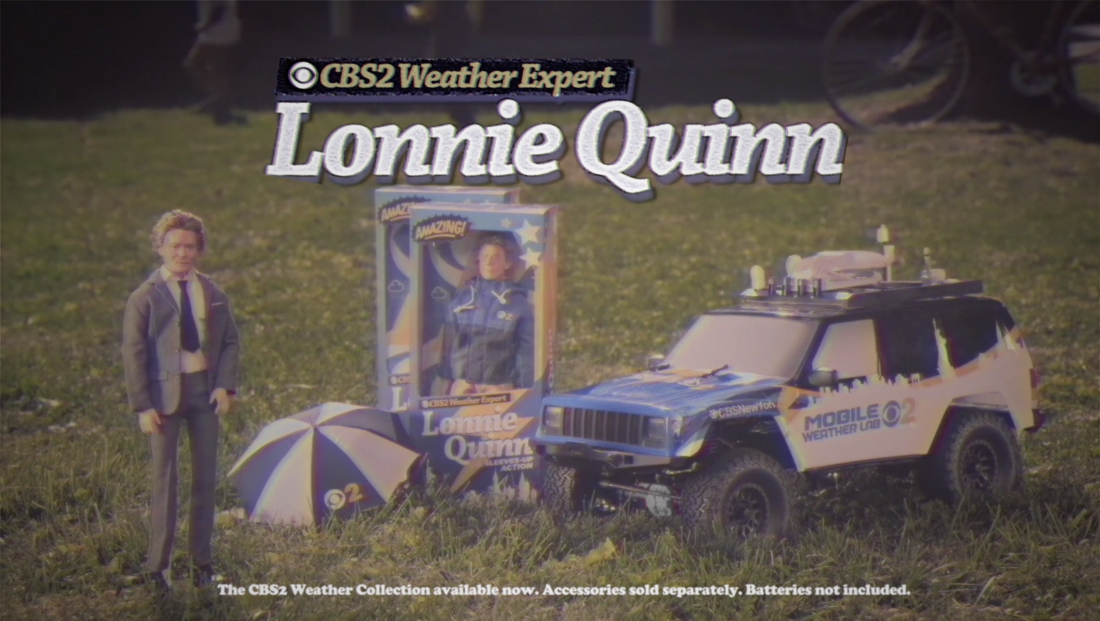 CBS's owned station in New York City is blasting back to the Saturday mornings of the past with a weather promo for a Lonnie Quinn action figure.
CBS Innovation + Creation created a promo, with custom music from Stephen Arnold Music, "advertising" a Lonnie Quinn action figure (complete with a "pull to talk" feature).
The action figure comes with accessories (sold separately, of course) — including a mini CBS 2 branded umbrella and play version of the station's Mobile Weather Lab vehicle.
Also "available" is a winter outfit along with a "roll up sleeve action" feature.
Pulling the string on the back of the figure triggers it to spout "Lonnie-isms" — but, of course, batteries aren't included.
Thanks to a filter put over the entire promo, the spot and musical track, the spot has a distinct 1970s and 1980s tone.
"Lonnie Quinn Action Figure" was created by the same team who created the "Gotta Listen to Lonnie" campaign WCBS aired back in 2014.
Unfortunately, the doll and accessories aren't actually available for purchase.
Project credits:
Bruce Erik Brauer: SVP Creative Services, Director
Lee Grossman: Director: Promotions and Marketing
Doug Holly: Design Director
Danielle Jones: Editor
Jennifer Hancox: Senior Writer/Producer
Rosie De La Cruz: Production Assistant
Erik Brauer: Director of Photography
Huttemberg Nassar: Gaffer
Vladimir Francois: Key Grip
Kate Wignall: Props Manager / Designer
David Brown II: Best Boy Electric
David Curtin: Sound
Tim Dennis: Production Assistant
Caitlin Jones: Casting Director; Casting Society of America
Monica Rock: Makeup and Hair
Prop Boxes and Mobile truck wrap: Signarama Hartsdale
Music Composed: Stephen Arnold Music
Voice Over: Steve Kamer, Atlas Talent Agency
The latest in design, production and engineering
Subscribe to NewscastStudio for the latest delivered straight to your inbox.