Pennsylvania duopoly gets high tech set upgrade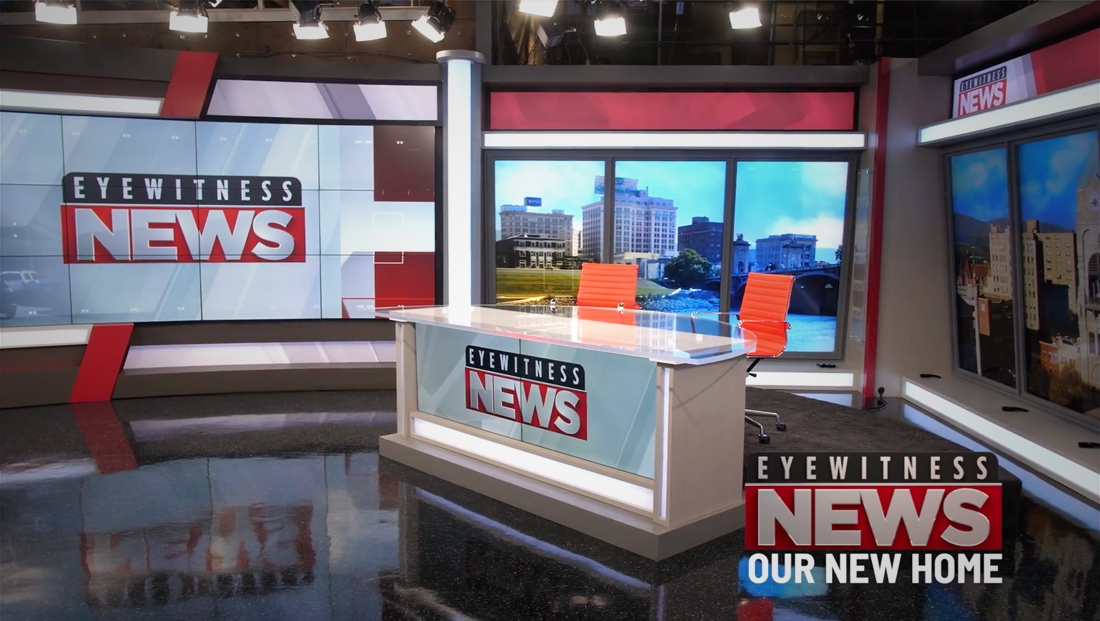 WBRE and WYOU in Scranton/Wilkes-Barre, Pennsylvania have unveiled a new set that is unlike anything the market has seen to date.
The set debuted after "Sunday Night Football" on Nov. 3, 2019.
The new set, designed in house by Nexstar Media Group's design team, replaces the set the station has used since 2012, though it updated the main duras in 2015.
Like its old design — and like many other Nexstar sets that have debuted recently — the new set puts the anchor desk diagonally in a corner, with two walls, in this case, created with six vertically mounted video panels, meeting at 90-degree angles.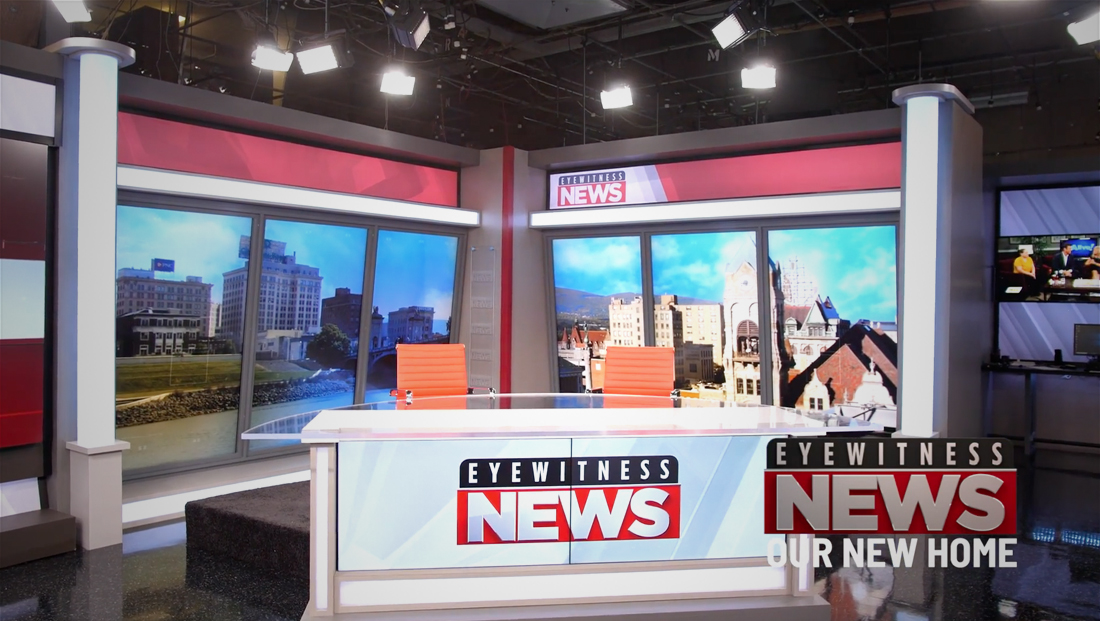 There are also LED headers and the corner, which appears between the anchor two shot, features a vertically stacked panel of frosted versions of the stations' "Eyewitness News" logo as well as internally lit pillars on each side.
The set notably does not include the LED ribbons that snake around the set that has been included in several recent Nexstar debuts.
Breaking the background into two segments — three panels each — are particularly helpful for the "slashed" market that serves two combined minor metropolitan areas, giving the station the chance to showcase two different views at once.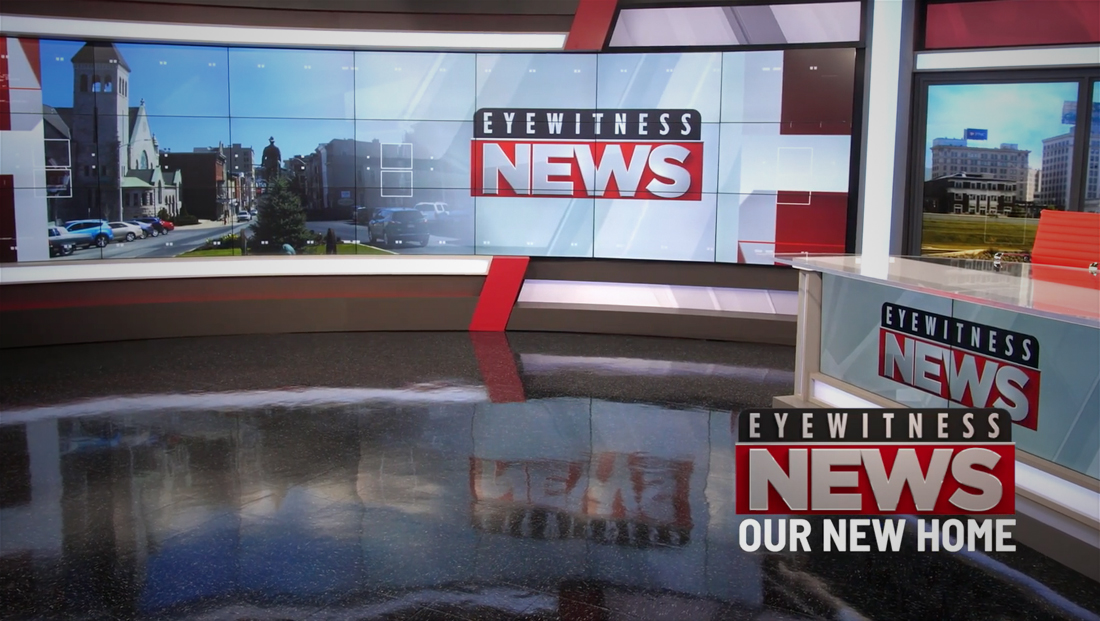 Camera left of this, the station installed a massive 7×3 video wall with a dramatic red angled segment about two thirds over, splitting the scenic wall behind between solid surface and a backlit dura.
The set's duras are printed in grayscale — with color-changing LED behind making it possible to change the look instantly while keeping the textures borrowed from the stations' graphics package.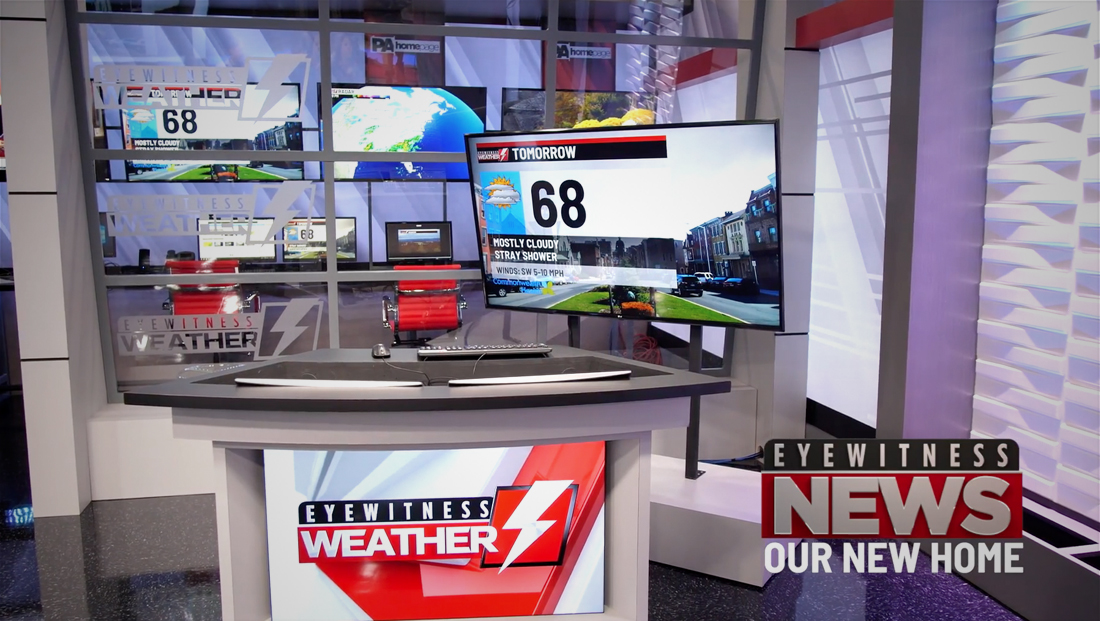 Meanwhile, camera right features a small presentation pod for weather with a glass divider separating the studio from the weather center, which is outfitted with backlit duras and monitors.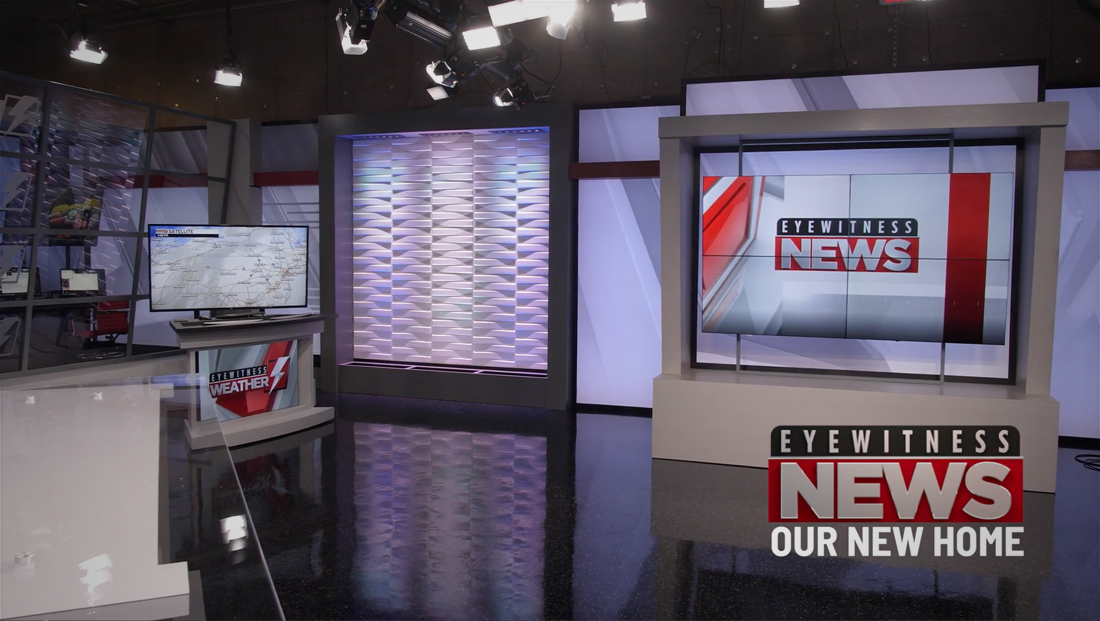 Next to the weather center is a textural wall and freestanding, movable wall segment fronted with a 2×2 video panel and backlit duras.
The Scranton/Wilkes-Barre market is a bit of an anomaly — Nexstar Media Group outright owns WBRE, the NBC affiliate, while it has a shared services agreement with WYOU (CBS), which is owned by Mission Broadcasting.
Mission Broadcasting owns TV stations in many of the same markets Nexstar operates and the two typically operate under an SSA or similar arrangement.
What makes the stations' set in Northeast Pennsylvania so significant is that it's not only a big upgrade for the station but it's also significantly more high tech than what market leader WNEP has.
WNEP, an ABC affiliate, was, until recently, owned by Tribune's Dreamcatcher Broadcasting, and is top in every one of its newscast timeslots.
However, with Nexstar buying Tribune, that would have left all "big three"stations in the market essentially controlled by the same company, so Nexstar had announced, prior to the deal closing, that it would sell of WNEP among other stations in markets where conflicts would pop up.
Nexstar has since sold WNEP to Tegna.
WNEP's "Newswatch 16" has dominated the market ratings for years, so much so that back in 2009, Nexstar took the unusual move of shutting down WYOU's newscasts after an attempt at interactive news failed to gain eyeballs.
Newscasts on WYOU were replaced with syndicated programming for about three years, before the station brought back newscasts.
These newscasts were broadcast under the "Eyewitness News" brand without any reference to either channel — because select newscasts were simulcast on both WBRE and WYOU.
The "Eyewitness News" name had been used by WBRE previously for years — before it rebranded as "28 News" for a short time.
Meanwhile, WYOU was known as "22 Action News" and "News 22" over the years as management tried various updates that included new graphics, new sets and anchor shakeups.
WNEP, meanwhile, uses the bones of a set first installed in 2011 that has a small 3×3 video array behind the anchor desk and two flat panels on either side used for OTS and tosses.
In 2015, WNEP got new graphics along with updating the duratrans on set. In 2017, the station switched to the graphics package used at most Tribune stations.
The station has, over time, relied on chroma key cutouts and compositing effects to create the illusion of larger video walls or panels on set, but none of these existed for real.
All said, WBRE and WYOU's new set is a significant upgrade for both the station and market as a whole, though insiders say the station's lack of experienced reporters mean the news product may not change much — besides getting the on air upgrade.
Sources tell NewscastStudio WNEP management put in a capital request for a new set last year but it apparently didn't come through — likely due to the fact the the station's roof needed an expensive replacement around the same time.
Disclaimer: The author of this article previously worked for WNEP.