NBC Chicago puts the 'team' in 'Storm Team' on select mornings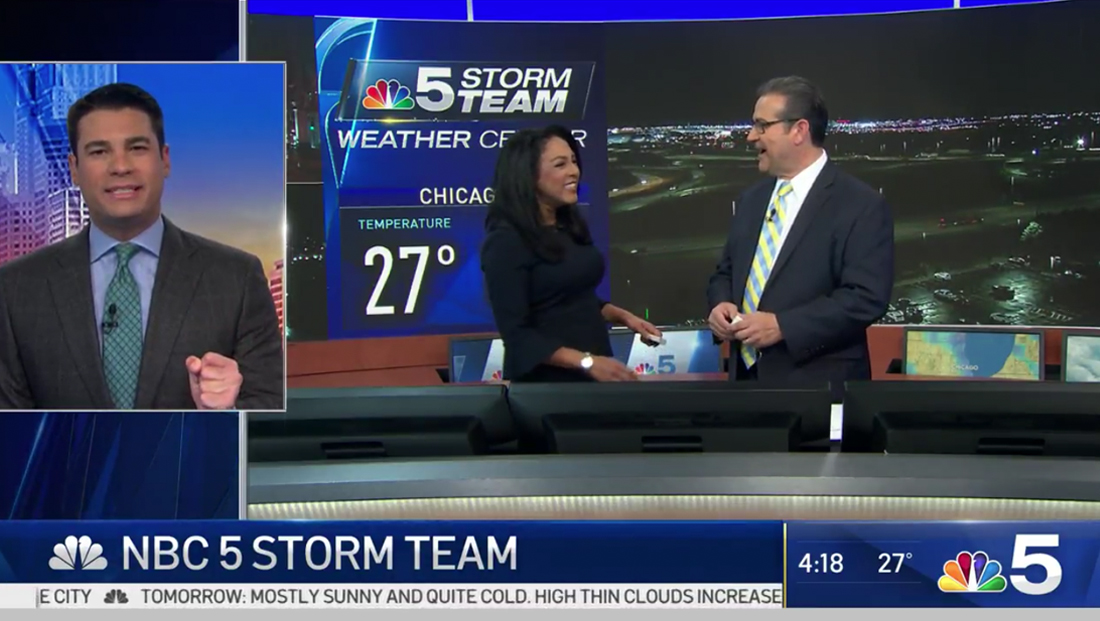 NBC owned WMAQ in Chicago has added a second meteorologist to its morning newscasts three days a week.
Alicia Roman, who was working weekend evenings on the station, is moving to mornings Wednesday through Sunday.
That means that, for three days a week, she'll appear on the station's "NBC 5 News Today" alongside current morning meteorologist Andy Avalos.
On Saturdays and Sundays she'll handle weather solo alongside the station's weekend morning team.
The changes kicked in Thursday, Nov. 7, 2019, with anchor Alex Maragos tossing to both Avalos and Roman standing, two shot style, at the station's weather center desk at the top of the weather block that started around 4:18 a.m.
"We're going to kind of tag team the weather together and bring you a closer look at some metro forecasts on a daily basis," Avalos said.
"(You're) putting the emphasis on 'team' in 'Storm Team," added Avalos from the anchor desk, referring to the station's weather branding.
Roman did not appear during the first, shorter, weather segment earlier in the hour and it is yet to be seen how the station will handle "first weather" segments that air at the top of broadcasts when weather is a major story.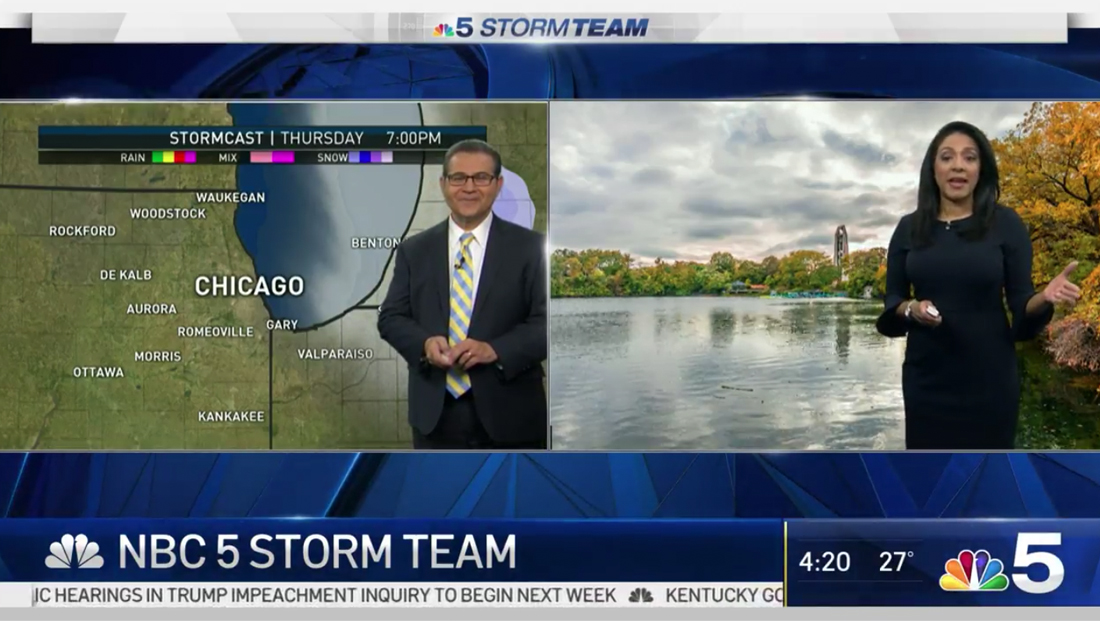 After Maragos' intro to the new concept, Avalos took over solo before double boxing it to Roman, who focused on weather in the suburbs.
On the debut of the dueling forecasters, Avalos tossed to Roman after discussing Indiana, which is in the market's eastern suburbs, while Roman was standing in front of what most Chicagoland residents know is an image of Naperville, Illinois, which is on the western side of the city.
Roman skillfully managed to do a 180 and steer back toward the weather in Naperville, which was what, at least according to how she stacked her forecast images, planned on discussing first.
She then tossed it back to Avalos, again via a double box, to finish out the block, including the 10 day.
Both meteorologists appeared against chroma key walls, which is possible because NBC 5 has two chroma key walls in its studio — with the second one previously used mainly for traffic.
Before that, the station used a small video array leftover from its 2012 set, which has since been mostly replaced, for traffic.
Roman continued to appear on the station's 5 and 6 a.m. hours during the longer forecast segments, but was missing from the shorter ones — likely because it would be tricky to give both forecasters enough time.
She also didn't appear at the end of the 6 a.m. hour when Avalos and traffic reporter Kye Martin joins Maragos and co-anchor Zoraida Sambolin for the "big happy family" shot that closes many local newscasts.
NBC 5 recently hired Paul Deanno to appear on its 11 a.m. and 4 p.m. newscasts.
While adding a second forecaster with the friendly tosses back and forth obviously does eat up a tiny bit of extra time, dedicating someone to the suburbs, where viewers often complain of being "left out" of big city newscasts, could prove helpful.
NBC appears to have gotten the technical aspects of tossing between two forecasters fairly well tuned, though for the format to be most effective, it will need to avoid things like the slightly awkward Indiana to Naperville transition from a content standpoint.
The setup also feels a bit odd given that there is still obviously weather in the metro area Monday and Tuesday, though by putting Roman on during the last three days of the workweek she is able to emphasize weekend weather better.
It's also worth noting that, with winter (and snow) coming full force, the option to have two forecasters on duty could be leveraged in different formats — though, again, it remains to be seen if NBC will call Roman in if a major winter storm hits on a Monday or Tuesday.
The latest in design, production and engineering
Subscribe to NewscastStudio for the latest delivered straight to your inbox.