Fox's interesting choice of imagery in 'War on Thanksgiving' graphic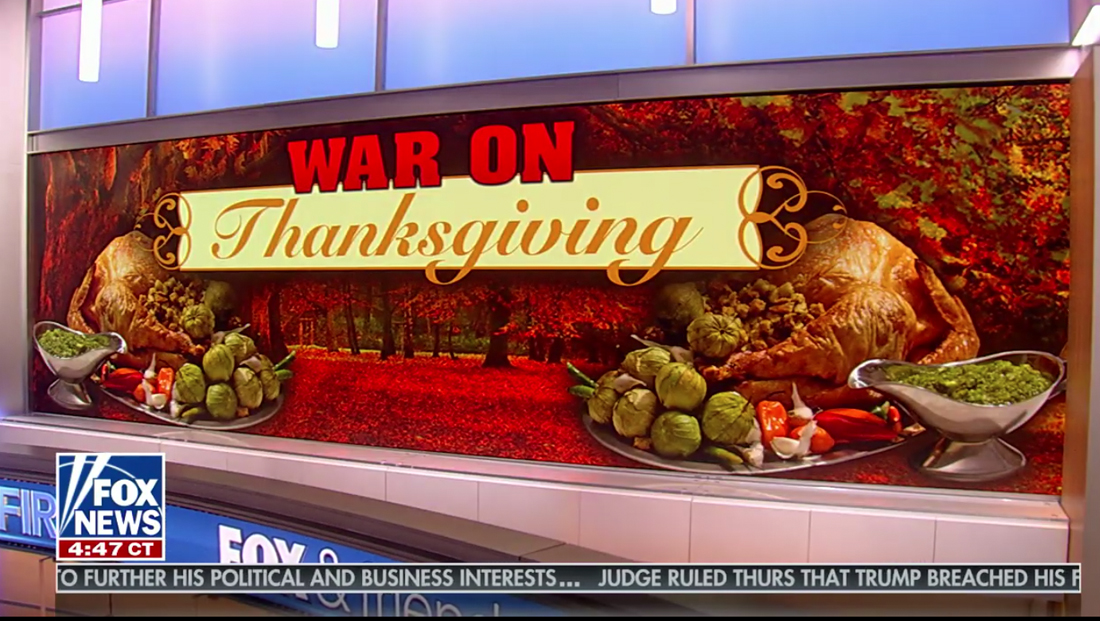 Fox has been lashing out about what it terms the "War on Thanksgiving" and decided to illustrate the story on Nov. 8, 2019, edition of "Fox & Friends First" with what it presumably thought was a lush video wall image of a delicious, good old fashioned American Thanksgiving dinner.
Fox cooks up 'War on Thanksgiving' for its viewers to gobble up https://t.co/8BLRLkLGzw #TVNews #BroadcastNews

— TVNewsMix (@TVNewsMix) November 11, 2019
You see that plump, juicy turkey sitting on a platter (yum!). There's also what appears to Brussels sprouts.
But wait — what's the green stuff in the gravy boat?
And what are those red things … they sure don't look like cranberries?
Turns out the mystery can be solved with a simple reverse Google Image search of a screenshot of the video wall graphic.
And, lo and behold, that "good old fashioned American turkey dinner" is actually depicting a dish known as Tinga de Pavo, or commonly translated as "shredded turkey hash."
In reality, those Brussels sprouts are actually tomatillos and the gravy boat is filled with salsa verde. The turkey, meanwhile, is brined with a mixture of tomatoes, chipotle peppers, cumin and nutmeg.
Yep, that's right, the network that spews hatred against "Mexican countries" used a photo of a Hispanic inspired take on Thanksgiving to illustrate a proud, American holiday.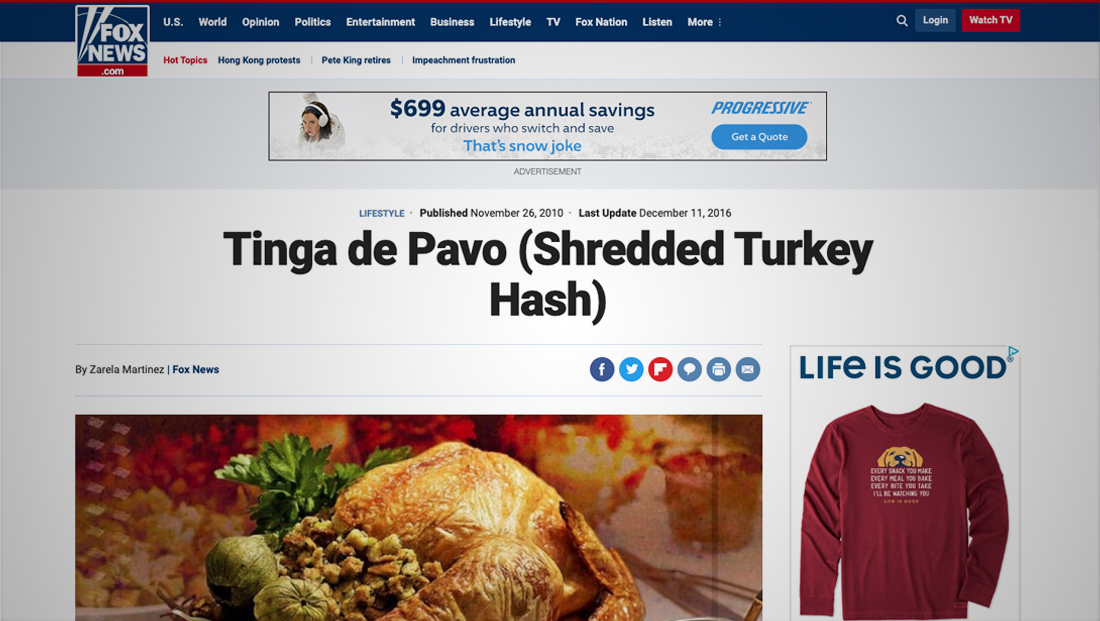 In fact, Fox's own website posted a recipe for the dish back in 2010. The image, according to a caption and Web archives, is a 2008 Associated Press photo that accompanied a cooking story.
Of course, it might be a fair thought that Fox was using the image of the "alternative" version of Thanksgiving dinner to show the "war" on American cooking — however, in the segment that followed with (for some reason) comedian Michael Loftus, no mention was made about Tinga de Pavo or any other take on Thanksgiving that would likely infuriate Fox viewers.
The whole segmented was spurred by a HuffPost article titled "The environmental impact of your Thanksgiving dinner."
And Fox has essentially repeated, across multiple shows, the bashing of the same article pointing out the carbon footprint of food production and travel.
Fox ridiculed over 'War on Thanksgiving' segment https://t.co/Ts3xHaC27Y #TVNews #BroadcastNews

— TVNewsMix (@TVNewsMix) November 11, 2019
In the article, Alexandra Emanuelli writes "No one should be discouraged from enjoying the holiday or celebrating with family and friends," continuing to point out that she just wanted to provide some information about how switching ingredients could help the environment.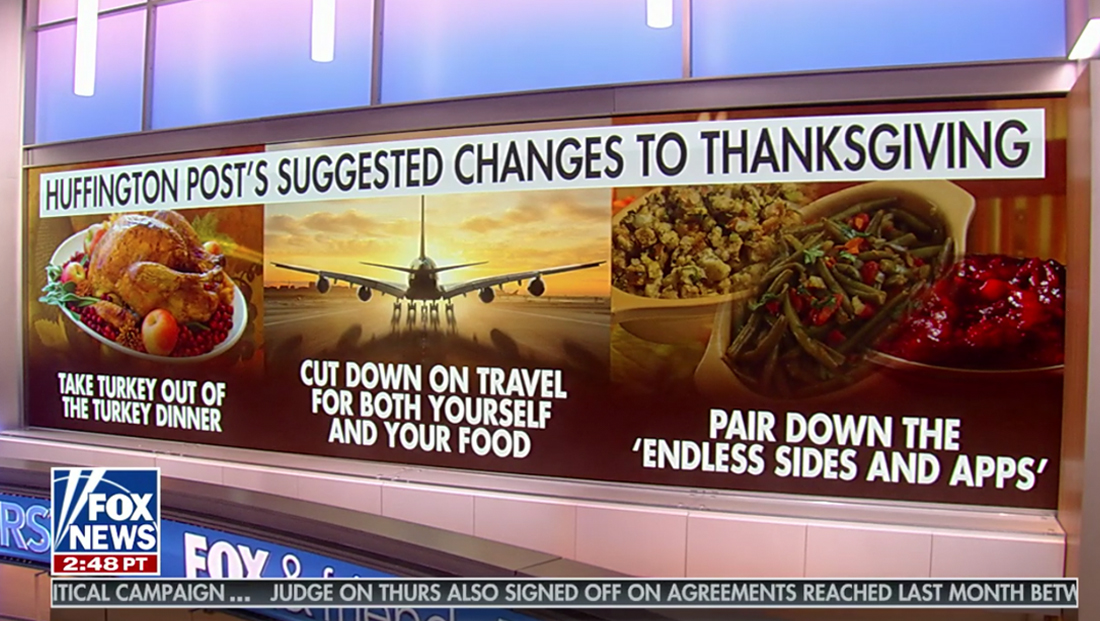 Reading off a graphic that outlined three of the points made in the article, host Todd Piro threw in that "I'm often interested in my food's travel," in response to the suggestion of cutting down "travel for both yourself and your food," a tone deaf comment that ignores the suggestion of sourcing food locally when possible.
In an attempt to infuse some actual facts, co-host Jillian Mele then pointed out that the article goes on to say a 16 lb. turkey creates a total of 34.2 lbs. of carbon dioxide — to which Loftus fired back that, by killing the turkey, he's "helping" the environment (of course forgetting that it takes a lot of resources to get a turkey to the point it's ready for a Thanksgiving table).
The graphic eventually appeared on other Fox shows.