NBC celebrates Hoda and Jenna's reunion on 'Today'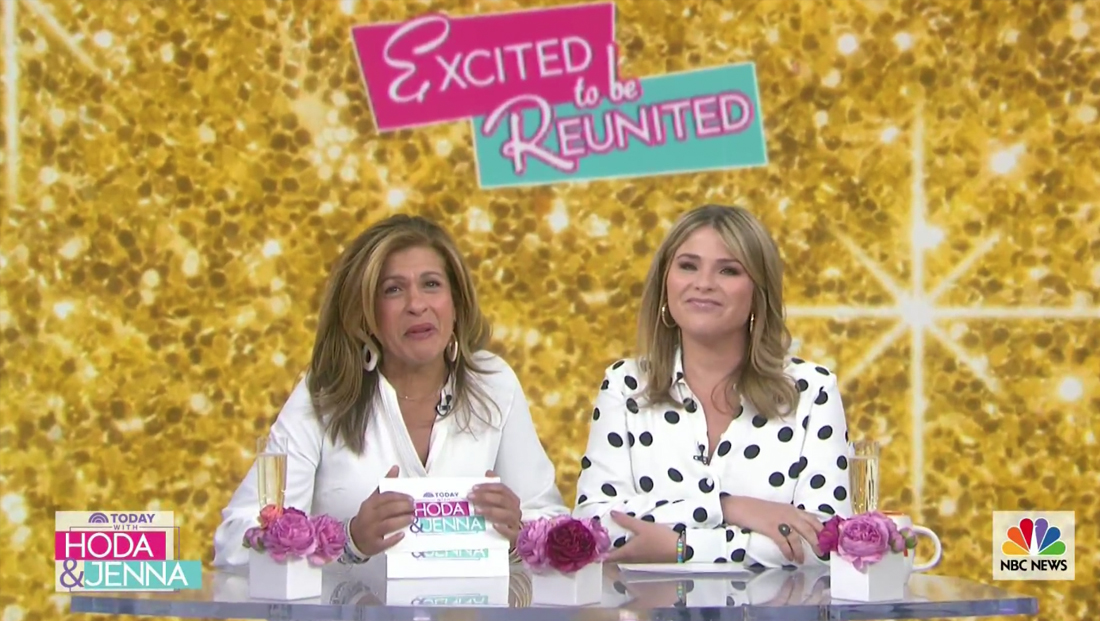 Hoda Kotb and Jenna Bush Hager were finally reunited on the fourth hour of "Today" Monday, Nov. 11, 2019 — and the show celebrated with a big, glitzy welcome back.
Kotb left the show in April for maternity leave, returning just after Labor Day.
Meanwhile, Hager started her maternity leave in August, meaning the show that bears both their name were sans either of them for about a month.
During that time, NBC used a variety of female and female as well as male and female anchor combos.
Monday's "Today with Hoda and Jenna" started off with a staged, pretaped segment depicting, thanks to a video wall, what the pair have been up to while out — and trying to "find" each other in New York.
That is, until a hard cut to the show's logo "revealed" the whole thing was staged.
Kotb then entered the studio from behind the "Today" sunrise sculpture, which was lit in alternating pink and teal (the show's colors) while members of the staff in the studio and control room were shown celebrating.
Bush entered through the rolling door near Studio 1A's production area, meeting in the middle at the show's glass anchor desk.
The show branded the reunion under "Excited to be Reunited" and created its own pink and teal logo for the occasion, which was placed in front of a glittery gold graphic that was shown behind the pair for most of the show — instead of the normal simulated window background.
The color changing LED accents on the set also flash teal and pink, like the logo, during the open.
The fourth hour of "Today" has been a bit of a blur lately when it comes to talent.
Longtime co-host Kathie Lee Gifford left in April with Kotb starting her surprise maternity leave soon after.
After Gifford announced she was departing the show back in December 2018, NBC announced in February 2019 that Hager, a frequent fill in for Gifford, would take her place.
Hager then ended up taking maternity leave just a few months into her tenure at the show.