NBC owned stations switching to new site design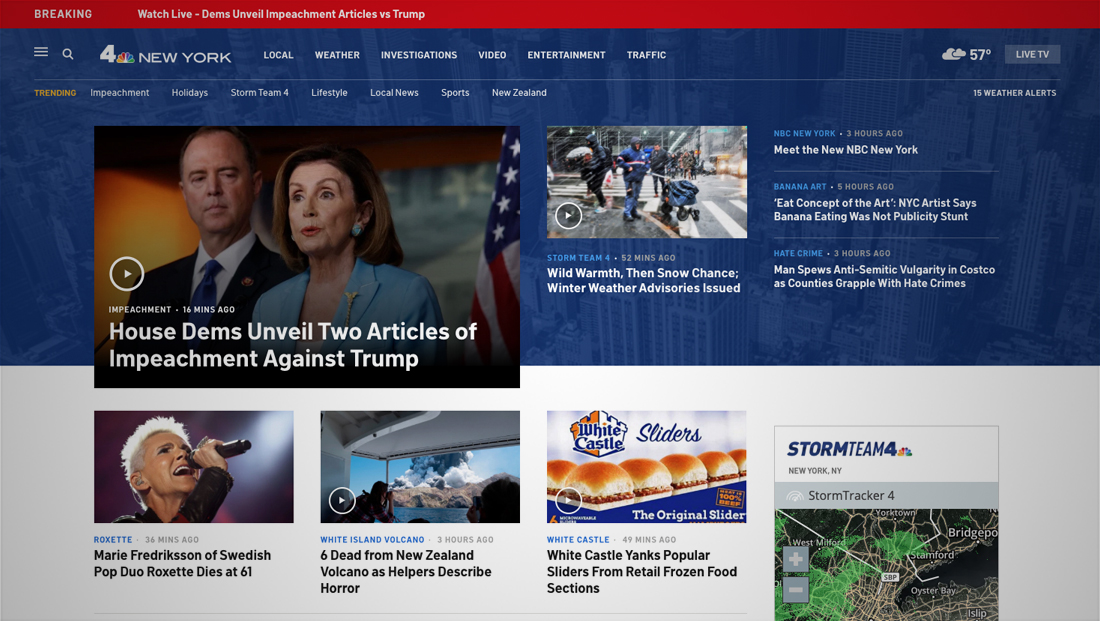 This story has been updated to reflect the launch of NBC Chicago's new website.
NBCUniversal has switched over to new websites for its owned stations.
As of this writing, all of the NBC and Telemundo branded websites in markets where NBCUniversal owns both stations has switched over to the new design.
This also includes NECN, the network's 24 hour cable news channel in New England.
Meanwhile, Telemundo stations owned by NBCU in smaller markets where the company doesn't also own the NBC affiliate, have not all made the change.
Chicago made the switcher later than other markets, including both smaller or larger ones, and NBCUniversal did not respond to requests for comment about the delay or rollout schedule.
The new design includes a primary navigation bar with the station's logo, search and primary links.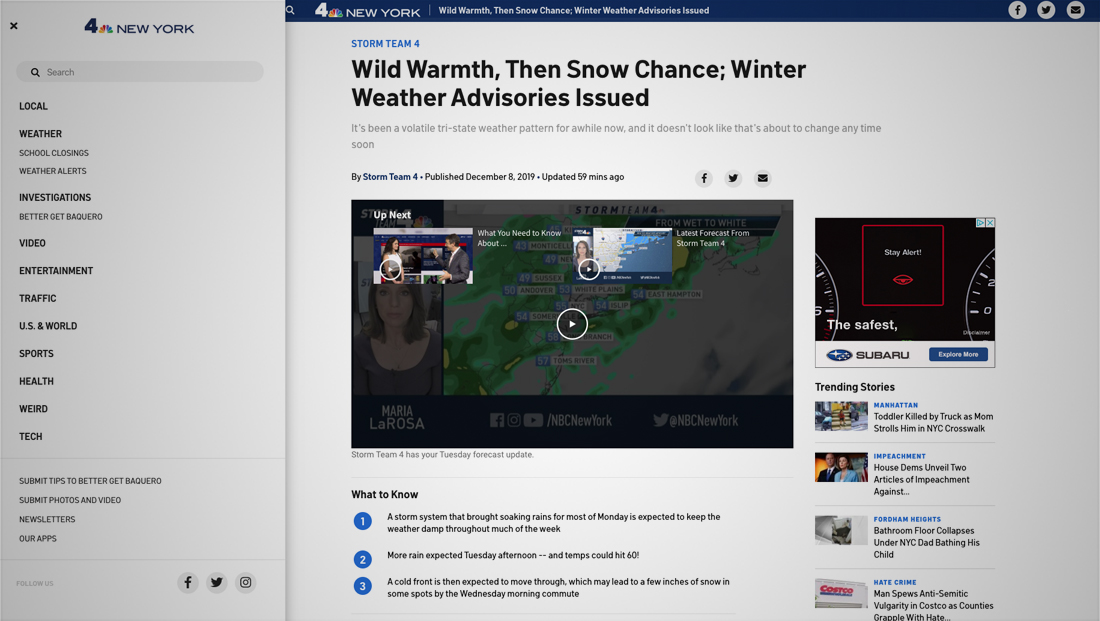 A hamburger menu here provides access to a sidebar menu with additional links. On mobile, this menu becomes the primary navigation system.
Under the main horizontal navigation bar, meanwhile, is a "trending topics" list.
The upper right of the main nav also includes current weather conditions and "Live TV" button, while the sites have the option to incorporate a red breaking news bar along the top of the site or weather alerts to the far right of the "trending" bar.
The trending topics bar remains on mobile, albeit in a truncated format with a dropdown to see more.
The "Live TV" button is removed and the weather icon and temperature remain but are slightly smaller.
On the homepage is a large blue area housing the top stories that has muted market specific imagery.
The website switches over most of the site typography to NBC's custom font Arthouse Owned, which debuted in August 2019 as part of a typographic update to owned stations' shared graphics package, Look N.
The new font is similar to FF Din, the font Look N originally used.
On its own websites, most NBC Owned Television Stations group digital properties used a combination of Roboto for headlines and Arimo for body copy.
Roboto is an open source font that has similarities to FF Din, while Arimo is another free font that's often used as a substitute for Arial.
The new NBC owned stations websites are powered by WordPress's enterprise content management offering.
The new sites have a few odd quirks that NewscastStudio noted shortly after the launch.
Clicking the search icon correctly opens a search box, but the magnifying glass icon is oddly duplicated. In some cases, the mobile "trending" menu "down arrow" element appears on larger screens.
In addition, the last link in the trending section automatically gets truncated with an ellipsis added, but on some screen sizes, a standalone ellipsis appears next to the down arrow, creating an odd user experience since both elements are commonly used as navigational elements.