Cable networks already in full swing with impeachment trial coverage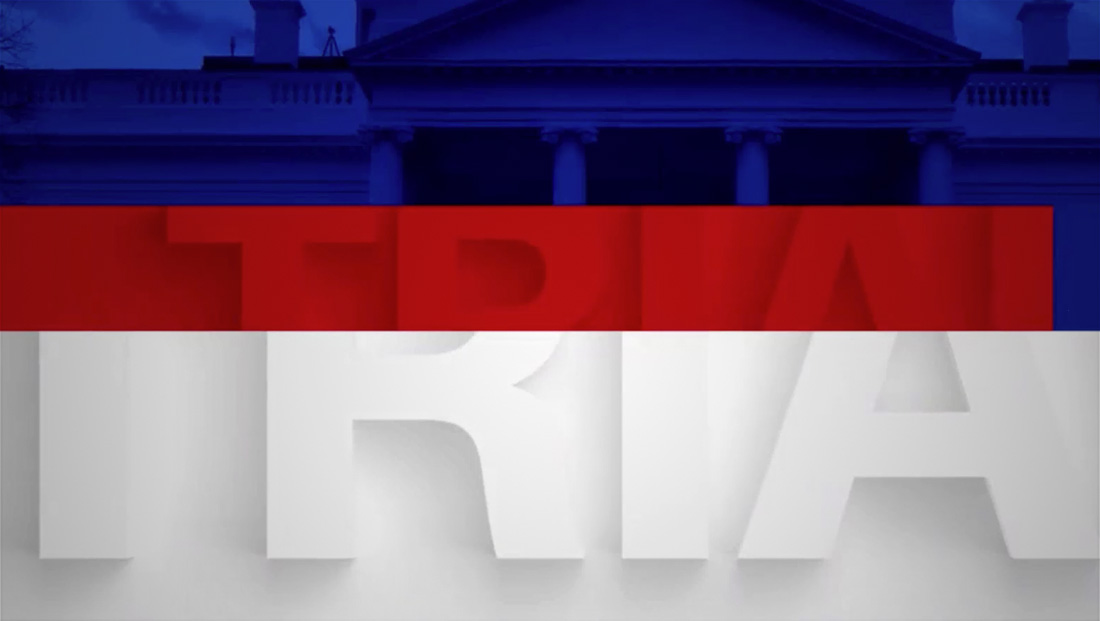 With Donald Trump's impeachment trial set to start at 1 p.m. eastern, the cable networks got a head start on coverage.
CNN is using a special open, which combines red, white and blue bars with oversized typography along with imagery of Trump and the Capitol.
A similar design was used on the video wall "windows" during "New Day" Monday, Jan. 20, 2020.
The network is branding coverage under the name "The Impeachment Trial of Donald J. Trump," which is set in a bold version of its CNN Sans custom font.
It's worth noting that, despite some buzz on social media, the horizontal red, white and blue bars never appear in the correct order to replicate the layout of the Russian flag (which uses, from top to bottom, white, blue and red).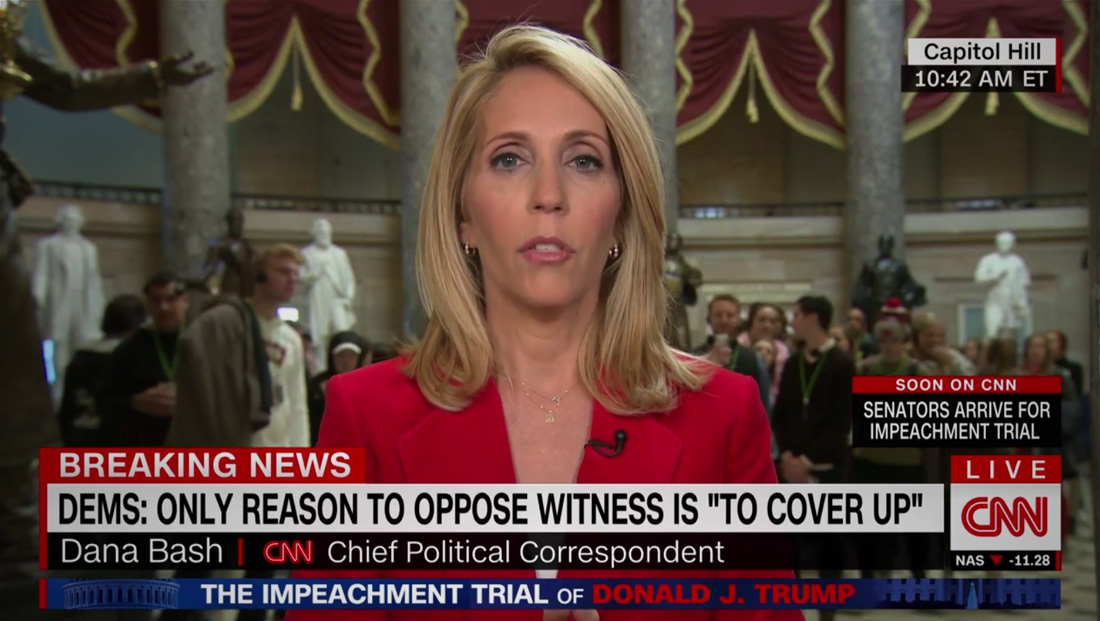 CNN is also inserted a bar with a blue background with the Capitol and White House along the bottom of the screen along with promos above its bug.
MSNBC, meanwhile, is also relying on typographic elements that use references to lines from the constitution.
The network is using the slightly different name of "The Impeachment Trial of Donald Trump" (minus the middle initial).
Its logotype is set in a condensed typeface with a bold underline and additional thick lines filling in the negative spaces in the lockup.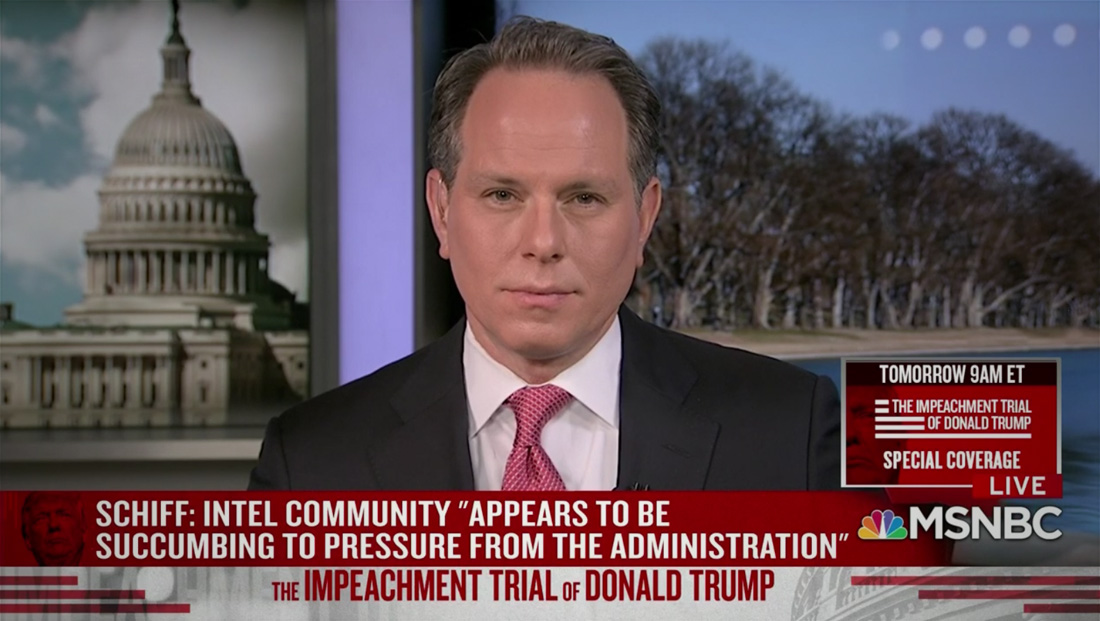 The network has inserted the "lower bar" with trial branding during most of its coverage Monday and Tuesday and is using the unique red lower thirds during impeachment related segments.
The lower third features imagery of the Capitol as well as Trump's head to the far left of the main lower third banner area.
Promo boxes are also running above the network bug.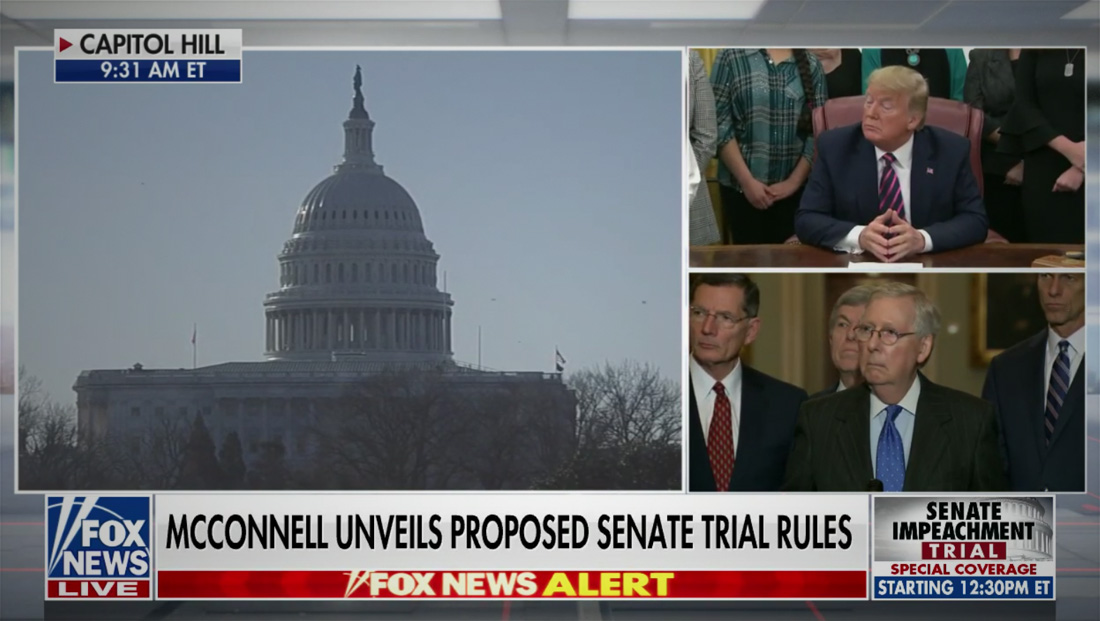 Fox's conservative cable channel, meanwhile, is advertising that its coverage will start at 12:30 p.m. eastern — though it has been previewing the story throughout the day Tuesday.
It's also running a promo box in the lower left corner of the screen with its branding: "Senate Impeachment Trial" — a name that doesn't include a direct reference to Trump's name and even sounds, in some ways, that the senate is actually on trial.