How the networks covered the Iowa caucuses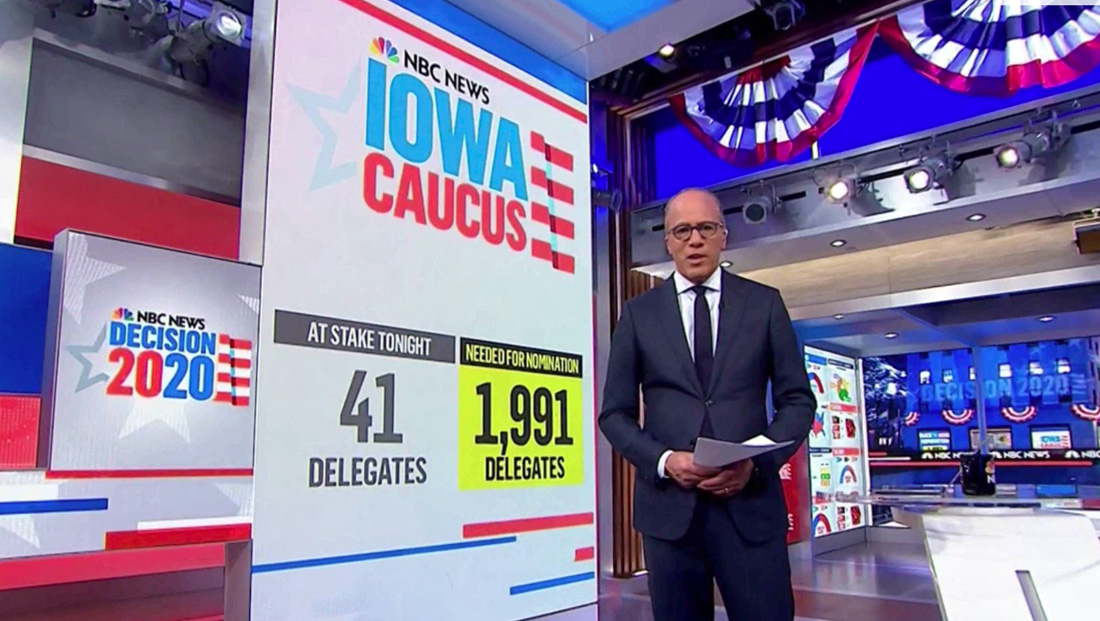 The "big three" networks offered brief Iowa caucus updates around 7 p.m. eastern just before shifting into primetime programming Monday, Feb. 5, 2020, while the cable networks went wall to wall — despite having little solid information to go on.
Broadcast networks also cut in later in the evening as irregularities with the vote tallies began surfacing.
NBC aired a brief reminder saying that "America's Got Talent" would follow the top of the hour election update, which was presented by Lester Holt in front of Studio 3A's large video wall tower.
The video wall vista alcove showed charts and graphics, while the LED jigsaw array to the left was also fed with similar graphics based on the network's "Decision 2020" look.
In the far background, a heavily composited view of Rockefeller Plaza with digitally added patriotic decorations and NBC branding was visible.
The video tower was used to display the key "41 delegates" number along with four live shots from major candidates' rally sites and, finally, to toss to a live shot from Iowa with Chuck Todd.
ABC News originated special coverage from the Times Square studio usually used by "Good Morning America," with the video walls displaying election themed imagery.
ABC has been heavily relying on the "GMA" studio for special reports and "This Week" over the past few weeks as work on the network's primary news studio, TV3, is under way.
The network provided coverage on its recently expanded streaming service, ABC News Live, as well as taking network air briefly.
CBS News offered updates throughout the evening from Washington.
Meanwhile, on cable, CNN aired an extended, highly edited open before kicking off coverage from Washington, which made generous use of the studio's bountiful video walls and handheld cameras.
Anchor Wolf Blitzer then tossed to Dana Bash and Jake Tapper in Iowa.
On MSNBC, the network used its famous election theme in an extended open that stuck to a modified version of the "hanger" look that has been used for its debate telecasts — which involved 3D scenes that, quite appropriately — "broke out" of the interior 3D space and instead featured large "billboards" set up in dark farm fields and other state landmarks.
The network had its anchor team set up on the MSNBC side of Studio 3A and used the corner video wall installation to display a stylized view of Rockefeller Plaza with faux "Decision 2020" branding Iowa caucus billboards digitally added to the buildings.
Meanwhile, the floor to ceiling video wall with curved ribbon was turned into a sort of "data center" while Steve Kornacki was on hand to analyze data on the freestanding touchscreen that can be wheeled into the area.
Fox used its new "Democracy 2020" branding and also offered on an the ground setup with Iowa set against a stylized version of the state's flag.