The look on the faces of "Lego Masters" contestants entering the sprawling set created for the new Fox show pretty much says it all: It's any Lego fan's paradise.
Production designer Stuart Frossell knows that feeling all too well. Like many kids, he loved playing with Lego growing up.
"I remember inheriting two or three metal cake tins of bricks from a family friend. They were a real mix of colors and back then there was much less variety of brick. I'd play for days on end. I remember making a camera and loading it with my own hand-drawn pictures of people and pretending to take photos of them with it," he said.
Later, he upgraded to Technic sets, whose more complex mechanical mechanisms made it possible for him to expand his own building into the realm of the working equipment he saw on his family farm.
"I feel that Lego might have played a large part in getting me into the world of television," he reminisced.
Instead of becoming a farmer, his path took him to art school, where he specialized in making models and props for film and television.
His first job in the industry was as a model maker. Eight years in, he became an art director and then production designer.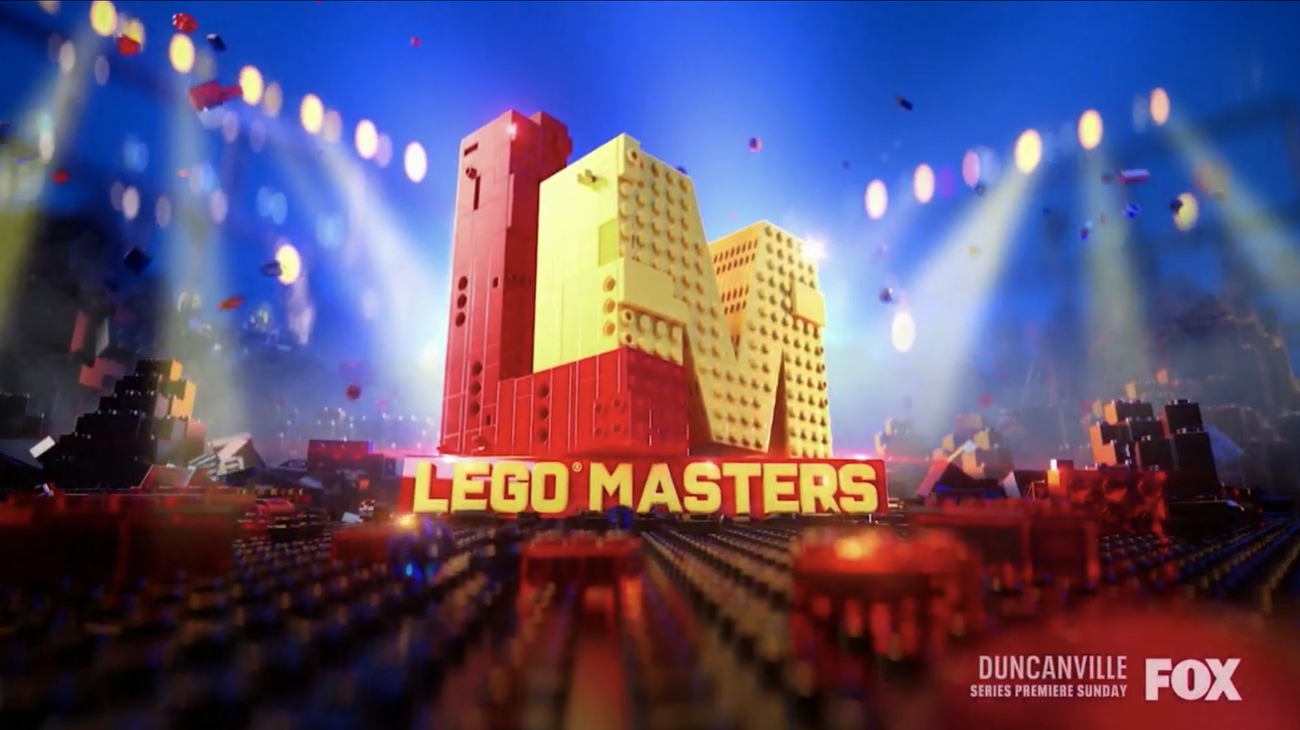 The "Lego Masters" U.S. franchise follows the show's British 2017 debut and Australian debut last year. Frossell was brought on by the show to create the 360-degree environment that would play host to the intense gameplay.
Research and inspiration
Frossell starts any project with a lot of research and discussion with the production team.
"I have to get a good handle on the practicalities of the set. I need to know that it can function for its intended purpose before having fun with how it should look," he explained.
Details on everything from the show creative, how gameplay would work, how many contestants the set needed to accommodate, how much Lego it needed to display and what segments would take place throughout the course of an episode or season were all vital pieces of this puzzle — or, one might say, this Lego set.
For "Lego Masters" Frossell began making calculated decisions based on his team's takeaways from these conversations. Then, he started creating mood boards.
Inspiration included the Lego brand standards, colors, textures and tones used in the Lego feature films as well as the Lego House Museum in Denmark.
Exploration also included Lego Stores and the build processes Lego builders use to create their masterpieces.
Ultimately, the final set, appropriately enough, incorporates patterns and shapes reminiscent of Lego bricks and other components from the iconic toy brand. But it also plays with scale, incorporating bricks ranging from oversized to the familiar size found in most Lego sets, small enough for the hands of children.
The zones
All told, the "Lego Masters" set is divided into three "zones." There's the contestant workroom (or "build room"), the gallery and the "Brick Pit" — the area where contestants can "shop" for the bricks that go into their builds.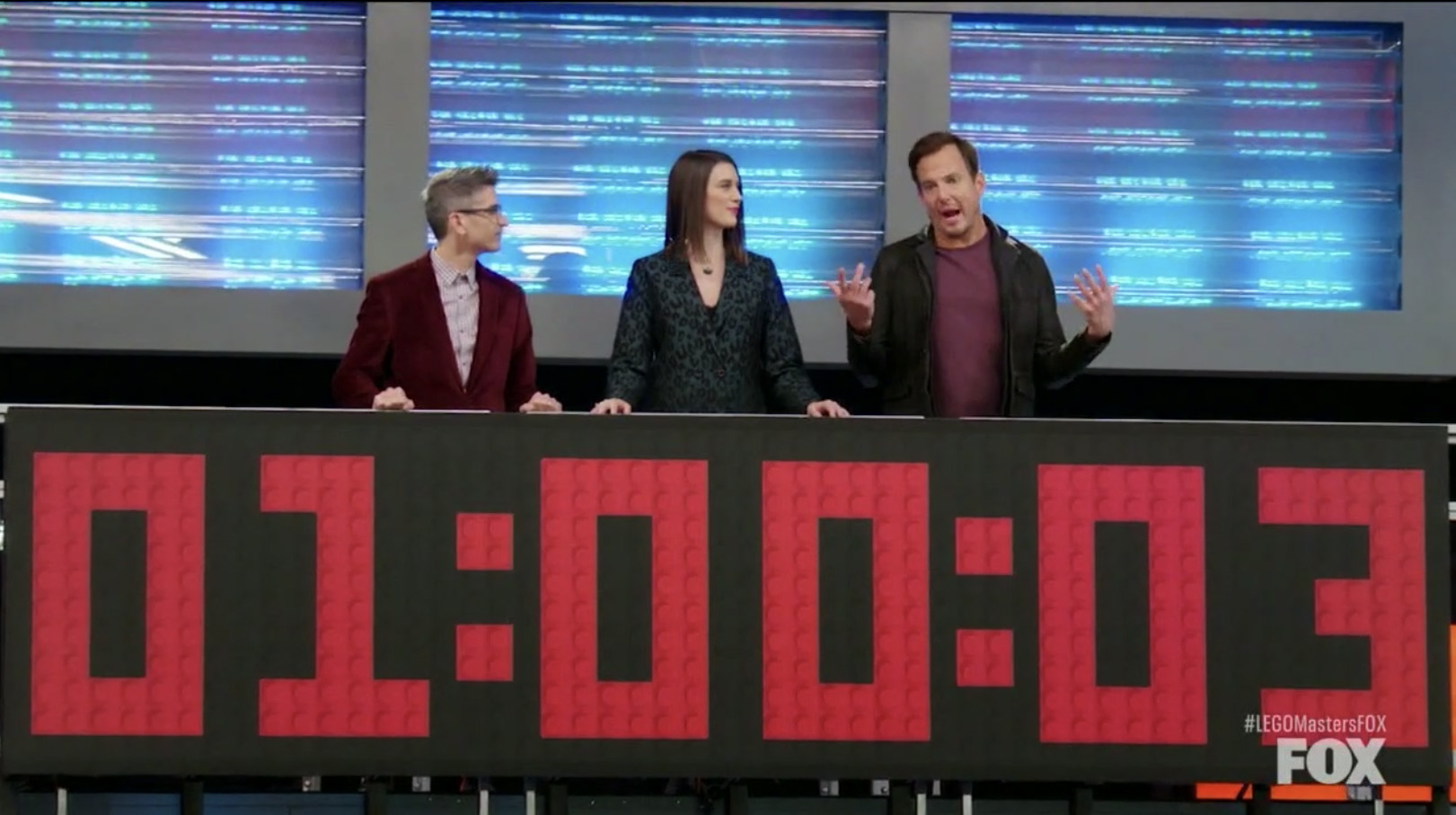 The balcony is also fronted with a seamless LED banner that can be used to display the show's branding or, during builds, a bold red and black countdown timer, whose numbers look like the tops of Lego bricks, "studs" and all.
Above the brick pit is a catwalk-like balcony that the judges can use to oversee the action during the hours-long build sessions that are ultimately edited down to fit one-hour episodes.
The balcony is accessed with a "human-sized" staircase with floating steps finished to look like multicolored bricks and is strategically placed next to a two-story wall of minifigures that are part of the Brick Pit pieces contestants can use.
All told, over 7,000 minifigures are on display and contestants can climb the steps to find the perfect one.
When the minifigures arrived from Lego, they were unassembled, so a small group spent a week assembling them.
In addition to the minifigs, the Brick Pit has over 3.5 million bricks available in 2,500 varieties and a myriad of colors. "Lego Master" has a Challenge Department that's in charge of ordering, cataloging and installing the massive shipments of Lego pieces.
Frossell and his team worked carefully with this department to ensure the Brick Pit was arranged in a way that made sense and so that contestants could quickly find the exact pieces they needed.
"It doesn't serve the show well to have builders wasting time looking for the perfect piece. We need every team to succeed to the best of their ability by being able to lay their hands on whatever they need quickly," Frossell explained.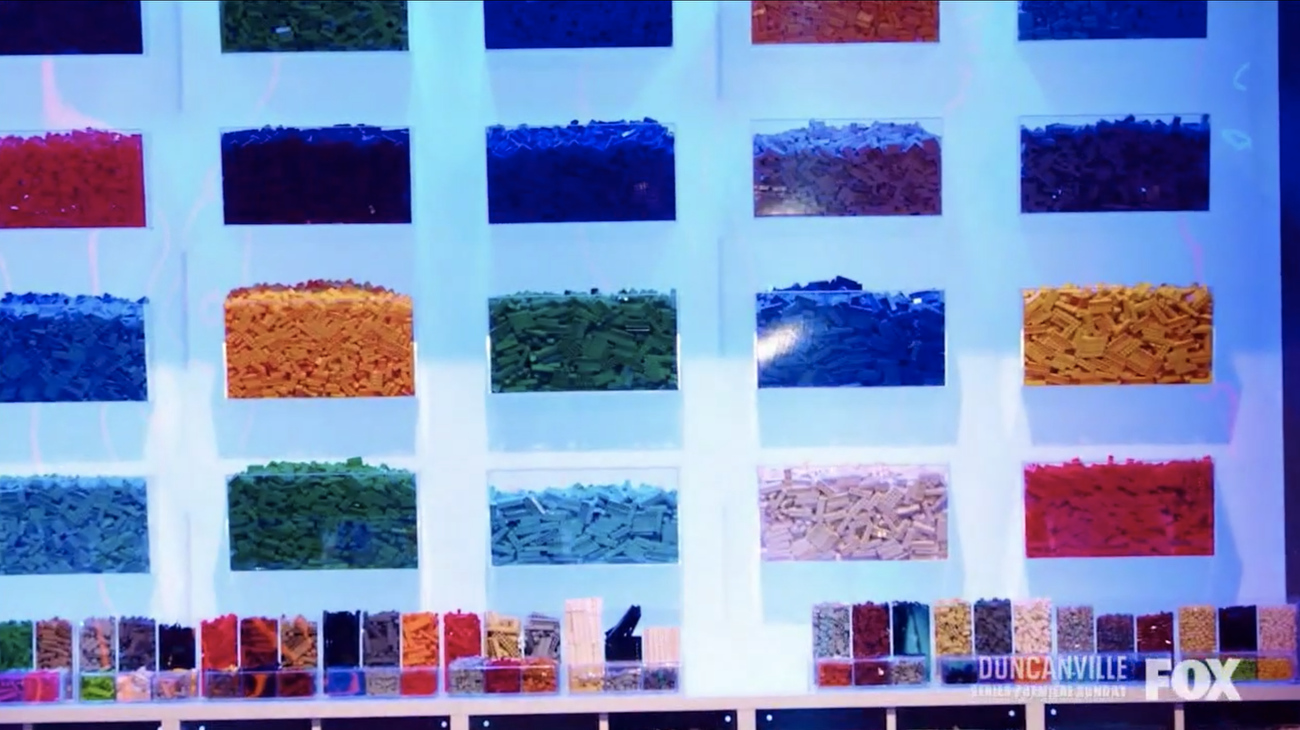 The Brick Pit made generous use of transparent bins, organizers and displays in order to both read well on camera and let contestants see, at a glance, what elements were stored where.
All of these units also had to avoid any glares from the studio lighting.
Frossell tested numerous type of plastic bins and was able to use some off the shelf elements. Ultimately, though, he had to have many of them custom made to meet the organization and production needs of the show.
Meanwhile, the gallery area often used to introduce challenges as well as to judge them sits behind the Brick Pit. This area has a wild wall that can be flown out of the way to meet shot-blocking requirements as well as portals that allow cameras positioned outside the set to capture the action happening in the gallery.
Finally, there's the place where it happens: The contestant workroom. This area is most notable for its giant light fixtures resembling the underside of Lego bricks, or "tubes," and inspired by elements found on the set of the Australian version of the show.
These elements can actually be moved up and down within the space to help accommodate a variety of shots.
In addition, there's an entire upper portion of the set that can be flown out of the way in order to allow a jib, situated on a platform eight feet above the studio floor, to capture sweeping shots of the work area.
Crew can keep this part in place for wider shots but then move it out of the way to allow the jib to dip down and capture key moments of action.
All of these requirements and strategies play a key role in how the set is shot.
"We needed these very grand, sweeping shots showing the entire set and the contestants all working away at their tables in the space. Meanwhile, the show demands extremely detailed macro shots that take you into the model world itself," noted Frossell.
One end of the work area also features two sliding doors designed to look like they've been built from a combination of solid and translucent oversized Lego bricks — with the clear ones creating small windows while also allowing the studs of the bricks below to appear on camera.
The doors, which are fronted with the full "Lego Masters" logo, aren't a perfect 50-50 split — instead, there's some staggering that adds layering and depth to the entryway, which is used for both contestants and special guests. This design came about as a result of Frossell prototyping the design with real Lego bricks.
One experiment used twisting one side of the doors forward and the other side backward so that they twisted around each other as they closed — and ultimately Frossell built the final design out of Lego too.
He then tried to draw it up for the set fabricators to build, but in the end the best way to describe it was to send over the original Lego model.
"It worked great. I might build prototypes of all my sets in Lego from now on," he said.
Behind the entryway is a wall covered in that familiar Lego brick pattern and the "LM" version of the show logo.
The floor
The show's wide and jib shots required Frossell to carefully consider the flooring materials.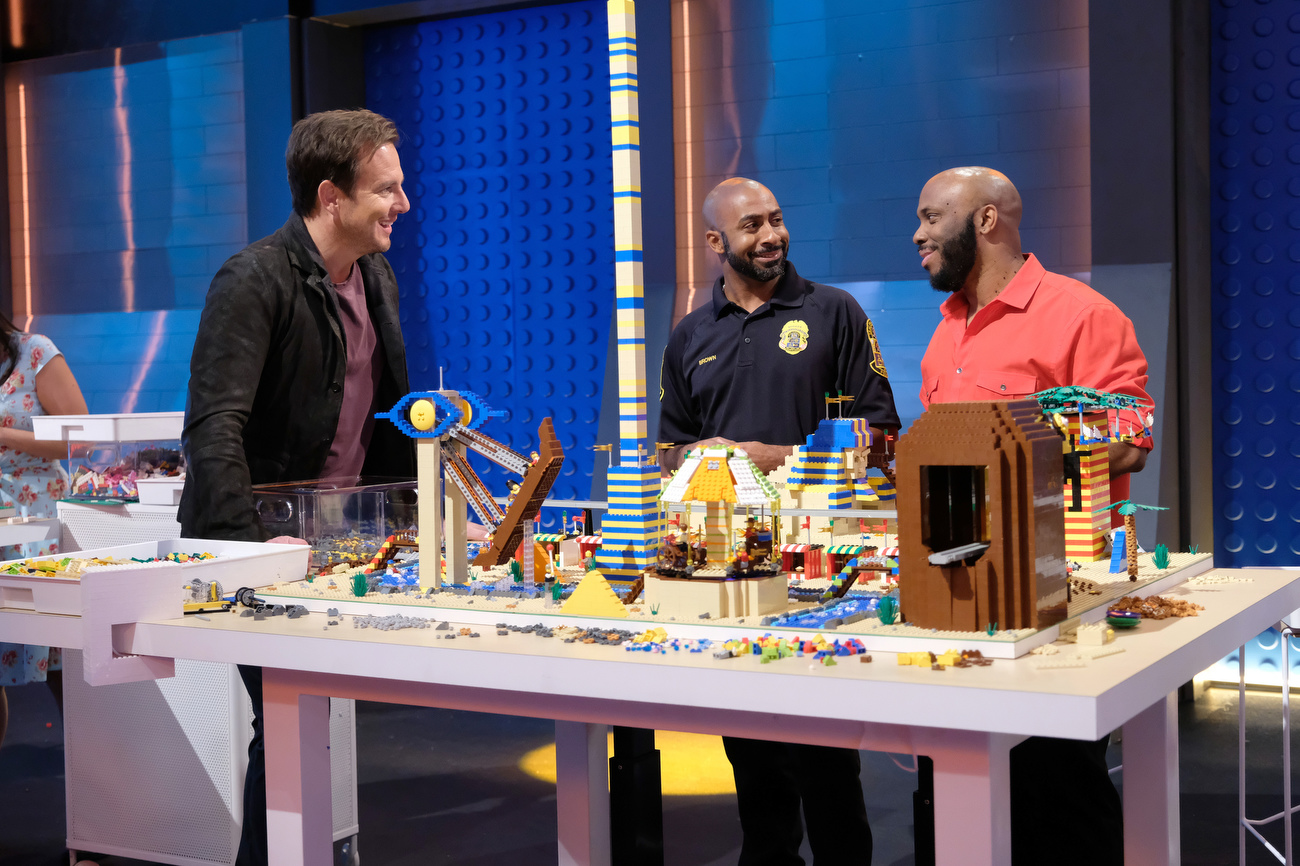 While the shiny surfaces found on many sets were used in certain areas, the show installed thick rubber gym matting material in the work area to give contestants' feet a break, since they stand through most of the long build sessions.
All of the flooring had to be carefully installed so that every part of the floor was on the same level — a key factor given that contestants have to wheel their fragile builds from their stations to the gallery on mobile carts that dock into custom table frames.
Both the floors and numerous other parts of the set are also equipped with LED backlighting that can be used to create dramatic lighting effects to open the show and, like when the time hits one hour remaining, a bold red lighting cue.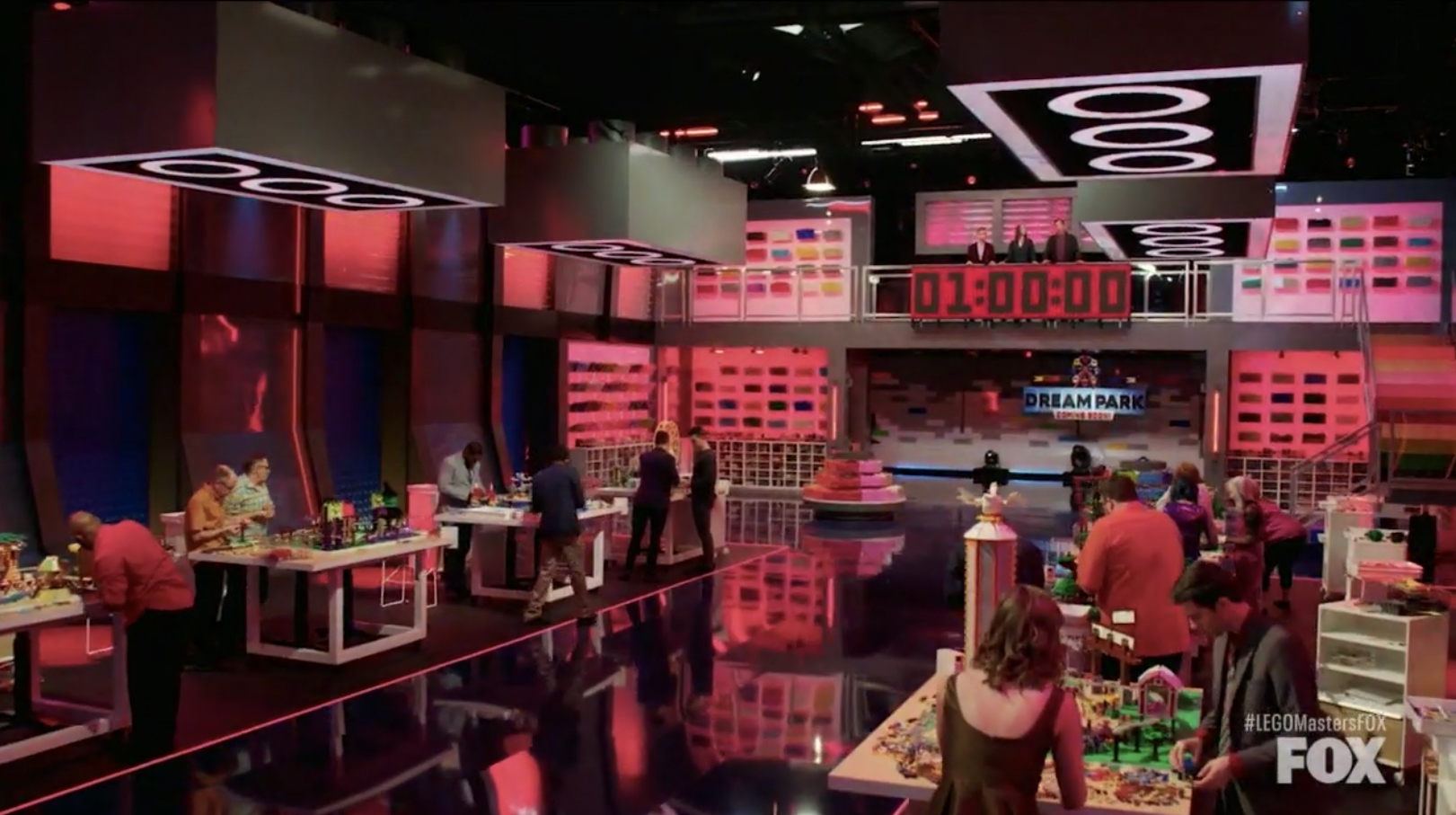 Design process
During the design process, the show's director, Rich Kim, collaborated heavily with the designers. Kim was in the office most days, which is unusual in television pre-production but proved extremely beneficial.
"He had a very clear vision as to where he needed cameras placed and what shots he needed through the various stages of each episodes," said Frossell.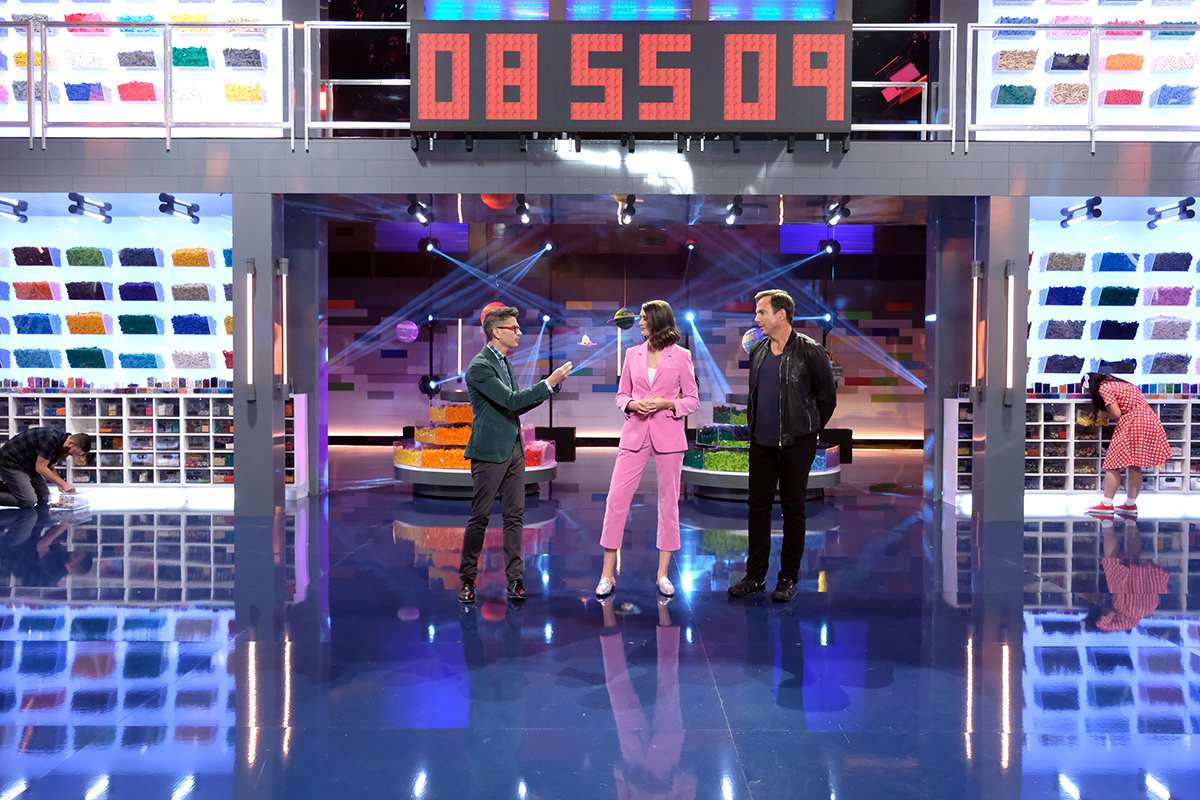 "I knew that I wanted translucent elements in the set to play light through. In a more conventional space I might choose to put a fake window in a set to give the impression of natural light coming in from outside. With this set I felt like it needed to live in a place away from the outside world," explained Frossell.
The Lego movies helped inspire the design team of "Lego Masters" to incorporate textured panels that look like translucent Lego elements.
A variety of colored light could be punched through them to make the set come alive in a "very controlled way," which was important because many of the challenges ran so long that having consistent simulated daylight wouldn't look natural.
Can there be too much Lego?
Of course, whenever production design delves into such an iconic brand with such well-known visuals, it can be challenging to create a look that isn't chock full of too many metaphors.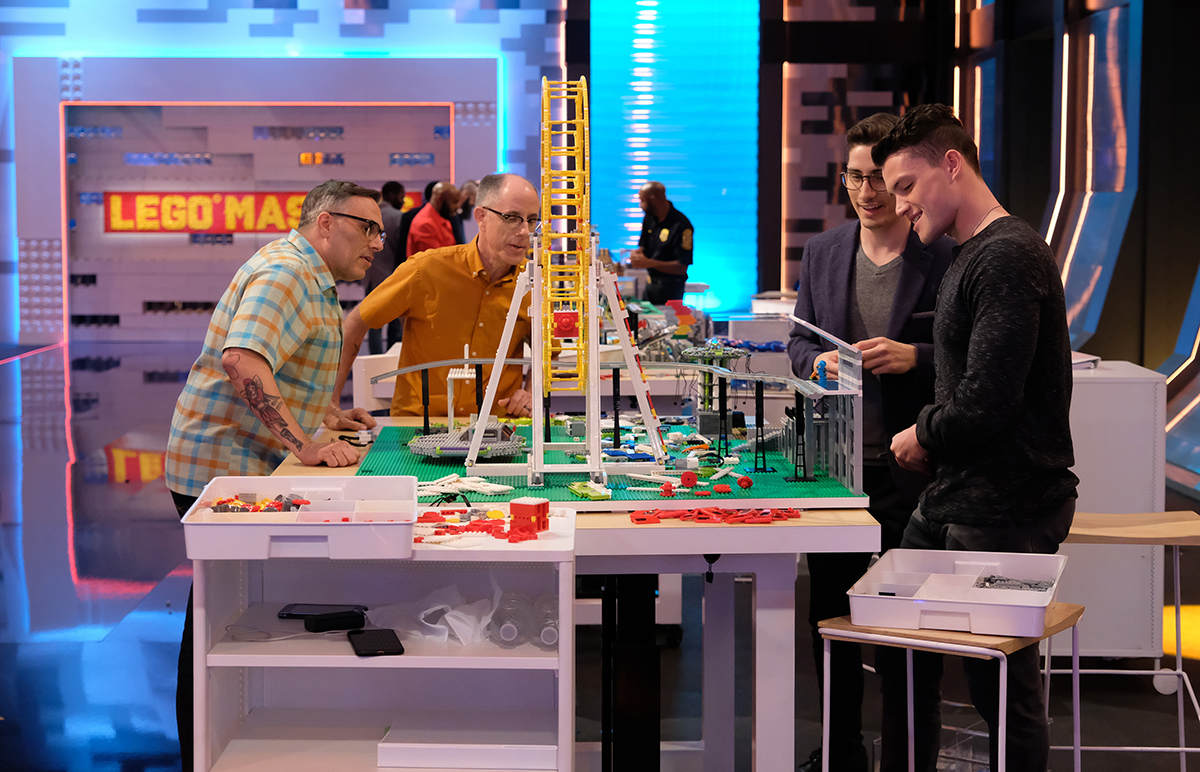 "I actually found the design process for this set a little easier than one without a theme. Everyone already agreed that the set should have brick-related treatments, textures and colors," explained Frossell.
It would have been very easy to fall into the trap of building a set that looked like it was built entirely from bricks, he pointed out, but he avoided that throughout the process by purposefully playing with scales ranging from the huge Lego work lights, the graduated monochrome brick texture around the door and the minifigure wall.
Despite all the plentiful more obvious references to Lego and its components, there's one general theme that Frossell worked in that he particularly likes: "The shine" of the various surfaces that "makes it feel like you're standing in a Lego model," as he puts it.
A good deal of credit for that look goes to lighting designer George Maxwell, says Frossell. Director Kim always wanted lots of strip lighting and pixel tape on the set and Frossell and Maxwell kept finding ways to include more.
Graphics
"Lego Masters" also uses a collection of sophisticated graphics and visual storytelling tools that blend reality and the imagination.
Frossell wasn't directly responsible for these looks, but they did help influence scenic elements — and vice versa.
For example, when all 10 teams combine their collective theme park "zones" into a single giant theme park on the premiere episode, there's a wide sweeping view of the combined builds that has the gallery fade away in favor of simulated natural landscape while elements of the Lego builds come alive in a look that's very similar to the Lego films.
Later, as contestants explain their builds, some of the individual models come to life as well.
To create these sequences, producers select a few models from each episode that are sent off to a post-production animation company that uses stop action.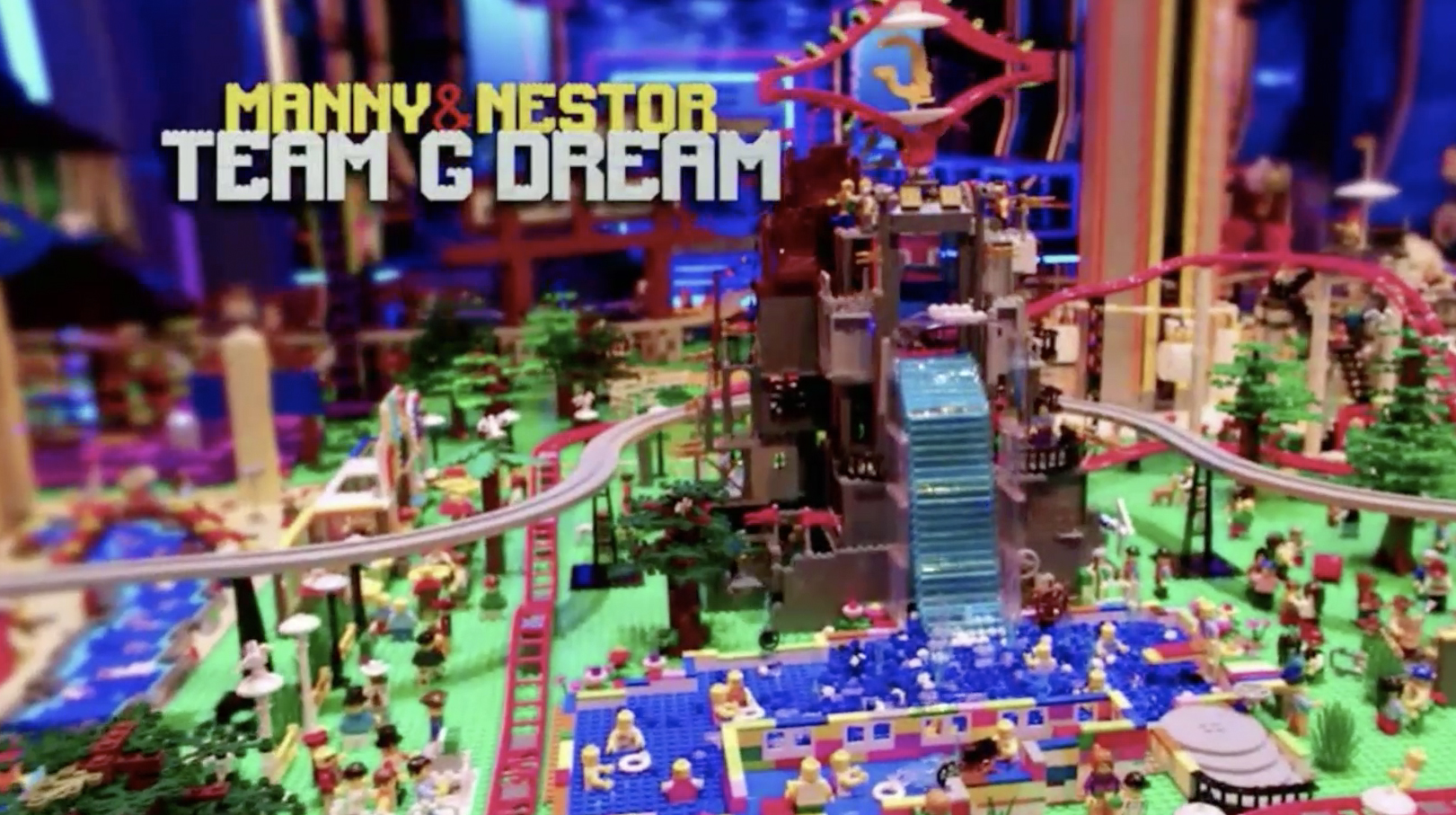 When going to and from breaks, a short animated sequence shows the "LM" icon crashing into the "floor" as a variety of bricks fly toward the viewer.
The show also makes use of "floating" letters that appear to be built from Lego bricks to identify team builds.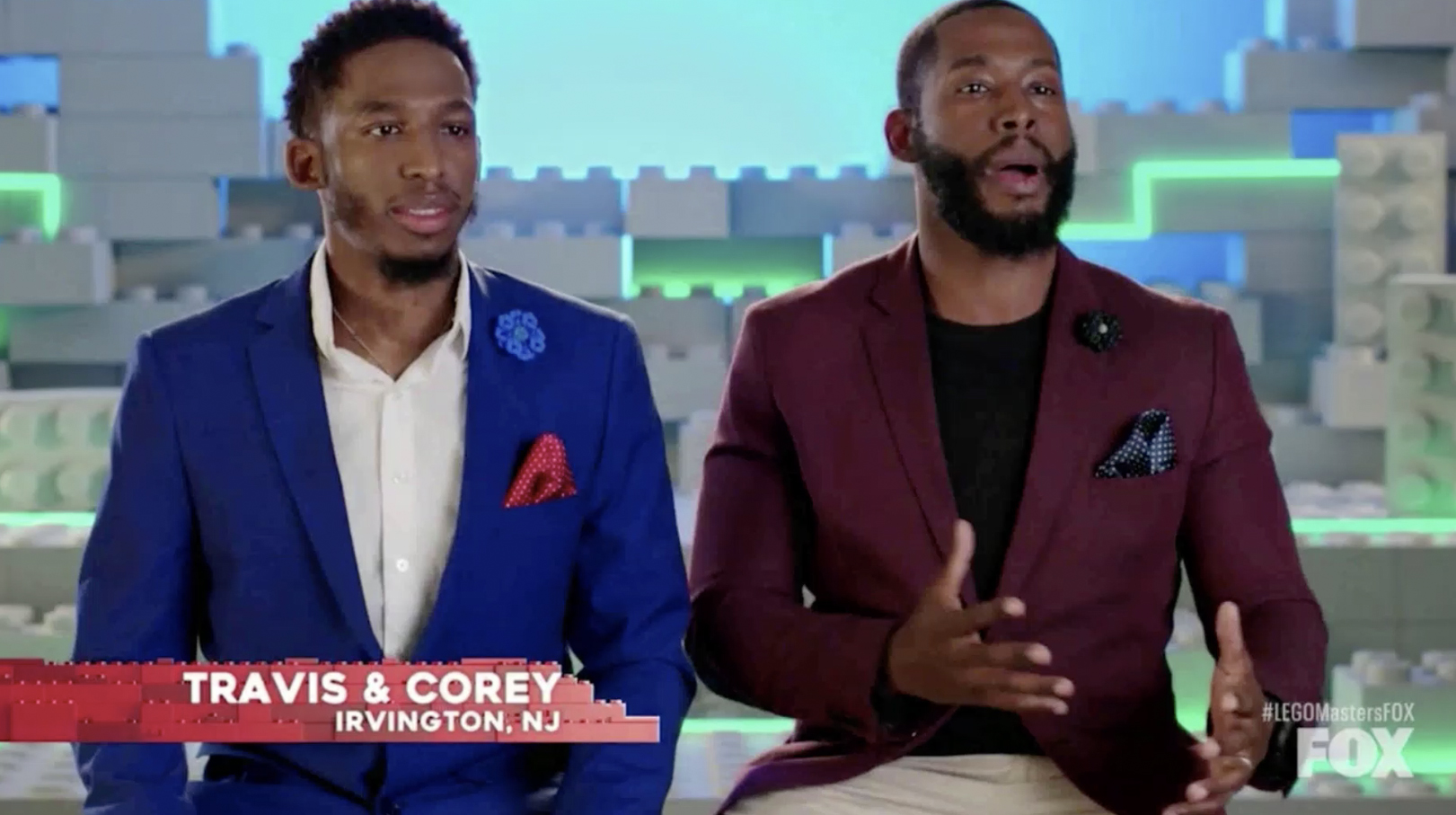 The show also uses a wide, short stack of Lego bricks to create containers for lower third-style graphics. Like Frossel's design for the sliding doors, these graphics feature a staggered and dimensional look.
Likewise, contestant interviews are backed with a rotating selection of Lego brick–inspired backgrounds in a variety of color schemes that incorporate lighted elements and bricks rotated in a variety of ways.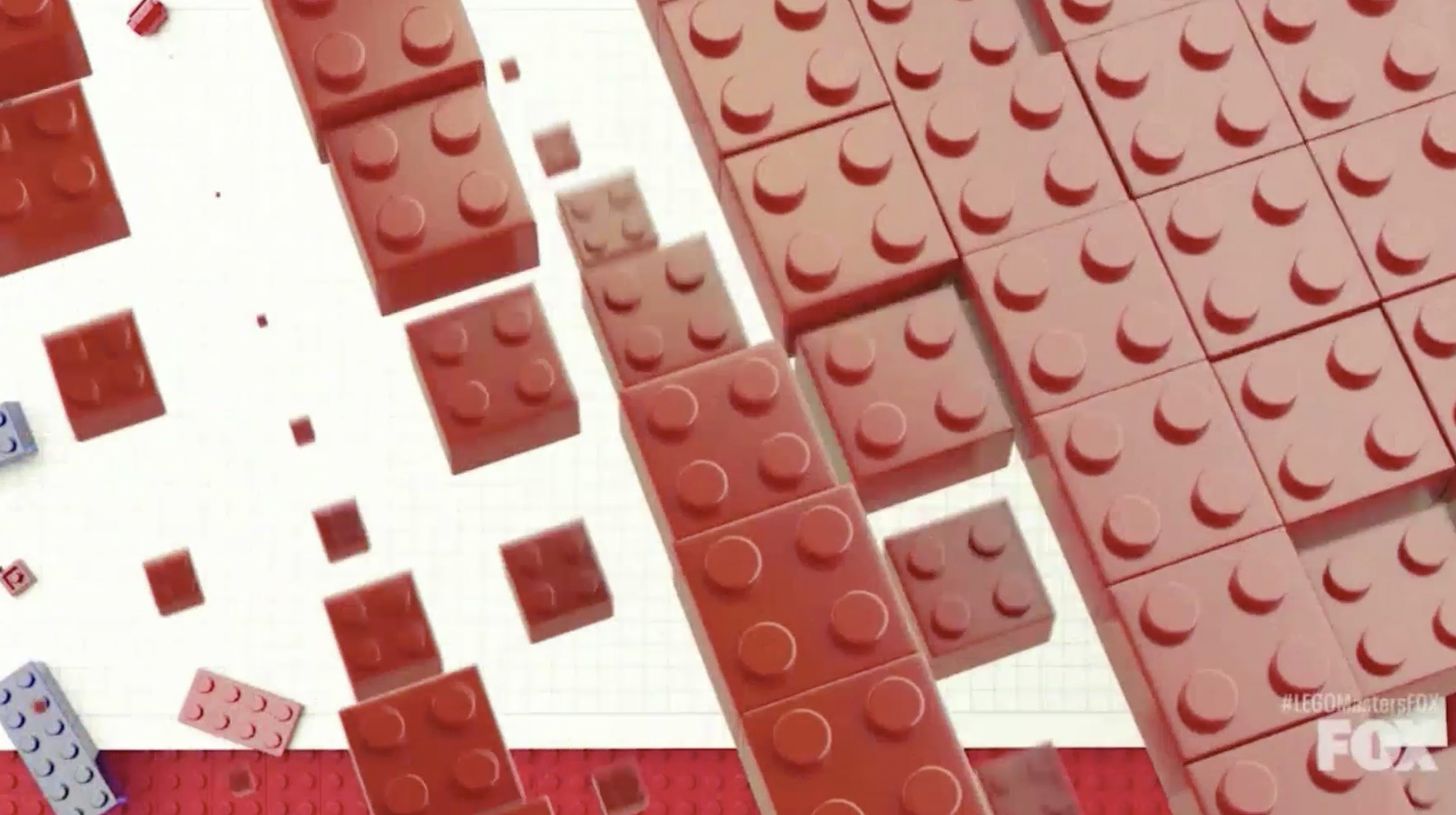 A hand-drawn style, meanwhile, is used to present team design plans — with Lego bricks and pieces scattered around the drawing, which is done on off-white graph paper.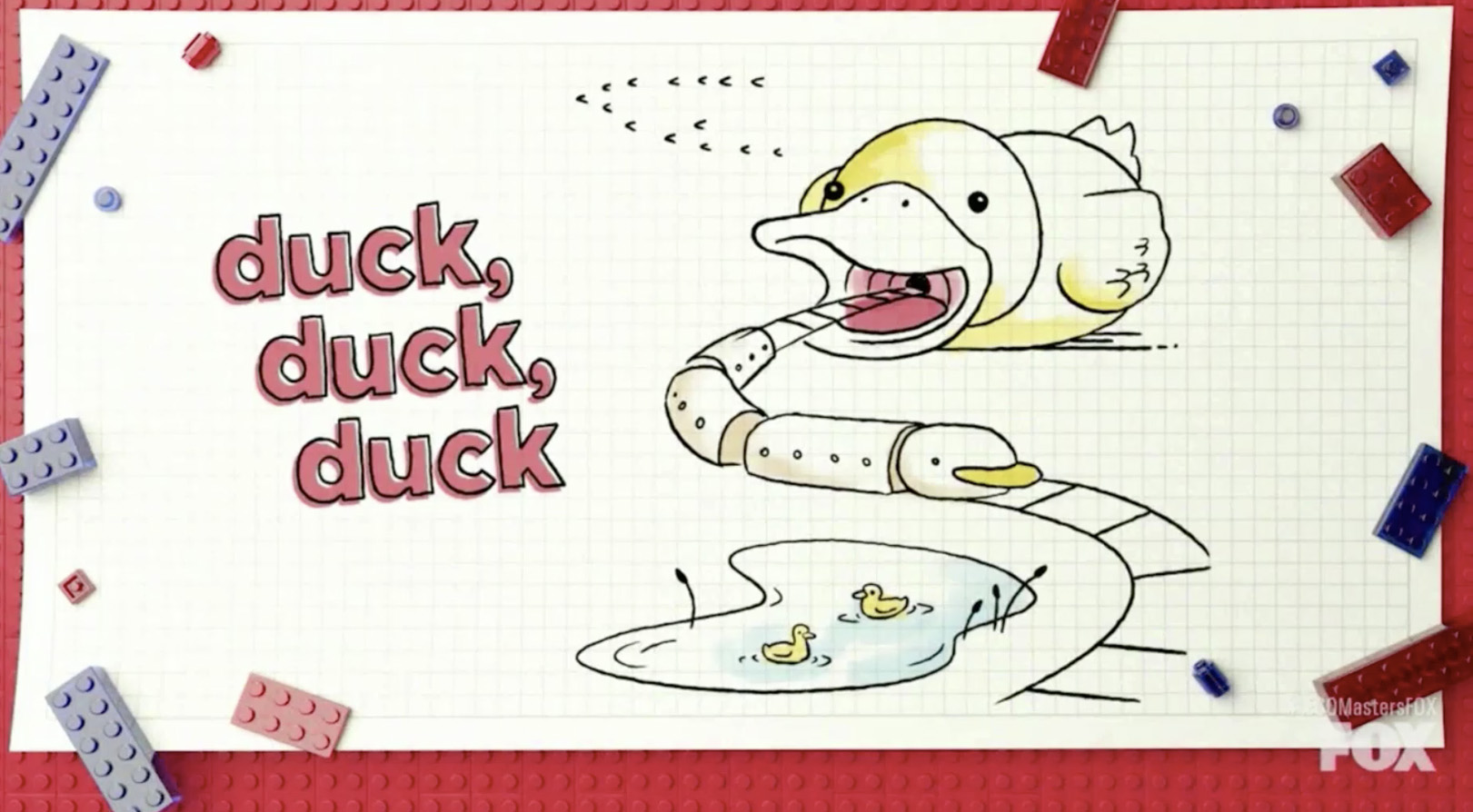 All told, the animated and still graphics used throughout "Lego Masters" combine with Frossell's set design combine to create a cohesive look that gives the show a look and feel that's sure to please any Lego fan.
"Lego is a very versatile building material… it would have been very hard to run out of creative ways to use Lego related treatments and build methods in this set," said Frossell.
Photography, stills and video courtesy of Fox and "Lego Masters."
The latest in design, production and engineering
Subscribe to NewscastStudio for the latest delivered straight to your inbox.