How court shows have adapted productions due to coronavirus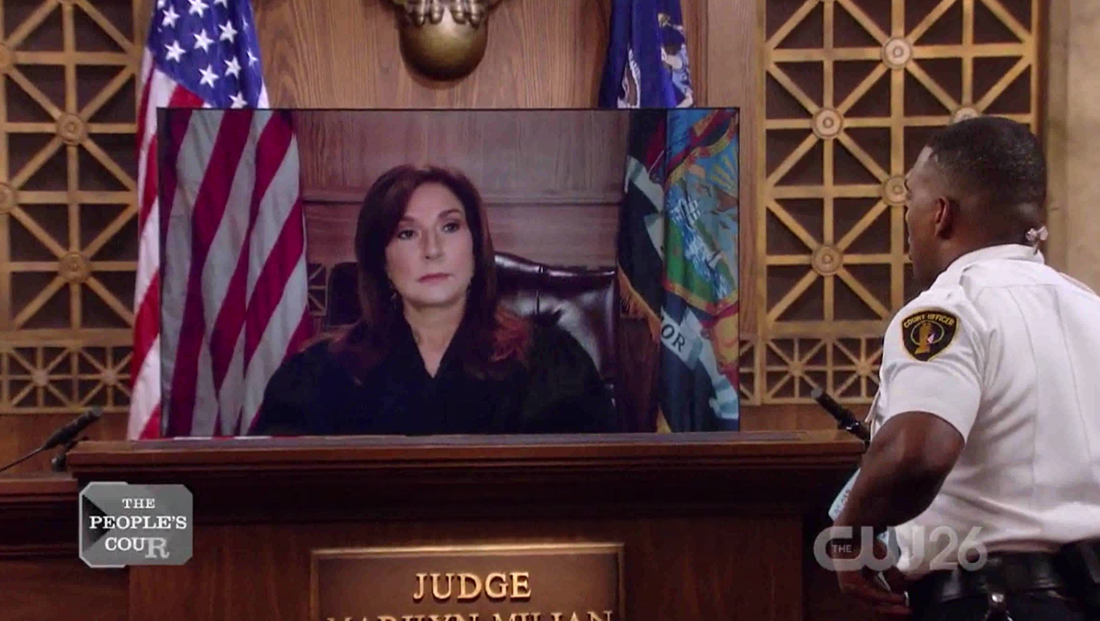 Stalwart "The People's Court" has opted to significantly cut down on the number of people in its Connecticut studio.
For most episodes, only court officer Douglas McIntosh and courtroom report Doug Llewelyn appear to be in studio.
McIntosh stays inside the "courtroom" area that has been cleared of a studio audience.
Litigants still appear "behind" those iconic tabletop lecterns — but on high end low profile video panels that have been wheeled into place in roughly the same position they would be if the people were actually in studio.
Cases are being heard remotely — with litigants appearing via video conferencing services that sometimes cause audio to cut out or the video to freeze or skip, something that is becoming a familiar theme on broadcasting these days.
Judge Marilyn Milian joins the courtroom from home in front of a recreation of the real wall behind her bench on set. Her monitor is also placed roughly where she would normally sit.
Llewelyn, meanwhile, appears to be on the opposite side of the wall that separates the "courtroom" from the hallway set.
He continues to interview the parties in the lawsuit but does it remotely.
Legal reporter Harvey Levin also joins remotely and the show added a segment called "After the Verdict" where Milian and her husband, Judge John Schlesinger, discuss the cases in segments taped from their home, presumably in Florida where the couple reside.
Levin, meanwhile, had a rather primitively lit remote setup that got an upgrade midway through the season but hasn't returned to the outdoor Third Street Promenade in Los Angeles where he typically interviews small crowds who gather about their reactions to cases.
The result is a somewhat comical, if not fairly authentic, recreation of how the courtroom set is normally used.
As the season went on, the show stopped showing the push-in of Milian's monitor behind the bench and also switched some "After the Verdict" segments to have Milian and Schlesinger answer fun personal questions about themselves.