How a clock inspired the new home of 'The News with Shepard Smith'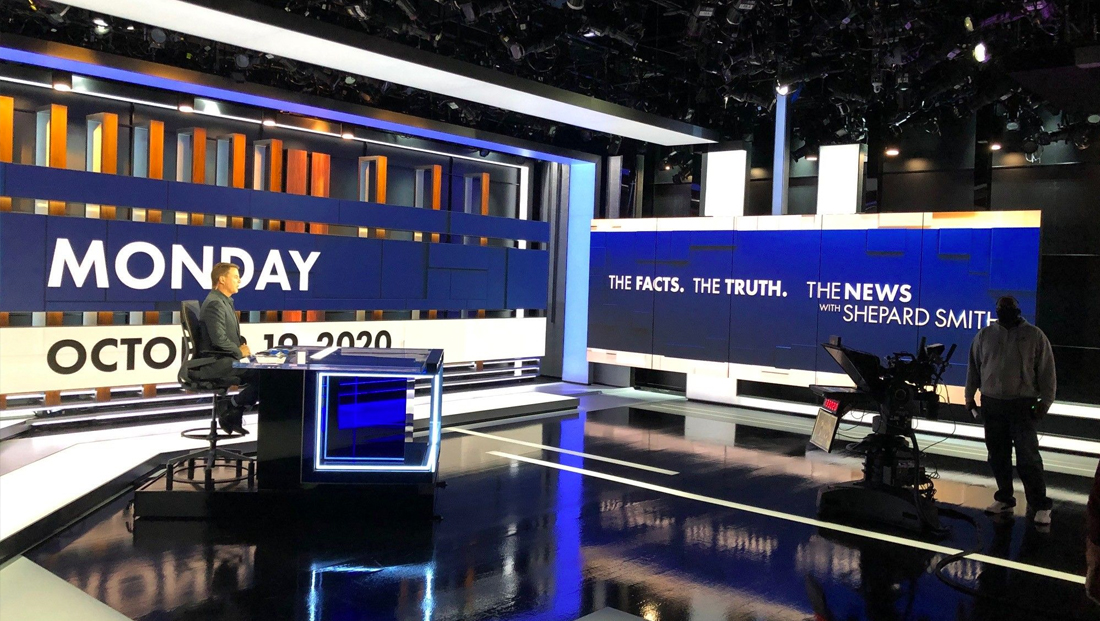 CNBC launched "The News" under an extremely tight timeline — with the network wanting to get former Fox anchor Smith on the air as soon as possible with his facts focused format in the middle of an extremely busy news year.
Normally a project like this would spread over 30 or more weeks, said Fastook.
In this case, however, the CNBC team had to get "The News" on the air just about a dozen weeks after Smith's hiring was announced July 8, 2020 — and about seven weeks after the network announced its pick for Sept. 30 as its premiere episode.
That tight turnaround was facing another big factor: the coronavirus pandemic, requiring the network to implement numerous health and safety guidelines.
Staffers and vendors working on the new set had to use a separate entrance and follow health and safety measures. Crews had to be rotated through the studio day and night, which required careful orchestration because so much of the work required one or more other tasks to finish up before the next phase could begin.
Even as the show debuted Sept. 30, workers continued to get the dedicated studio ready for primetime — as Smith anchored mainly from a corner of Studio A, the main, larger studio that overlooks the newsroom.
Meanwhile, finishing touches, rehearsals, testing and more continued even as the show was in full production mode and getting out full-fledged live broadcast each night.
Planar, who supplied the on set LED panels, boiled down the painstaking processing of aligning video panels to just four days — normally an installation of this scope would have been around four weeks.
"The News" set is outfitted with a plethora of seamless video walls and ribbons as wall as sophisticated motorized elements combined with real woods, concrete and metal surfaces to create a warm and inviting look that's also high tech but with an ultimate focus on storytelling.
Along the north wall of the studio is a high-resolution video wall that can be segmented into five 108-inch vertical units thanks to precisely controlled automation.
Showman Fabricators in New Jersey created a sophisticated track system that allows for smooth and fluid on camera moves while also protecting the delicate electronics in the high resolution LED panels.
Due to the scale of the project and tight deadline, CNBC and Casey also used Sacks Exhibits in Boston to build the anchor desk and wraparound walls.
Each panel is about 2,000 pixels by 8,000 pixels, making it close to 8K resolution (CNBC has run internal tests with 8K video and it looks "spectacular" according to Fastook).
The center segment, however, has a different trick up its sleeve — it can move forward toward the center of the studio where the anchor desk is typically positioned, giving producers the option to, both literally and figuratively, move Smith closer to the story.
Although Fastook and Casey both note the north wall can be used in any number of ways to enhance storytelling and it's also ideally suited for displaying live shots of remote journalists — something that will likely remain key as COVID-19 protocols continue to make it challenging to bring reporters and other talent on set to join Smith.
"Especially during COVID-19, where we don't have in-studio guests and can't easily travel to the story, I'm excited to work from a studio that has the infrastructure to take us where the news is happening 24/7," said Smith.
All told, "The News" set has over 91 million individual LEDs spread across 11 distinct AV zones on state of the art Planar TVF series panels in either 1.2 mm or 1.5 mm — which only have to run at 30% of their maximum brightness, making the set more energy efficient as well.
For example, Fastook estimates each of the larger video wall installations only draw around 10 amps of power.
The studio also uses over 360 LED lighting instruments on a carefully crafted plot from Bruce Ferri at FLDA Lighting Design that further reduce power consumption — meaning the entire studio only uses about 56 amps, compared to the nearby identically sized Studio C coming in at 501 amps.
In addition to the wide swaths of LED, Casey also integrated other uses of these panels — including on "the twins," two pivoting, portrait orientation units along the south wall that provide additional opportunities to bring talent in remotely and interact with Smith.
There's also another, non rotating LED segment in this part of the studio, that also segues into two flexible areas that, once it's safe to bring talent and guests in studio, can be used for in studio interviews and debriefs.
There's also been talk about experimenting with augmented reality in these areas in the future.
Smith and Fastook see the sets multitude of video walls — and other technology — as vital tools to become part of the stories the show brings to viewers.
"Our new studio will also help us better communicate among ourselves and with our audience each night," explained Smith.
Making this set possible is a lot of infrastructure that won't ever show up on screen directly.
CNBC had to bring in over 10 tons of structural steel to support the tracking monitors — with the mechanics needs to make that tracking possible coming in at 15,000 lbs. itself.
There's also over a mile of LED tape that snakes around the set — and producers can pick from a palette of over 17 million colors.
Editor's note: This story has been updated several times due to some changes in launch plans. Sources originally told NewscastStudio the launch of the new set for "The News with Shepard Smith" was scheduled for Oct. 26, 2020, but CNBC later clarified to NewscastStudio that the set will launch Tuesday, Oct. 27, 2020 or Wednesday, Oct. 28, 2020 "at the latest." On Oct. 27, the network confirmed Oct. 28 would be launch day.