Conveying grim milestone: Networks illustrate staggering 250K coronavirus deaths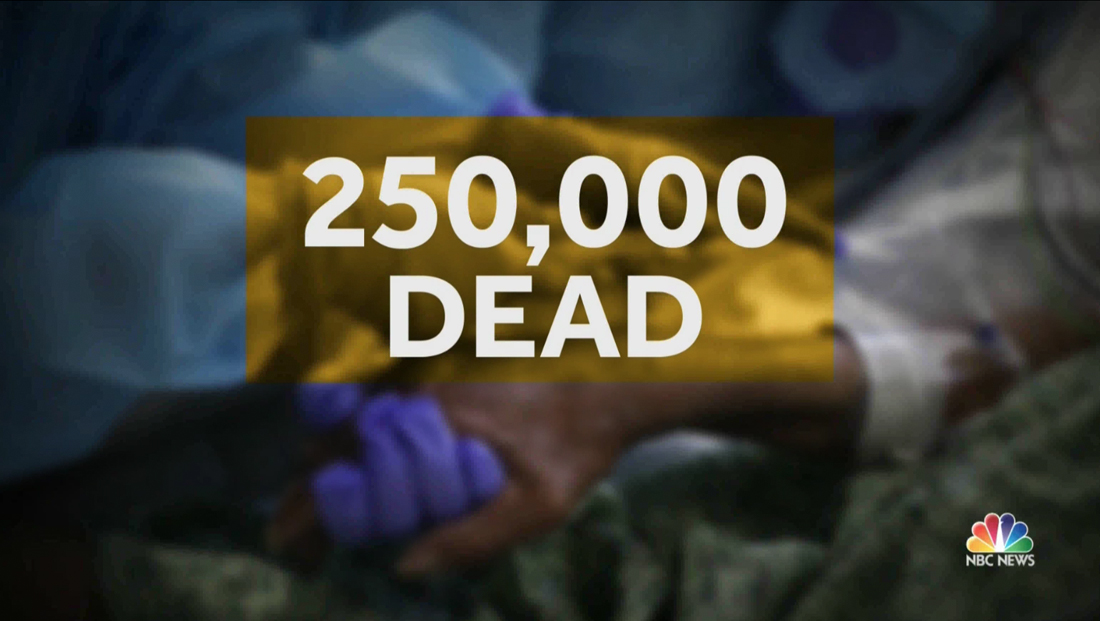 "ABC World News Tonight" started its headline teases with a brief mention of the 250,000 benchmark with anchor David Muir on camera.

The broadcast then switched to a "breaking news" banner as Muir switched to a voiceover. That banner then switched to read "250,000 COIVD deaths in U.S." as he read mentions of other facets of the story, including grocery store shortages and NYC schools.
After the open ran, Muir appeared back on camera as usual with a video wall graphic reading "Over 250,000 U.S. deaths" as the imagery behind it slowly changed.
A fullscreen graphic then showed the average new national cases per day before switching to a video on video shot of the video wall behind Muir showing a graphic with the 250,029 figure that ABC credited to Johns Hopkins University.
On "Good Morning America" Nov. 19, the show started with the headline "Coronavirus emergency" and a brief mention of NYC public schools before mentioning "more than a quarter of a million American lives lost to the coronavirus" along with a collage of photos on screen.
After the open and brief anchor greetings, the show used one of its on-set video walls to showcase both the 250,000 threshold and reported deaths Nov. 18.
The latest in design, production and engineering
Subscribe to NewscastStudio for the latest delivered straight to your inbox.