How the networks are branding Ukraine-Russia coverage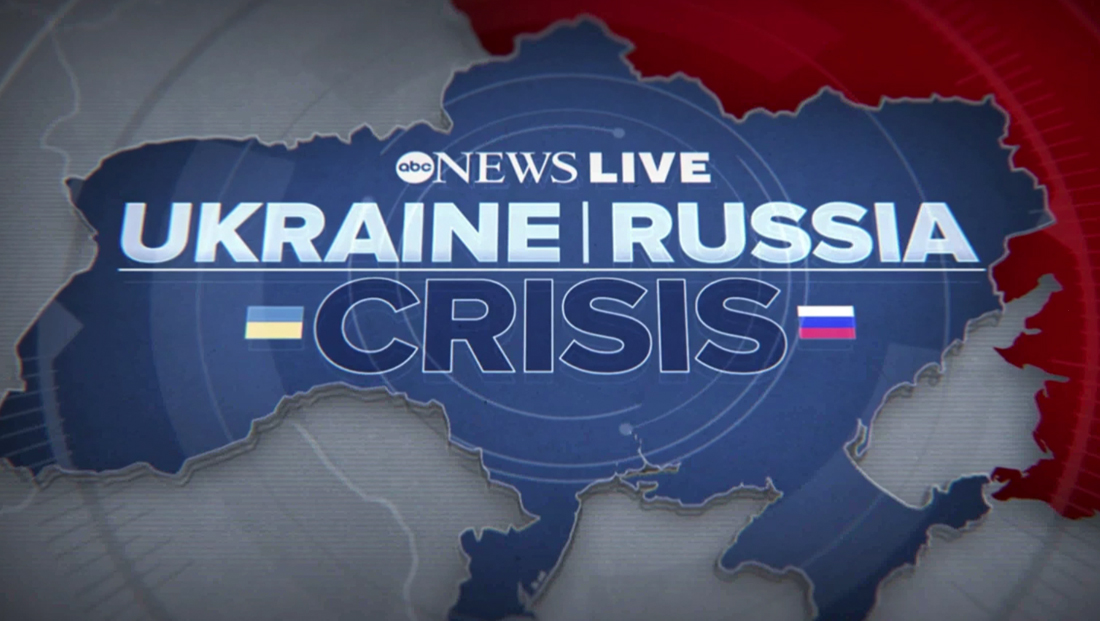 After Russia took significant military action against Ukraine Feb. 23, 2022, the broadcast and cable networks turned their attention to this corner of the world and began rolling out distinct (and not so distinct) branding for coverage that also shifted over the next few days.
Updated: This story is updated regularly with the latest branding updates and changes as they appear.

ABC News has been rolling out a look under the name "Ukraine-Russia Crisis," though it stylizes its with a pipe character "|" between the two country names instead of a hyphen, space or slash.
The graphic typically includes those three works set on top of a blue 3D outline of Ukraine, while Russia's neighboring land is in red and other surrounding countries and the Sea of Azov in gray.
In addition there are also a series of concentric rings and hashmarks radiating out from the heart of the shape representing Ukraine.
This essentially incorporates the red, white and blue palette of Russia's flag but doesn't include any yellow as found in the bottom half of the Ukrainian one.
The network did place two small versions of each country's flag on either side of the word "Crisis."
In fullscreens, the country names are in a light blue and the second line in a dark blue with thin white outline, while smaller scale uses such as in the left part of the lower third the network often uses for topical graphics or branding all text becomes white.
Starting Feb. 28, 2022, ABC's overnight and early morning newscasts switched to "War in Ukraine" branding but "GMA" did not change that morning.
At least some ABC owned stations are following the network's graphical look.
WLS in Chicago inserted the "War in Ukraine" graphic into its glassy graphics package, which is unique among ABC owned stations.

The station has also used the logotype and background elements in sidebar bullet point graphics, which again use the station's glassy and lens-flare look.

NBC and MSNBC have continued to use the "Ukraine Crisis" look that's been around for about a week now.
This design uses a red, blue and yellow palette that, along with white accents, incorporates the colors from both country's flags.
NBC has since transitioned to "Ukraine Invasion" branding.

At least some NBC owned stations are also using the similar "Russia invades Ukraine" branding, complete with fullscreen stingers and OTS graphics.

The ones shown here are from WMAQ in Chicago and feature a fluttering Russian flag over a textural Ukranian flag along with a variety of semitransparent accents and a light burst. The text is set in the group's custom font Arthouse Owned that is based on FF Din.
CBS News has also been using a "Crisis in Ukraine" look across its properties that was incorporated into a special report open Feb. 22, 2022, ahead of President Joe Biden's remarks on the then-impending attack that was used alongside the network's new special report look.

This look has a deep blue and yellow look that sometimes skews toward green thanks to the gradients.
CBS also uses concentric rings and hashmarks as well as arrow-like accents that appear to be created using the ">" symbol.

On "CBS Mornings" Feb. 24, 2022, a wide view of the studio after "EyeOpener" showcased the same look impressively spread across the show's Times Square studio's multiple video walls, ribbon headers and on set panels.
CBS has since switched to using the banner "War in Ukraine."

In addition, at least some CBS owned stations are using graphics similar to those seen on the network, such as these examples from WBBM in Chicago.

This includes video wall backgrounds and topical graphics in the bottom left of the screen inside the station's longtime group graphics package lower thirds.
NBCUniversal owned Telemundo is useing "Invasión a Ucrania," which translates as "Invasion of Ukraine" but is used a red, white and blue palette on its graphics.

The network has two layouts for the logotype: One stacked with "a" in the middle of two red lines or horizontal with "a" in a red box, which is used in the bar that appears on broadcasts during coverage along with a monochrome photo of what appears to be a Ukrainian city. There's also an "R" on the right, presumably short for Rusia (Russia).
Fellow Spanish language network Univision is using the same title.

Its design, however, uses a small blue box with outline of the country in yellow with a thin yellow border. The red and white text lockup, meanwhile, features one of the network's signature box segments that wraps around the second line.
On the cable side, MSNBC stuck with its normal primetime show looks during coverage Feb. 23, though the "Crisis in Ukraine" look was incorporated throughout the day Feb. 24.
CNN, meanwhile, also stuck with its normal show looks Feb. 23 along with its breaking news stinger, which was also used extensively the following morning.

The network's morning show, "New Day" used a sort of sub-branding effort with some on set graphics showcasing a monochromatic military photo with the words "A 'New Day' Special Report" spelled out with the show's boxed logo standing inserted between "A" and "Special."
The network would later introduce "Russia Invades Ukraine" branding.
With this came a red, black and blue stacked logotype backed with the image of what appears to be a snowy battlefield along with a stinger that included imagery of the two countries' leaders and a map of the region with the key border traced in bright teal.

CNN uses this look in conjunction with the short version of its breaking news stinger as well as in a squeezeback commercial break layout.
Fox also used its primary "alert" branding but did not appear to have a standalone stinger or "sliver" look (those narrow strips of graphics at the bottom of the lower thirds) as of the late morning of Feb. 24. CNN similarly did not appear to be using a distinct look either at that point.

Starting Feb. 24, Fox did introduced quasi-branding under the title "Russia Invades Ukraine" that appears in a large banner along the bottom of the screen during select breaks along with the label "continuing live coverage."
Additional titles including "War on Ukraine" and "Russia Showdown" have also been used.
The network also has some variations in its looks, including a video wall graphic that uses a distinct font colorized to match the Ukrainian flag, with U.S. President Joe Biden and Vladimir Putin's faces used for coverage of U.S. sanctions.
It has a box for ads to appear in and a smaller one for live feeds while the background combines a blue and yellow of Ukraine flanked by Russia's land mass represented by its red, white and blue flag along with a textural overlay.
Similar references to the countries' flags are used in the banner along the bottom of the screen, with type set in a bold, chunky typeface.
During the day Feb. 24, all three of the major cable news networks frequently included boxes with stock market conditions in one corner of the screen as fears over the Russian collapse and a neck breaking hike in oil prices gave Wall Street worries.