Illinois station remains on air even as its studio floods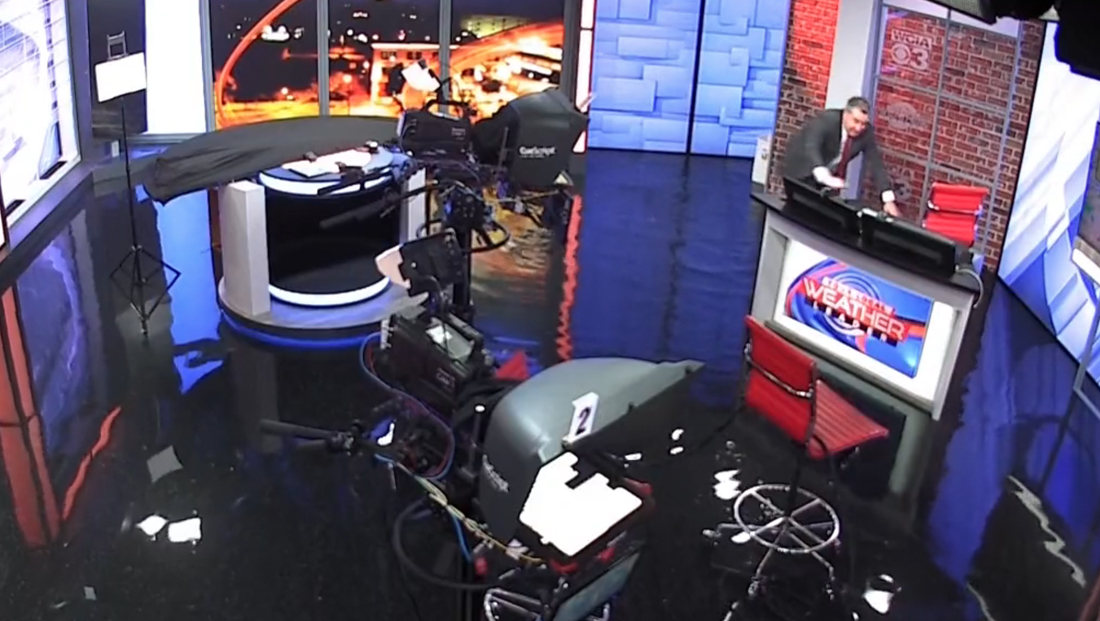 Subscribe to NewscastStudio for the latest news, project case studies and product announcements in broadcast technology, creative design and engineering delivered to your inbox.
An Illinois station somehow managed to stay on the air even as several inches of water from severe storms flooded the studio, newsroom and control room in the early hours of Sept. 19, 2022.
WCIA chief meteorologist Kevin Lighty was broadcasting severe weather coverage from the on-set weather presentation desk when the studio flooded with what he described as "several inches" of water.
According to Lighty, the Springfield, Illinois, station did lose its online stream, but managed to remain on air.
Some clips last night during our severe coverage when the studio started flooding. #cILw #ILwx pic.twitter.com/VN2hKUPWC8

— Kevin Lighty – WCIA 3 Chief Meteorologist (@KevinLighty) September 19, 2022
Viewers were treated to an overhead view of the studio and set and Lighty could be seen slipping around the studio floor, apparently trying to investigate the status of the flooding.
The station then cut to footage from the newsroom, which also had water on the floor.
Fellow meteorologist Jacob Dickey and another staffer could be seen walking around the studio, pulling up cables in what appeared to be a vain attempt to rescue them from water. Later, he waved to the overhead camera and appeared to check his phone while standing, nonchalantly in the water in suit paints and dress shirt.
A garbage can could be seen bobbing in the background.
Lighty expressed concern about the possibility of electrocution and noted that he was amazed the station was still on the air.
WCIA's set was installed in the fall of 2020, according to online posts.
The set appeared to be nearly fully functional — with only the primary anchor desk's curved LED front not powered on. It did, however, appear that the desk's internally lit elements were powered on. The desk's glass top was also shielded by what appeared to be a black protective cover.
Because the flooding started around 1:30 a.m. in the morning, it's likely only the weather center was being actively used on air, hence the anchor desk not being active.
Other elements — including video walls and backlit panels — appeared to remain on and functional.
While it's common for wiring to run under the floor in control rooms and production areas, studio floors are typically directly above the foundation or substructure of the building.
Cables, including electrical power, often run from an access point in the wall across the floor to the cameras, though it's common for them to be bundled together inside of a protective fabric-like wrapper.
These cables are often thicker than standard ones because they inevitably get trodden on and kicked by studio crew — plus as part of daily broadcasts, wiring is subject to constantly being bent and twisted in different directions as equipment is moved around.
There are also typically a cable runs to the anchor and weather desks, which can either be wrapped or, in some cases, have a hard plastic or finished shell over it.
Meanwhile, video walls and backlighting elements typically require at least a power cord in addition to video and data cables, depending on how the studio is configured. In some studios, wiring is kept off the floor where possible thanks to cable management systems affixed to the studio walls.
LED video and backlit walls also typically require wiring running between each panel or unit, but since these are, by definition, part of the wall, they're typically off the floor as well.
Most set designers also avoid running LED panels, even ones meant to be "floor to ceiling" height, all the way to the floor in order to protect them from camera collisions and other hazards, which could have ended up having a secondary benefit of protecting the electronics from water in WCIA's case.
The station's multiple video walls and panels appear to be at least several inches from the surface of the water in the clips.
Subscribe to NewscastStudio for the latest news, project case studies and product announcements in broadcast technology, creative design and engineering delivered to your inbox.