Networks build anticipation for 2022 election night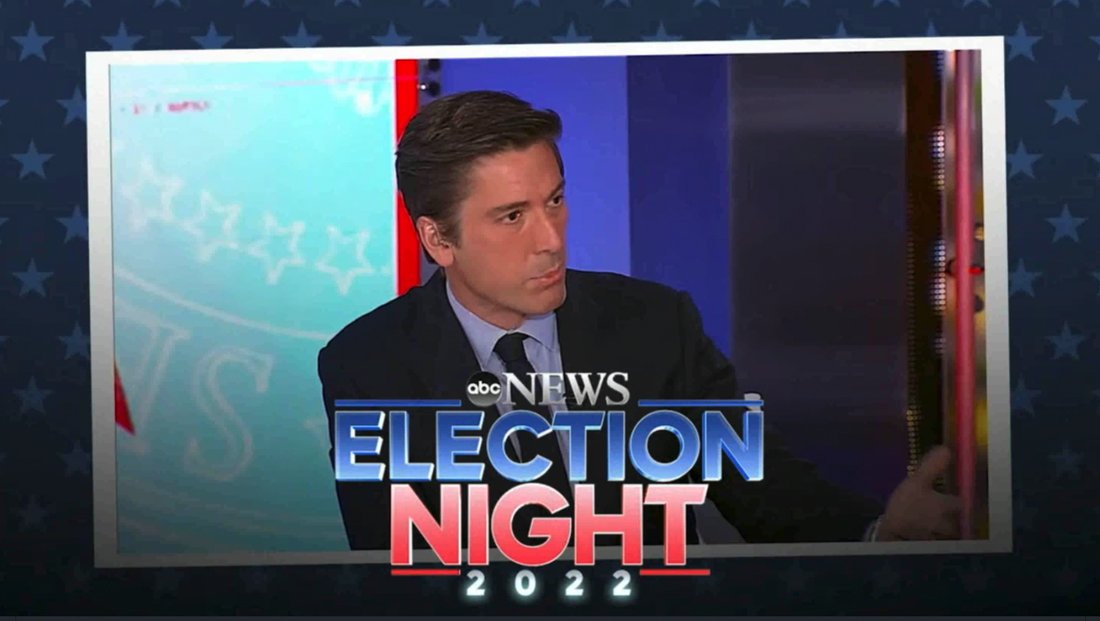 As the 2022 midterms approach, the networks are in full-swing promoting their upcoming coverage slated for Nov. 6, 2022.
Many networks are promoting coverage within broadcasts, airing brief reminders for viewers to tune in at the end of political or election-themed segments, but as the big night grew closer, more promos began emerging.
CNN
CNN is sticking with its "Election Night in America" branding after NewsNation appeared to call dibs on the network's "Debate Night in America" branding earlier in 2022.

It has also released a promo for its coverage that incorporates elements of its animated typography looks it's used in the past with talent and other imagery. The voiceover is much less urgent and dramatic than what the network had been using.
The promo also uses some linear, star and Great Seal of the United States elements along with a boxier motif.
CNN will have Jake Tapper and Anderson Cooper as primary co-anchors beginning at 4 p.m. eastern. Don Lemon, Wolf Blitzer, Erin Burnett, Poppy Harlow, Alisyn Camerota and Kaitlan Collins will handle coverage overnight.
NewsNation
Speaking of NewsNation, the network is sticking with its overall election branding of "Decision Desk 2022" and revealed that name has a link with a partnership with Decision Desk HQ.
Its promo combines shots from inside its Chicago and New York City studio spaces, with the LED video walls used to showcase election imagery, candidate photos and branding.
Top talent makes appearances in either speaking or visual-only format and a final shot shows the network's main Chicago studio's six-panel video array proudly displaying its logo as a jib moves up out of the way.
NBC News and MSNBC
MSNBC and NBC News are sticking with its longtime "Decision (Year)" branding to form "Decision 2022."
Peter AlexanderThe famous theme music is back as well.
"NBC Nightly News" anchor Lester Holt and "Today" co-anchor Savannah Guthrie will handle NBC coverage starting at 8 p.m. eastern alongside "Meet the Press" moderator Chuck Todd and chief foreign affairs correspondent and chief Washington correspondent Andrea Mitchell. Tom Llamas and Hallie Jackson will join coverage along with Peter Alexander and Kristen Welker from the White House.
MSNBC starts election night coverage at 6 p.m. eastern with Rachel Maddow, Nicolle Wallace and Joy Reid at the anchor desk. They will be joined by Chris Hayes, Alex Wagner, Lawrence O'Donnell, Ari Melber and Stephanie Ruhle along with Steve Kornacki on the Big Board.
The network is also featuring "The Insiders," a panel of politicos including former White House Press Secretary Jen Psaki.
Ali Velshi, Jonathan Capehart, Alicia Menendez and Ayman Mohyeldin take over at 2 a.m.
On NBC News Now, Llamas and Jackson will anchor from 6 to 8 p.m. before it switches to a simulcast of NBC's coverage.
In markets with NBC-owned stations that also operate a dedicated streaming channel on Peacock additional local coverage will be offered. In Chicago, that starts at 7 p.m. central time.
CBS News
CBS News is using "America Decides" this year, after switching to "Voters Decide" in its off-cycle 2021 coverage. The line "Campaign '22" is also used in most cases.
The network also appears to be dropping the look it introduced in 2020, which used the theme of a viewport snaking through virtual 3D spaces with flat, rectangular glass-like panels and simulated metal standoffs.

Instead CBS appears to be poised to switch to a look that draws from its "deconstructed eye" approach that's been rolling out across the entire network and news division since 2020.
Designs popped up during "CBS Evening News," "CBS Mornings" and "Face the Nation" that show this to feature a series of concentric red, white, blue and transparent rights accented with hashmarks. The overall look has a bit more detail and dimension than some other applications and also features a very brief checkmark animation in the distinct animated endscreens that are included in most CBS promos.

In addition to the head-on view of the CBS eye, fullscreen graphics can also use an off-axis red, white and blue colored look as a background that is significantly cleaner, likely for the purpose of showcasing on-screen polling data and other information.
The network has also been slipping in brief interstitials that show the number of days left to election day during breaks done in a matching design.

The distinct font RBNo2.1 does not appear to be used for the date in the logotypes despite its distinct "2" (of which there are now three of thanks to the year being "2022").
CBS also released a series of promos and social media clips that tease its planned, expanded use of augmented reality. The network did this in 2020 when it built what was then a temporary set in a second floor Times Square studio for its election coverage. Since then, the set was updated to serve as the home of "CBS Mornings" but will again be home to election night coverage this week.
The network appears to have brought in a large, slightly curved desk into Studio 1515 along with several small desks for in-studio anchors and analysts.
Anchor Norah O'Donnell has also showcased the network's planned use of AR, which appears to include adding virtual floor elements in front of the desks as well as floating data displays and, more prominently, digitally removing the ceiling of the studio to allow a view of Times Square or inside the Capitol dome.
There are also exterior shots of the building that show a large structural-like element with CBS News branding inserted above the second floor, digitally removing the large banners that normally advertise the Broadway musical the "The Lion King."
See you Tuesday night on CBS pic.twitter.com/wNtmYlNhw8

— Robert Costa (@costareports) November 7, 2022
Besides O'Donnell, Gayle King, John Dickerson and Margaret Brennan will be on-set starting at 8 p.m. eastern.
At the local level, WBBM in Chicago is airing promos under the "Voters Decision" branding that uses a simplified version of the eye's curves. This spot combines on air and digital coverage that is being offered through the CBS News Chicago streamer.
Network level promos are also incorporating the Paramount+ logo to drive viewers to digital as well.
ABC News
ABC News appears to still be using its wordy "Your Voice. Your Vote" branding and is airing a promo that combines a stars and stripes motif that also incorporates the network's dinstictive typeface and other graphical elements into geographic and landmark imagery in quasi-augmented reality style.
Its free streamer, ABC News Live, is airing a promo that appears to be a largely reworked version of the main one.
"World News Tonight" anchor David Muir will lead coverage from New York starting at 7 p.m. eastern (an hour earlier than its rivals), with "ABC News Live Prime" anchor Linsey Davis, chief Washington correspondent Jonathan Karl, chief White House correspondent Cecilia Vega, chief global affairs correspondent Martha Raddatz, senior White House correspondent Mary Bruce, "Nightline" co-anchor Byron Pitts, and contributors María Elena Salinas, Chris Christie, Donna Brazille, Heidi Heitkamp, Yvette Simpson and Sarah Isgur.
ABC News Live will provide dedicated coverage beginning in the morning and throughout the day, anchored by Diane Macedo, Moran and Kayna Whitworth and Kyra Phillips offering updates throughout the night and for local affiliates.
Fox
On Fox's cable commentary channel, coverage remains under the "Democracy (Year)" name and appears to retain the same, 3D blocky bar look.
Various personalities are shown walking around the network's headquarters narrating the spot before eventually finishing with a shot of Brett Baier and Martha MacCallum in Studio M in New York City gesturing to the large video wall there that's sporting the "Democracy 2022" logo. The camera focuses in on this.
This shot is also featured in the short version of the promo.
Baier and MacCallum will host coverage, alongside Bill Hemmer as he analyzes results in real-time on the electronic "Bill-board" touchscreen.
Harris Faulkner will showcase voters' voices during coverage, speaking with a live audience of voters about the issues they feel strongest about in this election.
"Fox News Sunday" host Shannon Bream will use a new, immersive touch screen to report on the network's survey of early and election day voters conducted in all 50 states by NORC at the University of Chicago for Fox and the Associated Press.
Fox's announcement did not mention if the network will bring back its Fox Square outdoor area.