Pittsburgh CBS station updates newsroom with focus on flow and employees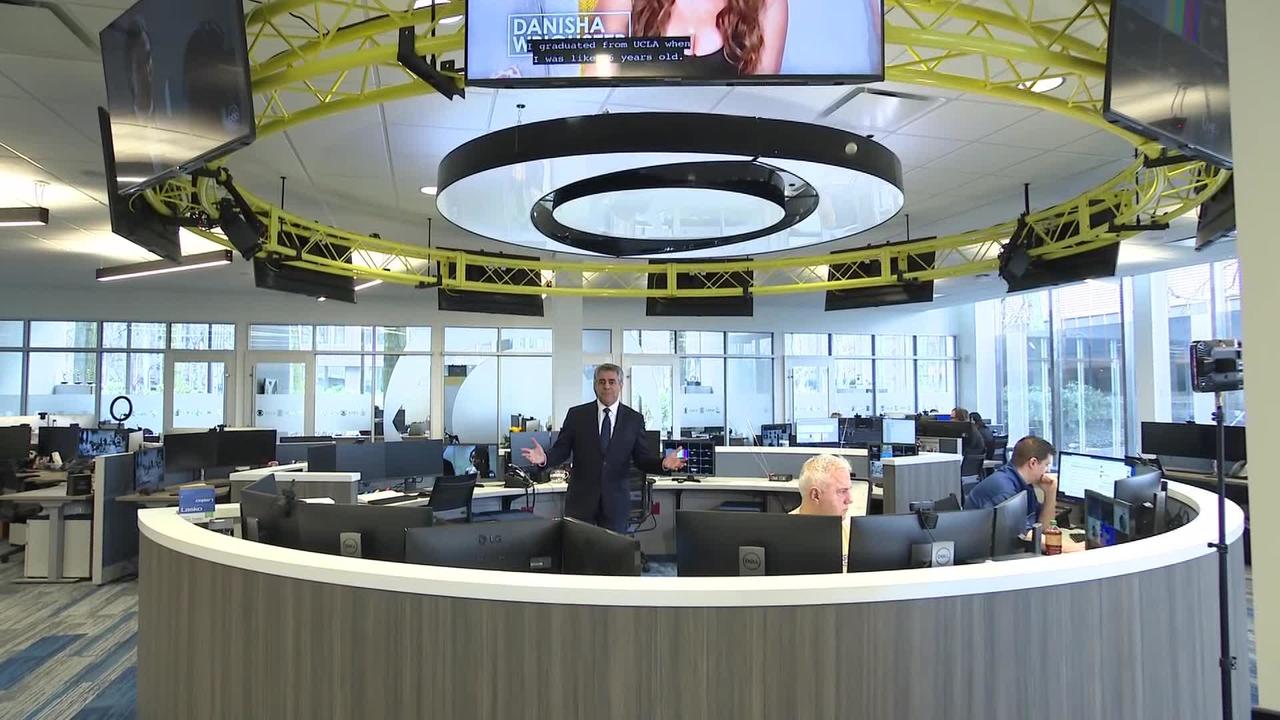 Subscribe to NewscastStudio's newsletter for the latest in broadcast design, technology and engineering delivered to your inbox.
In addition to making the switch to its own iteration of the CBS group graphics package in March 2023, KDKA in Pittsburgh also received a major overhaul to multiple workspaces, including the newsroom.
"We tore everything out, all the way down to the concrete, all the walls, everything was completely gutted and everything built from scratch," said Chris Cotugno, president and general manager at the station.
During construction, the newsroom moved into the former sales offices, which were vacant as that team worked remotely.
The newsroom layout was completely reimagined, with the assignment desk moving to the center of the space.

"The centerpiece of it all is the assignment desk, which should be the centerpiece, is now in the middle of the newsroom," said Cotugno, noting that this move was both symbolic and functional.
"All the information can come in from one point and be distributed out to everybody sitting in their own individual pods," said Cotugno.
The new assignment desk's shape is a nod to the CBS eye, which also hangs, in a literal format, proudly from the ceiling surrounded by a ring of trusswork that holds up an array of monitors. That trusswork, incidentally, is painted yellow, which, when paired with the numerous black monitors in the space, reflects the color scheme of the graphics package.

KDKA also now has a dedicated group of desks for each newscast that can seat up to eight people — including talent, producers and directors.
"The most important thing that when we sat down talking about what the newsroom would look like was the word collaboration was first and foremost," said Cotugno.
"In today's world, information flies at the speed of light, if not faster. So we have to be able to adapt and improvise accordingly to be able to get that information from one central point out. And so when you see the newsroom, you'll see how all the pods are set up for all the individual time period newscasts to sit together to collaborate on what that show is going to look like," he added.
In addition to paying close attention to how the space functioned, another goal was to give the station's news team a pleasant work environment.

Muted colors in shades of brown and gray and carefully thought-out lighting help make the space feel fresh and airy, including long, internally lit light bars arranged in a spoke-like pattern similar to what's used at the CBS Broadcast Center in New York.
Natural light is incorporated thanks to a wall of windows.
The space is also designed to appear on-camera, including the option to shoot standups in front of the assignment desk. To keep the look consistent, finishes in the space are similar to those found on the station's main set.

Along one side, a black box alcove provides a small, simple production area for the CBS News Pittsburgh streamer and other productions, including some that have yet to launch. The space is so far limited to a single video panel that can be used to change out backgrounds behind talent.
For years, the art department was located in the basement of Gateway Center, the name of the development KDKA has occupied since 1956.
"I always talked about how the art department are supposed to be the cool kids. They're supposed to have the fun stuff," Cotugno said with a laugh. It also seemed somewhat counterintuitive to have creative minds working in a dark basement space.
That started to change prior to the pandemic when previous renovations made it possible to bring that team upstairs.
Now, that basement space has been reimagined as an employee break room (though "room" is a bit of a misnomer because it's actually more of a mini-complex of spaces devoted to staff).
In addition to the customary seating areas for eating meals, added touches include a custom corn hole game, table games and a giant wall-mounted crossword game board.
"We as leaders have to understand that we have a fiduciary responsibility to everybody that works with us. And I say this all the time, there's not one person who works for me. I work for everybody, said Cotugno, noting that this encouraged the station to set up an environment up to allow people to be happy when they come to work — to really not look at work as work, to look at it as a collaboration, to be able to tell the stories to the communities so we can keep them informed, entertained and keep them safe," he added.
Cotugno noted that CBS's support was crucial to making these changes since they ultimately have a say in what's spent where.
The new space also has a lactation room for new mothers as well as a wellness room for staffers to go to clear their heads amid the flurry and stress of covering the news of the day, some of which can be hard to witness.
Nearby is a new space dedicated to the station's videographers, who now have a dedicated locker and storage space near the ingest area.
"Even the owners of the building are completely amazed at what we did … for our people," said Cotugno,
A final portion of the basement is set aside for producing content for local advertisers and partners.
To mark the changes at KDKA, the station released a four-part video series called "KDKA 2.0" that looks back it its old looks and how the station has changed to better serve its audiences today.
The latest in design, production and engineering
Subscribe to NewscastStudio for the latest delivered straight to your inbox.